My mission is to help you have a healthier dog and breeders to raise healthier Llewellin Setters puppies through educational content based on over twenty years raising, training, and breeding Llewellin Setters. To help support these efforts, this page may contain affiliate links. I may earn a small commission for qualifying purchases at no cost to you.
Grace and Ellie

Grace and Ellie
Cutie-pies Grace and Ellie are loving life and having a ball. They have taken over the upstairs and rule the roost at this point. They love, love, love to run out and play on the deck, romping around in the straw in the empty kennels. They are pointing everything, too! They take notice to birds flying and really watch them. The funniest thing happened the evening before last: We had some severe storms roll through, which kept the fire companies very busy and the whistles blowing all evening. Well, every time the fire whistles blow all of our dogs howl along with the whistles. Grace and Ellie started howling right along with the rest of the dogs! It was the cutest thing ever! Ellie was really into it and was barking and howling.
The girls had their first round of immunizations yesterday and their physicals from the veterinarian, checking hearts, eyes, hearing, joints, bites, etc. All is perfect with both.
Now that they've had their shots, I hope to get them out into the big yard and perhaps even take them for their first ride in the truck before they leave for their new home next week. I hope to also see about them starting to spend nights in the crate. They have been spending short amounts of time in the crate with only a few hours at the most. I have been letting the door open at night and they prefer to sleep either in front of Shay's crate or on the dog bed. I haven't wanted to push it too much as they are not even 7-weeks old, yet!
Santana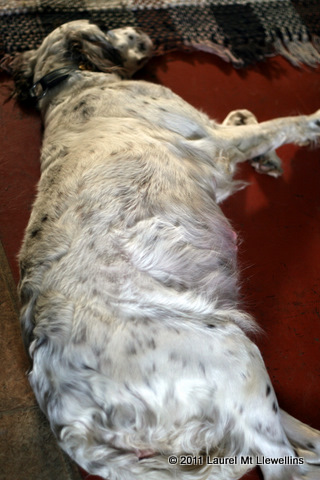 Need I say more? Poor girl!!
Santana is doing great, though miserable with her large size. I started taking her temperature to watch for the drop and impending labor. She starting digging and nesting yesterday. She is eating, but not as much and didn't eat at all yesterday until last night. I put her favorite blanket and toy in the whelping box and she goes in and digs around, but doesn't actually spend time in it, yet. She gets us up during the night to go out or just wanting to cuddle (by laying right on top of you!) for a bit. God-willing, by next week at this time, puppies will be here.
Santana & Steele Puppies Litter Theme
I still have not decided on a theme. It seems the most votes are for the Tree theme. I love the Bourbons theme, too! But, I'm sure there will a chance to use quite a few themes this spring, the way things are going. Keep the ideas coming!
Have a blessed day and weekend everyone and hug your Llewellin. 🙂
-LML