My mission is to help you have a healthier dog and breeders to raise healthier Llewellin Setters puppies through educational content based on over twenty years raising, training, and breeding Llewellin Setters. To help support these efforts, this page may contain affiliate links. I may earn a small commission for qualifying purchases at no cost to you.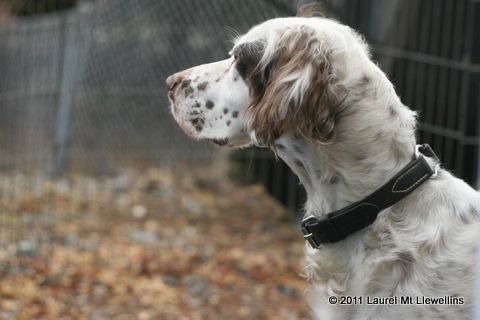 Hello all!
I hope you are having wonderful weather wherever in the world you may be! We had a fairly delightful weather weekend—although that is all changing tomorrow with rain all week and even snow toward the end—and I tried to balance both work and trying to clean up outside. Some things were accomplished, like I was able to rake 1/2 the 1-acre, get the rest of the firewood pile moved, mulch straw and some lime spread, etc., but it was only a smidge of the goals I had set. I guess I set goals for four people, instead of just one! 🙂 Maybe next weekend I will get to tackle more. One day at a time, eh?
Update on Grace and Ellie:
The girls are a complete blast. There is no other way to describe them! They spent their first day upstairs today. They seem okay with the change. Ellie is not afraid of a thing and barked at the big dogs. Midge was so stinking cute with them and she just lays down and rolls on her back and lets the pups play with her. Shay doesn't seem very happy with the situation. She prefers life downstairs, but Grace and Ellie seem just fine with things. They slept on the big-dog bed and made themselves right at home. Being in a crate while the big dogs were all let out was another story… Ellie just cuddled up to her stuffed dog toy and went to sleep while Gracie howled and howled. I sat with her and calmed her and she eventually fell asleep snuggled up with Ellie. The second time went much better and even though Gracie voiced her displeasure, it wasn't for long. It will get better day by day. Otherwise, they are growing and exploring and are complete joy. Such cuddle bugs. I adore them!
Ellie had a blast running out onto the deck and exploring the two empty kennels. She loved playing in the straw and box. And, I finally had to coax her to come back inside. She came running with a mouthful of straw and had fun with that on the dog bed. Ellie just loves to explore and seems to find everything quite exciting. Her tail wags a mile a minute while she sniffs out everything and plunges in to check it out.
Grace is much more cautious about things. She went out on the deck, but not for long. She preferred to sit in the doorway and let Ellie scan for danger. She loves people, Ellie, and her momma, Shay, but isn't quite ready to take on the big yard or big rowdy dogs, quite yet. So, she doesn't have to. She will in her own time, which I am sure will just be a few days.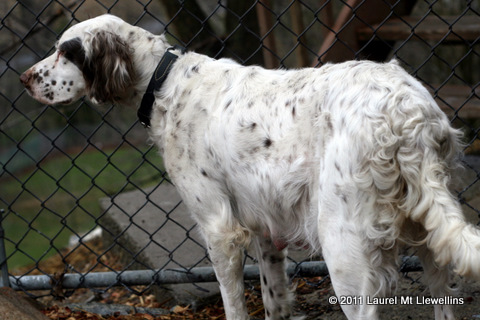 The reason the gals made the move upstairs is because I needed to move Santana downstairs where all puppies whelp. She needs to relax and become comfortable with the whelping box and such for her delivery–about 10 days away. Looking at her, I am not sure it is possible for her to have 10 more days to go. She is fairly miserable and looks like she is going to explode. My poor girl, what have I done to her? Don't get me wrong, she is a happy dog, but she just can't do things she normally would easily be able to. Like leap onto the sofa… no, she crawls up one leg at a time! Going down all the deck steps is becoming more difficult and she really shouldn't be. Downstairs, she will not have to go down any to get out into the yard. Even though she still tries to follow me upstairs, I have blocked them off now. I don't want her on the stairs anymore. By the way, by the looks of it, I think it would be safe to say I could accept another reservation or two for male pups.
That is all the news, for now. It is crazy here with Grace and Ellie, Santana getting ready to whelp, work pouring in, four gals in heat, all the breedings going on, the poor dogs are crazy barking and crying and the neighbors surely are cursing me every minute–just insane here! I can't wait to win the lottery and move to the Northwoods where none of this will matter! The doggies and I will have lots of room and barking will not bother a soul. There will be no clutter, no equipment and building materials all over the front yard–nope. I can't wait. And, I can't wait to get the dogs out for runs and back into some training on younger dogs (I also hear the Woodcock are back!) and was dying to be doing that all weekend, but had to get lots done here and haven't even dented the clean up projects! Things get out of hand very quickly in a teeny, tiny house on an acre, with no garage, no shed, no storage at all, and lots of dogs! Ugh. I can't stand the clutter and I am drowning in it. But, it doesn't bother any body but me and I am the crazy, mean person and obsessed with getting things in order, making the rest of the family miserable and mad at me… so, I just have to do it myself! If it bothers me, I just need to take care of it, right? The sons were helpful and tackled the woodpile moving project (Five cords of wood were dumped in my front lawn in November and there is where it stayed until this weekend! Of which, there was only about a cord or so left, but OH what a mess!) and working on one of the trucks at least enough to be able to drive it to the mechanic to get worked on, so that was grand. Scott is still very busy trapping beavers and such but we were able to get together long enough to take the truck to the mechanic and drop it off, and we got all the dogs brushed and nails trimmed–Yahoo! Progress!
Sorry, no photos of Grace and Ellie and I realize that is very disappointing, but I just couldn't get to it this weekend. And I missed what would have been some excellent shots of all the Llewellins in the yard over the weekend. Some jaw-dropping points of Steele, Maddie, Midge, Nashua, Boone
Have a great week everyone!