Announcing the Arrival of Addie & Ike Puppies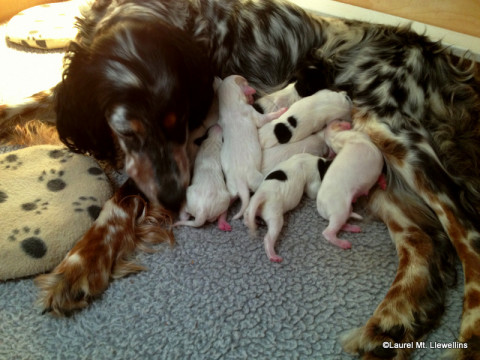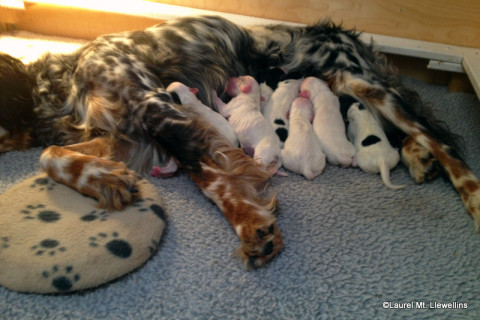 After a restless night with Addie, she whelped 8 beautiful puppies today! I was trying to hold off announcing to let the contest run it's course, but the next few days will now be insanely busy catching up on work that I missed last night and today. I don't think anyone guessed correctly. 🙁
Addie did great, is eating already and even going outside running around like she never had puppies! The pups are great weights (all around 10 oz), all nursing, moving around, sniffing (I missed hearing new born Llewellin Setter puppies sniffing) and all seem to be doing fine.
Oh—there are 6 girls and 2 boys! So, I may have a few girls available. We'll see how it works out once Nash has her litter and all the reservation switching has settled.
Don't forget to submit your litter theme ideas, please! We need a theme with 6 girl and two boy names. 🙂
P.S. If I was supposed to call you this weekend, I am sorry. It's been  a few weeks of insanity and my phone is on the fritz! I will try with all I can to get to "the city" as soon as possible this week and get a new phone. One will not get service and the home line phone will absolutely not charge anymore. There is always something wrong with my phone!? 🙁
Have a great night and hug your Llewellin Setter!
To work I must go…
-M.