Addie x Ike (Rivers) Day 4 Update
My mission is to help you have a healthier dog and breeders to raise healthier Llewellin Setters puppies through educational content based on over twenty years raising, training, and breeding Llewellin Setters. To help support these efforts, this page may contain affiliate links. I may earn a small commission for qualifying purchases at no cost to you.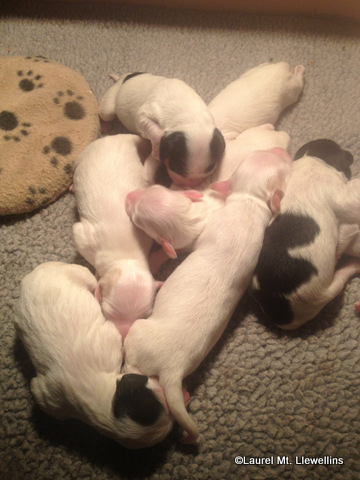 The pups are doing great. They had their dew claws removed yesterday. Besides the upset of that ordeal, they are a content and peaceful bunch. Addie is well. Quite protective when the other dogs approach the gated doorway of the Puppy room. That's normal. She goes outside often, but not for long. She's eating, but not as much as I would like to see. She's holding out for me to feel bad and add goodies, like the organic chicken broth I added the first few days. Too bad I am out of chicken and just can't raise another batch this year! It will be a very long year without any chicken… I know, I could buy chicken from the store. But I won't. It is disgusting and I will never buy chicken from the store again. Only chicken I raise myself—antibiotic-free, hormone-free, steroid-free, nonGMO, corn- and soy-free, pesticide-free. Unless I buy it from a place like Wellness Meats. I know, I'm sure I drive you nuts. I just can't help it. And, if you knew what I know, you would be the same way. Did I ever tell you my goal is to raise and hunt all of our own food—the food for the dogs included? I would need a huge ranch somewhere like Montana or Wyoming or somewhere to raise all the meat for the dogs! It's a dream that I seriously hope to see through. Seriously. I suppose I could do it easily with just a few dogs, but what fun would that be? I can't imagine life without a pack of Llewellins!
Any who, the pups have been named and a huge, giant thank you goes out to Sally Barveld for submitting the theme last year via Facebook. Thanks Sally! Irma and Norman also suggested it again. Thanks everyone for participating!
The names of the two dog puppies are: Mosquito (Moss) and Spurr (fulfilling my cowgirl-wanna-be-side).
The names of the six bitch puppies are: Anna, Pigeon, Rainy, Sandy, Detroit, and Fawn.
Love the names! Don't you?
I've created the litter page here. And, I've uploaded all the photos and a video to the Flickr Photostream… link is in the right-hand sidebar. I don't like it as much as Picasa Photostream, but I've used up all my space on the Picase Web Albums and don't want to keep deleting old photos. Did I mention lately that I totally miss my good camera??? Life with Llewellins seriously sucks without my Canon D40. 🙁
And, don't forget to submit your theme ideas—with suggested names. They are always needed and very, very much appreciated.
And, last but not least, don't forget to subscribe to our Newsletter!
*****************************
[wysija_form id="1″]
*****************************
Have a great day!
-M.