Addie's Puppies are Here!
My mission is to help you have a healthier dog and breeders to raise healthier Llewellin Setters puppies through educational content based on over twenty years raising, training, and breeding Llewellin Setters. To help support these efforts, this page may contain affiliate links. I may earn a small commission for qualifying purchases at no cost to you.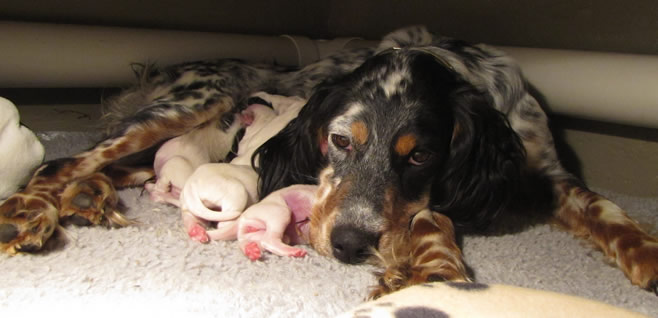 Just a quick note to let you know Addie's puppies arrived today–right on schedule. She did fabulous and delivered 8 beautiful puppies–3 boys and 5 girls—tricolors, black and whites, Beltons. All are doing excellent! I'll add all the details over the next week.
The puppy-cam is set up and you can view either here.
This was a daytime delivery–for once! Most of our litters seem to arrive in the middle of the night. Sally Barveld just happened to text me in the middle of things asking if there were puppies yet–so it was fun to share the exciting news as Addie would deliver each pup. It was really fun to have someone share in the excitement with me! Thanks Sally!
UPDATE: 11/29/09:
A new page has been added with the first photos of the puppies. See the pictures and information, here.
Also, we are all kicking-around ideas for themes and would like your suggestions. We've had a few great ones, but no one around here can agree (the trouble with a large family!). Please post or e-mail your suggestions.
So far, we have a Thanksgiving theme going with a few ideas for names, such as: Macy (parade), Nina, Maria, May, Colon, Rock (plymoth rock) , Myles (standish), Squanto (Indian chief), Pumpkin, Pilgrim, Grace….
"Winds" with the names, Ana, Gale, Maria, Mistral, Nash(i), Doc(tor), (Hurri)Cane, and Willy.
We had the "Shoppers", Macy, Dunham, Cabelas, Penny…
Or "Indians" like, Cherokee, Sioux, Hopi, Cheyenne, Apache, Comanche, Dakota, Mohawk, Shawnee, Seneca. Probably more fitting for the time of year (Thanksgiving… Indians…)
Or the "Explorers", Drake, Raleigh, Polo, Columbus, Magellen, Balboa, Gama, Hawkins… but we need more here for the gals?
Or, do we just keep numbers and forget the themes?
We would love to hear your opinions and suggestions! Remember, they are hunting/field dogs, even though the names given are temporary litter names, some folks do decide to keep them, so we try to make them fitting names that a person could really use in the field.
Thanks all.
UPDATE: 12/03/09:
The litter theme is the "Indians". The pups now have their temporary names. I will be adding their individual pages over the next week or so.
All pups are gaining weight and the ticking is really coming out on their faces and feet. They can really get around! Very lively bunch.
UPDATE 12/07/09:
The pups are growing like weeds! My goodness, what a nice, healthy bunch. They are really getting around quite well–hope you are watching them on the puppy-cam.
Addie is doing wonderful. She acts like taking care of 8 puppies is no big deal at all.
Just a few more days until Maddie's puppies arrive! We are building whelping box #2 and she and the puppies will be in my room. I think I will be able to set-up puppy cam #2 as well. It will be fun, crazy, and stinky around here for a few months. Oh the joy! 🙂
UPDATE: 12/10/09:
The eyes are open! Oh my gosh, how stinking cute!!!!! I love when the pups finally open their eyes. They really seem to take on personalities now. They are a lively, lovey bunch–and just beautiful!
UPDATE 12/13/09:
The puppies are starting to play with one another. They are chewing and even beginning some wrestling. Last night and this morning they were even barking! It is so cute, I wish you could hear it..