Announcing the Arrival of Nashua & Ranger Puppies
Nash whelped 7 lovely squirming Llewellin Setter puppies over night. The first big boy arrived at 3:35 AM, and the last pup, a girl, at around 10:20 AM.
We have 2 boys and 5 girls in all.
All are great and Nash is exhausted, but just fine. She refuses to go outside, but I am going to make her go out for a nice walk around the property as soon as we take a little siesta because we were up all night, two nights in a row. 🙂
Nashua is such a great momma. She is so careful and gentle while moving around the whelping box so as to not step or lay on the pups. She's really something else.
I congratulated the sire, Ranger, while out for his run this afternoon. 😉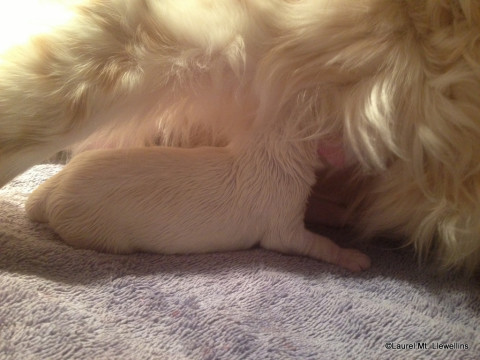 This is puppy #1, about 10 minutes after birth.
A beautiful Belton male.
The same fellow.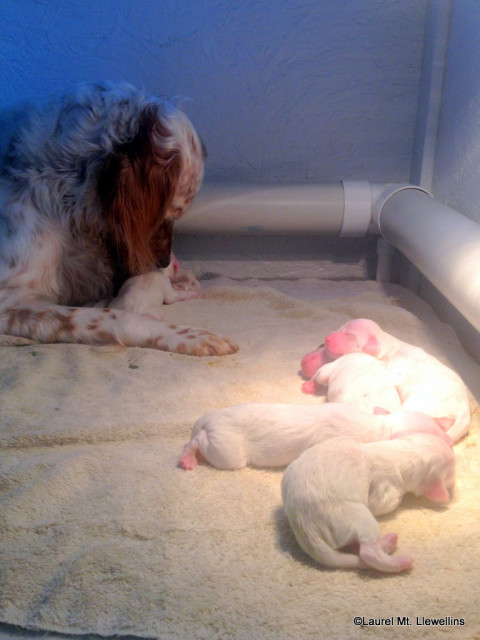 And then there were 6….
And then, there were 7!
The seven squirming newborn beauties.
🙂
I'll go through the contest entries on the blog and on Facebook after work tonight to see if anyone guessed the correct answer as it turned out:
June 8th 5 girls, 2 boys
Congratulations everyone!