January 4th, 2012
It is quite a bit warmer today. The sun is poking through the clouds and it is a wonderful day. I have a bit of the cabin-crazies. That isn't right…what is that called? Oh, yes, cabin fever. Okay, whatever it is called, I need to get out to the woods! And, I am certain the Llewellins in my camp feel the same. Perhaps later today or tomorrow we will get to break out of here for a bit. I need some supplies so will have to make a trip to Menominee. I think after that, I will come back via the route that runs along the bay of Green Bay/Lake Michigan and take at least a short hike in the Escanaba State Forest. I think I'll take Nashua or Lady Bird with me… or maybe Luke… or maybe Kea and Raini. Yes, Kea and Raini, I do believe. Maybe I will just forget about supplies for now and just take my gals and go!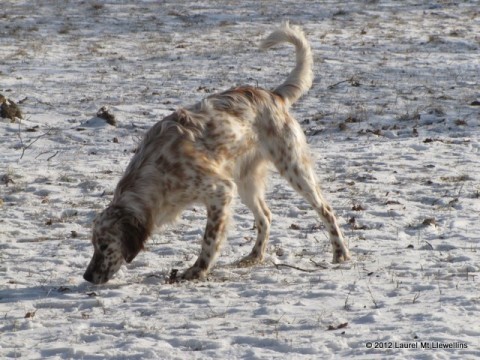 Anyway, with the warming, thawing, and freezing comes ice. See…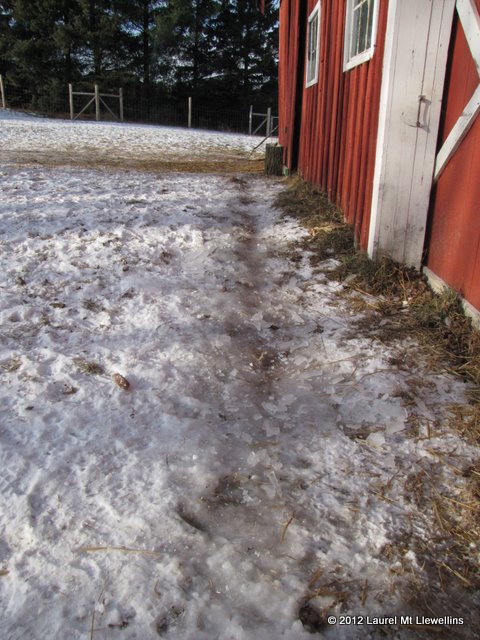 And see…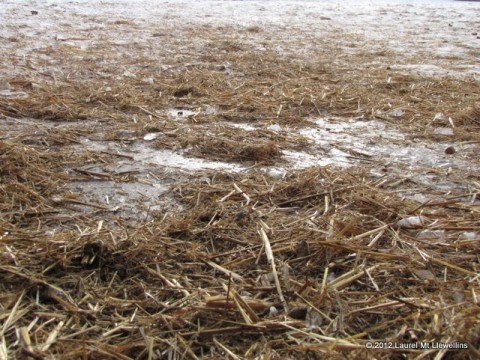 And seeing it reminded me that I picked up a pair of those slip-over-the-shoe ice cleats. Time to try them out. I don't need to fall–can you just see that? I know, now stop laughing so hard. Let's see how these things work…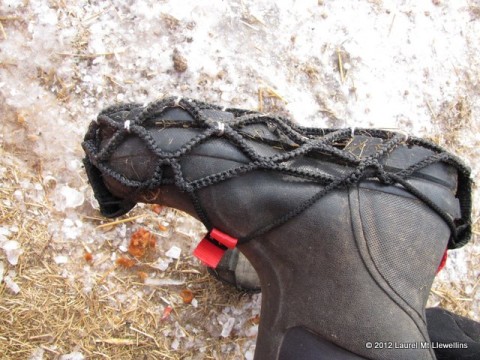 I had been going to order some from Cabela's, but never got around to it. I wasn't sure which ones would be best. Then, I was at China-Mart one day (and only because they are the only darned store in anywhere around here that sells goats milk–although it is canned and that is really puzzling to me) and I saw these on one of those end-of-the-isle displays, and was coerced by the fantastic marketing into buying them. As it turns out, they don't have cleats on the bottom at all. Disappointment right away, but maybe the cleats aren't needed and maybe these will work and maybe I got a great deal and saved $15.. ya, okay… So, after going back inside and fooling around forever to get them on, I finally did… get them on: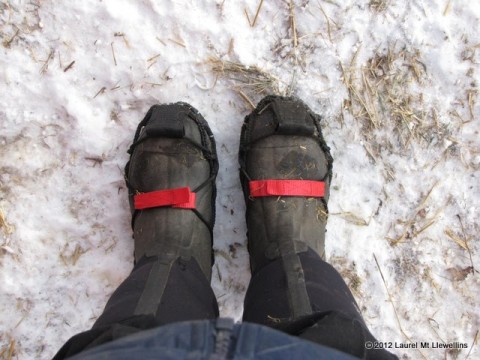 Well, they slipped off the back of the boot about 5 times during the short 2-hours I was out walking. Maybe I didn't have them on right. I'll have to look into it. How could you really put them on wrong? The good thing was that I didn't fall and that really was the point, right? But I can't keep stopping and fooling around with them. I didn't feel all that secure in them because of the slippage (off the boot). I have to do some research and see what I may need to do.
So, we had a fun morning. The Llews made their rounds and had a grand time. It's a wonderful thing to try to look at life through the eyes of a Llewellin. Wouldn't it be fantastic if we just got up everyday and couldn't wait to get outside, run around, pee on stuff, sniff everything, jump and roll around on the ground, bust through brush, race through fields and woods with incredible grace and elegance, slam on point at the scent of an upland bird, get hugs and treats from our masters, get a nice meal brought to us twice a day, have our bed made, our poop scooped, and do it all over again tomorrow?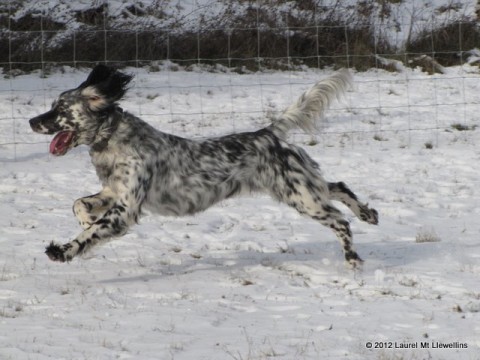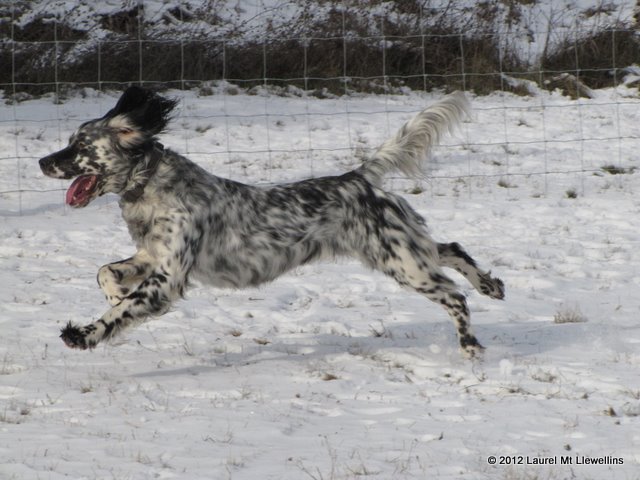 Here is my Steele. I think he is magnificent. He is. It is a fact. Just look at him. Just look at his pups. Come and hunt over him. Just watching him makes me think it would be great to be a Llewellin… Happy, happy. Tail wagging. 🙂 Sometimes I wish I had a tail to wag. Wouldn't it be fun to wag your tail? Seriously. I think there would be less high blood pressure, road rage, and domestic violence if humans had tails to wag. At least that's my theory.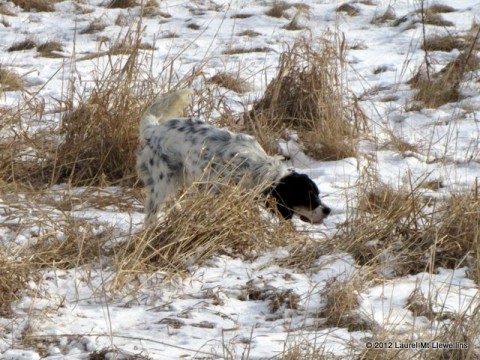 And here is my young gal, Rue. I really, really like her. I know, you might think there doesn't seem to be any dogs I don't like, right? That's not really true, there are lots of dogs I don't much care for–I just don't happen to own any! 🙂
And, here is a bad photo of the young pack out for their run. They are so much fun. I really am the luckiest gal in the world!
And back inside to Dora and the puppies. Here are a few photos taken with my handy cell phone. The pups are so stinking cute!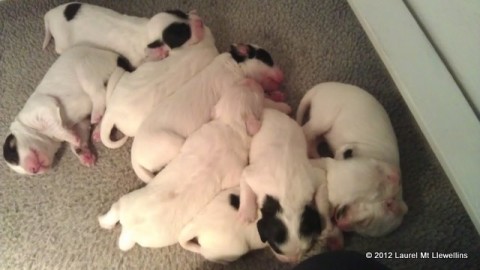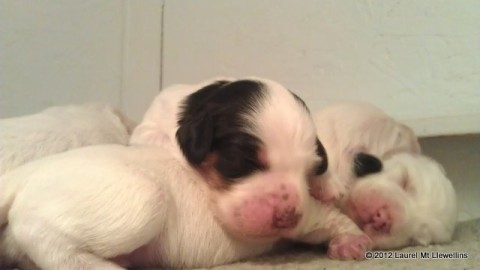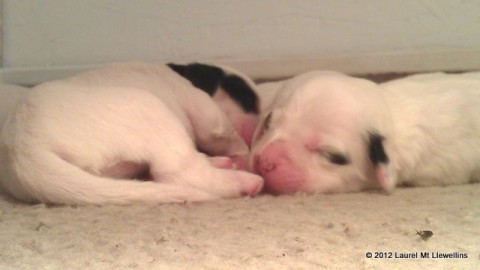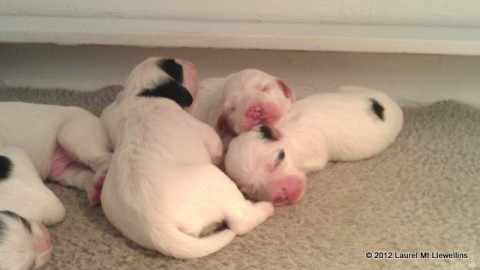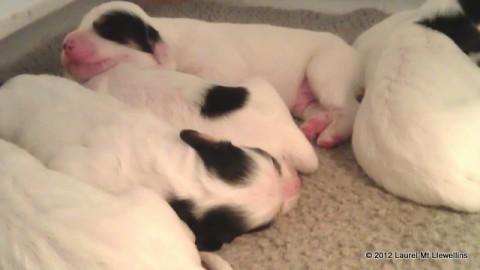 Too cute! Bird dog puppies. Healthy, chubby, bird dog puppies… And not just any bird dog puppies, but Llewellin Setter puppies… and not just any old Llewellin Setter puppies, but excellent Llewellin Setter puppies. Sound a bit prejudice? I can't help it. I know they are excellent.
In other news, the hubby called today. My Jenna darling is in heat! I miss her so much. That ought to go over real well with my daughter and her male German Shepherd moving in! Oh dear, my poor kids!
-Later