Trying to Snap Out of the Funk
My mission is to help you have a healthier dog and breeders to raise healthier Llewellin Setters puppies through educational content based on over twenty years raising, training, and breeding Llewellin Setters. To help support these efforts, this page may contain affiliate links. I may earn a small commission for qualifying purchases at no cost to you.
I am in this strange sort of funk lately. Not sure why. I have to snap out of it. Shake it off and get cracking. I think I have something like 22 drafts of started posts that, obviously, I haven't finished. I have projects going on everywhere around me—I am tearing out carpet to reveal the old farm hardwood floors that hopefully can be redone, kennel projects, dog box projects, broken-down-mower-so-the-yard-looks-like-crap project, atv sitting in the driveway because something is wrong with it, too and I am not buying another damn battery project, painting all the rooms but ran out of something or another to finish it project, kitchen with half the wallpaper torn off and cabinets need repainting but puppies live in there project, aviary for the pigeon loft project, all these projects that I need this, that, or another thing to finish every one of them. UGH. Disarray. Makes me feel funky, messy, unorganized, and unfocused. I've got to make a plan and roll with it, I know, I know, I know!
SNAP OUT OF IT!
I suppose my other problem is that I still so stinking bummed about losing Luke, two weeks ago today. Today would be his 8th birthday. That is one of the articles I am working on. The one about Blastomycosis. Which is what Luke died of. Very important information in the article and I am doing a lot of research because in Luke's case, he did not have the normal symptoms of "Blasto," and his lungs were clear. In most cases, a dog is taken to the vet with coughing, skin lesions, and obvious problems with an eye. Luke had none of these symptoms. He never coughed, had no lesions, but he did have a very slight discharge from one eye for a few days. The vet did see this and it was nothing even close to what is normally presented in cases of Blasto. The related symptoms he did have were not eating and weight loss, which could be caused by many things. Only tissue samples taken during the autopsy revealed he did have the disease. I am not going to get into great detail here about it, but just know the information is coming soon. It is important for all dog owners but especially sporting dog owners. I've talked with many people over the past week that have lost dogs to this disease—either because it was initially misdiagnosed, the dog was too weak to handle the medications, or because the medications caused liver damage that eventually took the dog's life. If you or someone you know has a dog that has survived Blastomycosis, I would love to hear their story and share the information. Please email, telephone, or comment on any and all experiences please.
So, I suppose the wind is gone from my sails for the time-being. Things are in disarray, my bird dog Luke is gone, it's been hot as blazes again, I am walking on pins and needles worried sick about the rest of my pack and watching their every move and fretting every time one of them doesn't finish their kibble, and I just can't seem to snap out of it. I will, though. I have to. I have too many other amazing dogs that count on me and I can't let them down. We've got to get on the ball and back on schedule. I am afraid to run the dogs in this general area after the kick-in-the-gut revelation that blastomycosis is in the soil in this area. So, until I can get this house done, sell it, and move again, I will be doing a lot of driving to training/hunting areas where there is no Blasto fungus.
I am bummed about that, too—fixing/selling/moving again. It was just about one year ago today that we were preparing the offer on this place. I like it here. I really like the wonderful community and this place has so much potential to be very close to all that I could want. But, I just cannot stay here. I cannot live in fear of the dogs contracting Blasto and I refuse to have to drive an hour every morning and evening to run the dogs! That wouldn't be so bad if I had all the time in the world and an endless supply of free fuel, but I don't.
On the up side, we are here in the northwoods living my dream for the Llewellin Setter and have been blessed with many things. I've lost two fantastic dogs this year, but I am blessed to have their offspring and other Llews that are just as excellent. We've had a rough few months with tremendous losses both in great dogs and Santana and Maddie losing their litters (seemingly from a pretty bad mid-air collision where they ran into one another and all tests showed nothing wrong with either of them), and me not having work. But it looks like I am about to start getting steady work again (just in time for serious training of the young dogs and the season opener!), the high temperatures are going to break for a few days, and we may even get some good, soaking rain today so that maybe I can break through the hard-as-concrete ground and get a small fall garden in. I have a freezer full of the most amazing organic chickens that I raised myself (and Kea didn't eat or Addie didn't squish). The Ruffed Grouse opener is in one month, 2 weeks, and 6 days! And, my friends, that is what it's all about and that should be enough to snap me out of it. And even though I have to break tradition this year without my Luke being the first dog out of the box on a cool, crisp amazingly beautiful September morning and the one that slams a breath-taking point on the first Ruff of the season, it will be okay. It won't be the same, but I have the memories and I just have to make new ones.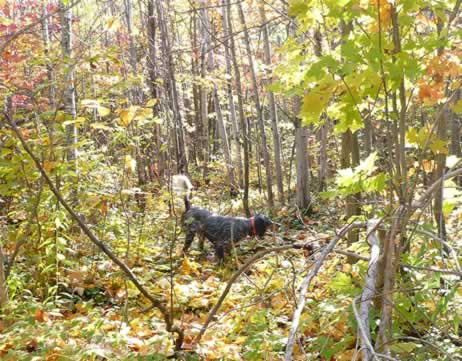 So, on to new memories. On to the possibility of a new and even better place for the LML facilities. On to training young pups and freshening up the old. Get on with it and out of the cloudy brain, stuck-in-a-rut funk.
On to the excitement of the opener and seeing the Llews slam their first birds of another, coveted season in the Northwoods that I am so blessed to get to enjoy.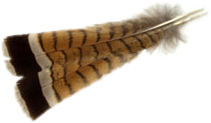 -M.