Three Funerals and a Graduation
Our #2 son, 4th child, graduated high school last night. It was a nice ceremony. The only thing missing was #1 son, who was at the beach on vacation. The family made him feel badly (or not) by sending photos via our cell phones! We wish every one of the 113 graduates to live the life they have always imagined.  Here is my graduate (2nd from the right), surrounded by his sisters and brother (minus 1 brother). It's hard to get these guys to take a serious photo! I am very proud and very serious… as all I can think of is college starting in a few short months!!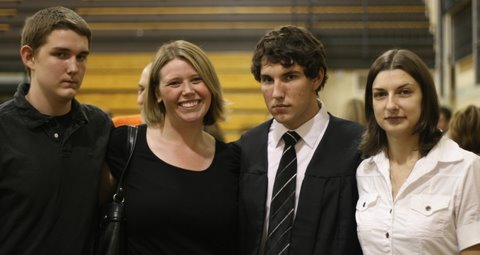 Now, that was a happy event and we needed a bit of happiness in the midst of sadness… In just the past 4 days, we have experienced losses within our families–three actually (two on Scott's side and one on my children's side).  Our hearts are saddened and prayers go out to heal the hearts of all those filled with grief over the loss of:
Regina Lazur (Scott's aunt), Mark Ashley (Scott's uncle), and Robert Clark (my children's cousin).
So, what does this have to do with Upland Hunting? Nothing… nothing at all. I was just touching base and sharing a bit of both joy and sadness.