My mission is to help you have a healthier dog and breeders to raise healthier Llewellin Setters puppies through educational content based on over twenty years raising, training, and breeding Llewellin Setters. To help support these efforts, this page may contain affiliate links. I may earn a small commission for qualifying purchases at no cost to you.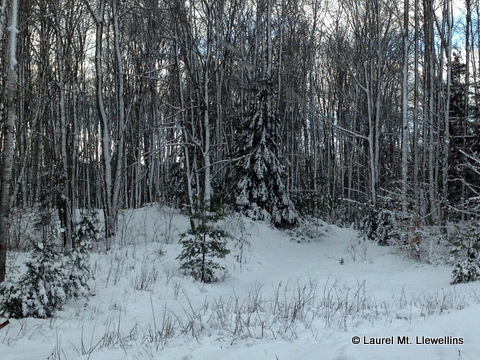 Hello from the Northwoods!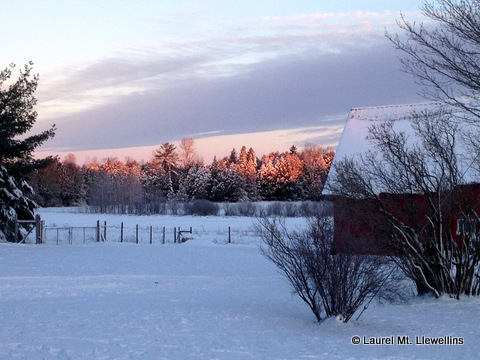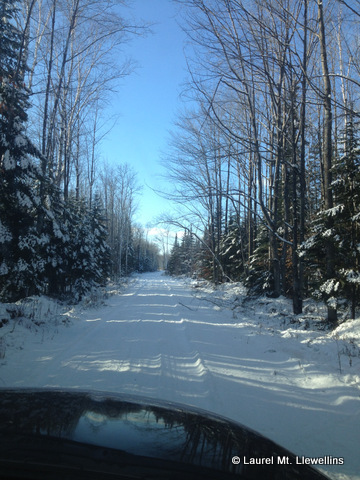 We got out for just a bit on New Year's Eve (a tradition for Scott and I)… We found a few grouse over in WI.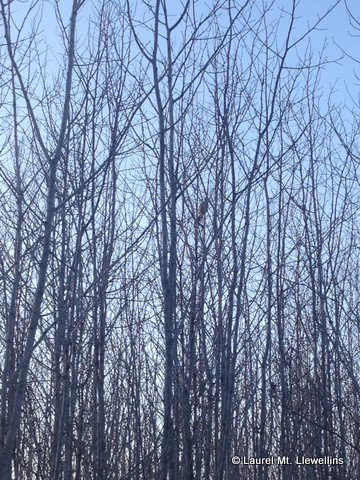 I got to snap a few pictures of grouse eating the buds as the sun set on the last day of the season and the last day of 2012.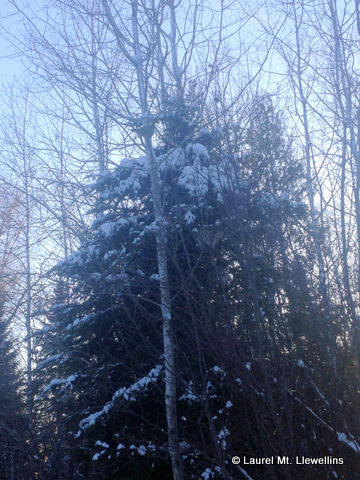 I hope your holidays were wonderful. It's been a whirlwind of happenings here with puppy arrivals and traveling. I got to go home to PA for a long-overdue visit, albeit short, with family and friends. I have to admit that I was very homesick for my family and to see the Laurel Mountains. I love the Northwoods, though, and my only wish is my family could also be here. That would truly be paradise for me. But, they can't, so one of the goals for 2013 is to get that trailer I've been talking about for a year and customize it for all the dogs, so that I can get back to PA for more visits–and take all the dogs with me–no excuses then! The greatest, of course, will be when Scott joins us here for good… or that we find that dream farm in PA… or that my entire family would just jump ship and move here to God's Country. The Superior State… The Yooper, right eh? What a grand life that would be!
So, on it goes with those resolutions, goals, and dreams… starting fresh and new… and all that.
All the puppies are doing great. L-Bird's puppies are 5.5 weeks already! I tried to get some photos yesterday, not very successfully, but will try again tonight after work and kennel chores. I finally got their ID collars on, too. Hopefully, this will help identify them for the folks watching the Puppy Cam.
I got a new, huge puppy bed and they love it. They are spending most of their time in the kitchen now that I am back. No, I didn't get the wall and cabinets fixed or painted, so pardon that nasty looking decor. If I scrub the wall, it falls apart so… I just have to get something done with that in the spring.
Anyway, here are a few pictures: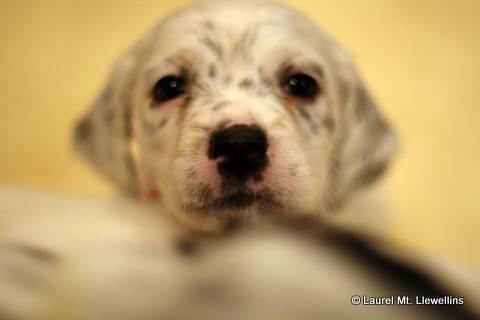 Lindy has a pink collar (of course). Her tan spots came out while I was away–she is a tri-belton! So stinking cute!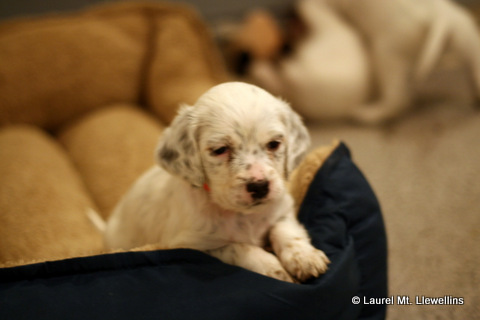 Here is another of the cutie-pie.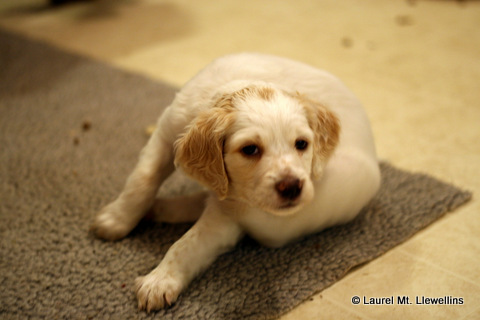 This fellow is something else–Hughie is always busy, always wants to see what you are up to. And so handsome! He's not liking his collar, yet, though. The pups walk funny and scratch at them constantly for a few days…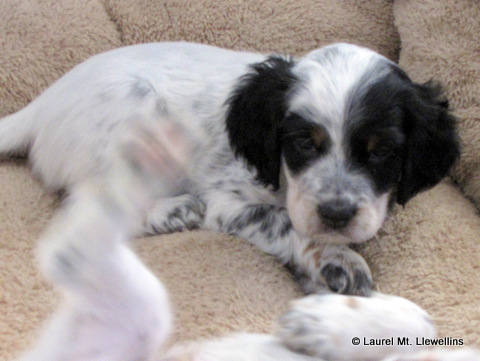 The very handsome, King.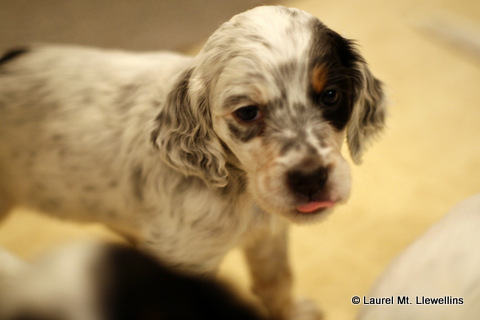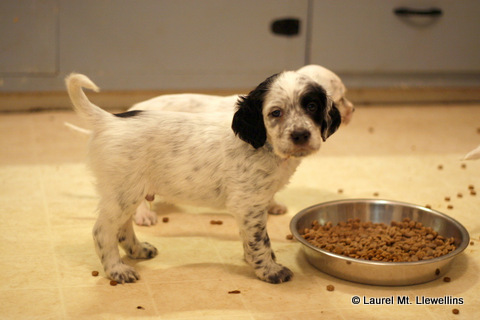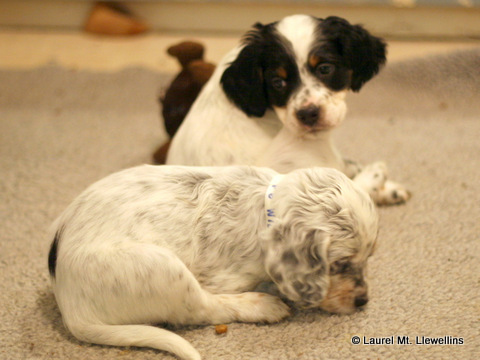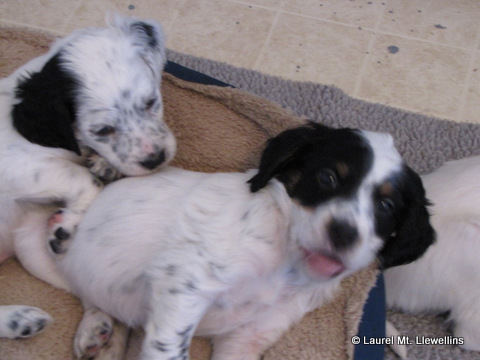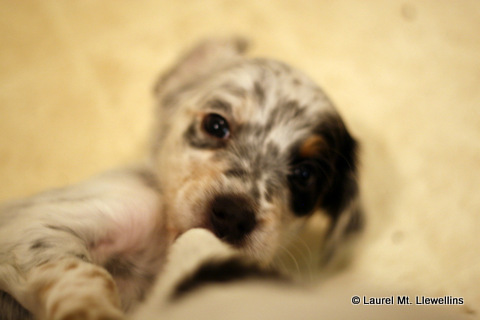 As said, not the best pictures…
And, Maddie's puppies are doing great, too! Born Saturday, December 22nd, right on schedule. Four beautiful females (3 are orange beltons), and two gorgeous males.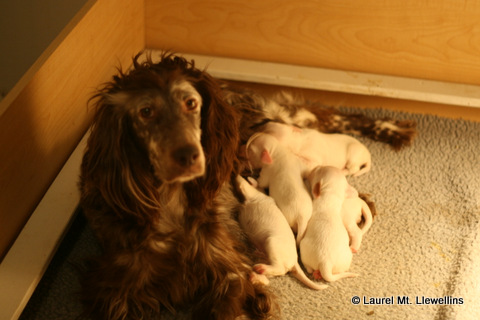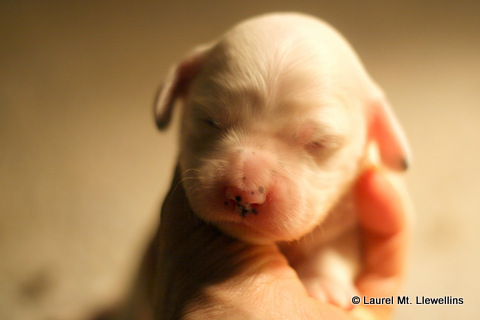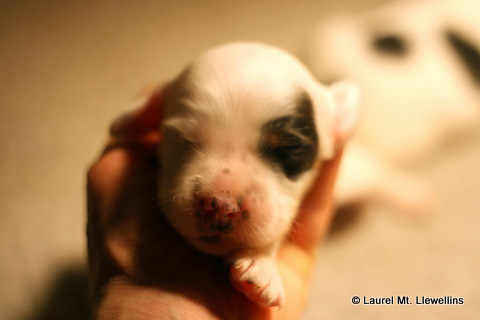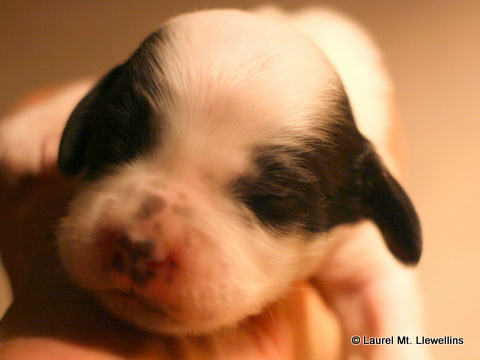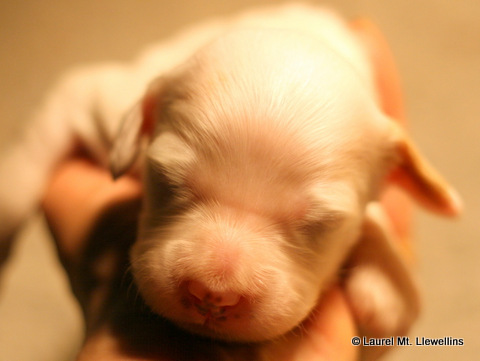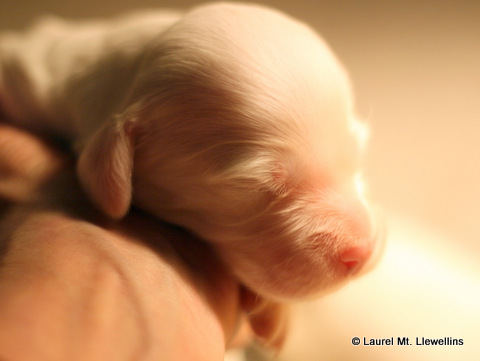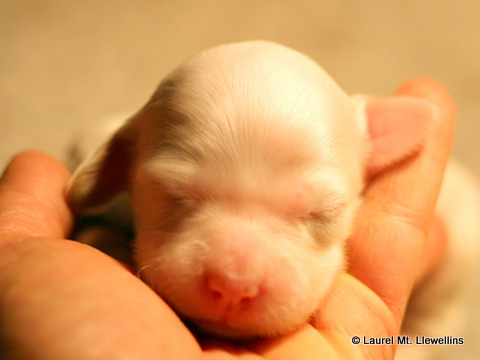 Now, I have to get a minute to come up with a theme and get these darlings named!
It was so strange to be away from them their first week of life. But Scott did a fantastic job, of course. All are well and their eyes are starting to open. Maddie is a fantastic mum and you'd never know she just had a litter.
OH–and no, Santana has not come into heat, yet, for all those anxiously waiting the breeding announcement! Dora has returned (she was in PA with Scott) and it looks like she is coming in heat! I am considering a repeat breeding to Steele with her… or it might be time to bring the fabulous Doc and Rocco into the breeding program. Doc and Rocco are brothers and the sons of Santana by Steele. They had a great year. Phenomenal dogs.
Okay, that's all for now. I promise more puppy photos tonight or tomorrow morning or whenever I can. I can't stand making promises I can't keep and I can't seem to keep up with my life lately! Today has exploded already with work, work, work… the phone hasn't stopped ringing… there are a billion chores to do… and I really just want to catch up on sleep… and like, write out the Christmas cards that are still sitting here on the desk… or run dogs… or groom my dogs… or play with puppies… or go out exploring, run dogs, and take photos!
But then, there's the reality of my life and a mailbox full of dam bills… so off to work I go…
Have a great litter theme idea for Maddie & Steele's 4 girls and 2 boys? Let me know!
Happy New Year from Laurel Mt. Llewellins!
-LML