My mission is to help you have a healthier dog and breeders to raise healthier Llewellin Setters puppies through educational content based on over twenty years raising, training, and breeding Llewellin Setters. To help support these efforts, this page may contain affiliate links. I may earn a small commission for qualifying purchases at no cost to you.
I receive inquiries as to the type of leash I like to use so thought I would share. I prefer the British slip leads, like this: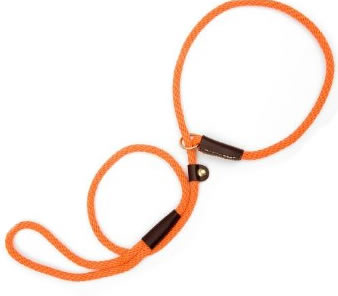 They are made in the USA, come in a variety of lengths and colors, and are available very reasonably on Amazon and for about half the price compared to what I found them for in walk-in stores. And I prefer to shop in the middle of the night in my pjs, don't you? I like a slip lead for several reasons: First, I don't always have collars on the dogs while here in the house. When I have more than one dog together, there is the possibility of a dog getting his or her jaw caught in another's collar while playing. It has happened and can kill one, if not both the dogs—even if collars are kept snug as they should be. There is also a danger of a collar getting caught inside a crate and strangling the dog. So, I only collar my dogs when we are heading out to work them or when leaving the property. This lead slips around their neck and serves as both a collar and a lead. I can also easily adjust where I want the lead, unlike a collar. I can put the lead high on the neck for correction if needed. You can adjust it to fit any size dog and a slip lead is fantastic for teaching puppy basic leash manners, as well as heel and whoa.
The Delmar Smith Wonder lead, available over at Gun Dog Supply is another favorite.
Note & Disclosure: I will only recommend products, services, etc., that I have personally used. Some of the products I recommend are affiliate links that I make a small commission on if you purchase via the link. It is of absolutely no extra cost to you. I simply might receive a tiny portion for using their link if you click the link and purchase the item.