Do You Keep a Hunting Journal?
My mission is to help you have a healthier dog and breeders to raise healthier Llewellin Setters puppies through educational content based on over twenty years raising, training, and breeding Llewellin Setters. To help support these efforts, this page may contain affiliate links. I may earn a small commission for qualifying purchases at no cost to you.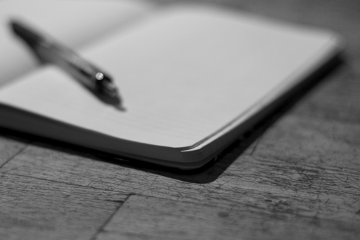 I received an e-mail today with a great suggestion as to "ways to stave off the depression" when we are unable to get out hunting. Brett says he keeps a journal of all his hunting exploits, recording the time, place, weather, what birds were flushed, what the dogs did, how many shots taken, etc. In the off season he reviews this record reliving the magical days of past seasons. He's even transferred all of the information into Google Earth and can rewalk all the hunts, read about what took place, and see where it happened geographically. It has helped him plan hunts and while looking at the topographic satellite imagery, found new places to try. Now, that is taking the hunting journal to the next level, eh?
I love the idea and thought I would share it. Do you keep a hunting journal? I start one every year. I put a notebook and pen in the console of the truck and for several weeks or even months (especially through the training and scouting season), I do really well with it. Then, I end up skipping a day or two, then it turns into a week, then a month, and before I know it, I've blown it. I do have great detail about the first few weeks of lots of seasons, but that's it. I've decided to make this a very important "to-do." I love doing it and really have no idea why I stop. I didn't make it a habit, I guess. I do remember many times thinking I would jot down the notes of the day once I returned to camp or what have you because I was wet, cold, the pen didn't work, I got the pages wet, was in a hurry, was following someone, etc. This reminded me that I thought I had seen waterproof journals so did a little searching. Here is what I found: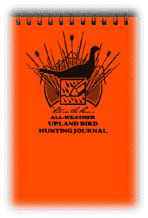 I found a company called Rite in the Rain that produces paper and products that, just as the name implies, you can use in the rain. I was thrilled to find that not only do they sell journals (Big Game, Fly Fishing, Bow Hunting, Waterfowl, and yes, they even have a Sportsman's Upland Bird Hunting Journal), but also copier paper, ink jet paper, loose leaf paper, index cards, grid sheets, pens, covers, pocket-size notebooks, covers, belt pouches, and more! I can see printing maps on that ink jet paper! And, now, I have no excuse to not keep a hunting journal.
The journal page of the Upland Journal has areas for:
Date
County
State
Hunt Location
# in Party
License Type
Permit Stamps
Legal Start Time
Legal End Time
GPS Location
Bag Limit
Cloud Cover %
Sun, Fog, Snow, Sleet, Rain
Barometer & Trend (Rising, Falling, or Steady)
Wind Direction and Speed
Moon Phase
Temp and Notes
Location Description
Description of edges hunted
Morning position
Evening position
Flush Pattern
Blockers used
Firearm
Ammo
Shots fired
Magnum load type
Shot type/size
Choke Diameter
Dogs used
Dog performance
Species hunted
# Harvested
Health of species harvested
Wow. Honestly, there is much more there than I would have ever thought to record. I like this. You can get the journal for $7.95 or a great kit for $35.67 that includes the spiral journal, an all-weather pen, and a cool cordura pouch. Check out their stuff here: Rite in the Rain. Oh my gosh, and, I noticed the site says "Powered by BirdDog eCommerce!" Things like that just tickle me. I know, call me crazy.
Then, over at efishhunt.com, I found some very handsome leather (I can't resist leather journals, can you?) logbooks with preformatted pages including much of the same information listed above. Just $24.95 and you get 180 preformatted pages (refillable), and the brown leather cover. They also have a fishing edition.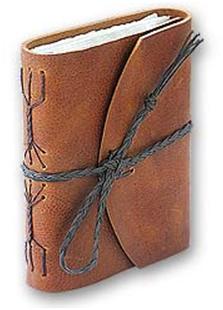 And then, over at Renaissance Art, I found the most handsome leather Hunters Field-Size Journal that must exist on the planet. On the inside, one side has a sleeve that you can include photos, cards, (feathers, maybe a leaf or part of a plant you want to ID, etc.), and the other page is a preformatted page to record the details. The pages are acid-free to last forever. It also comes with a "Personalized Title Page" which can include your name and the date it was made, etc. You can even chose between a wrap-and-tie closure (as in the photo) or a strap/buckle type closure and you can also chose between black or brown leather. WOW. It's only a $95 drop in the bucket. They also offer two larger sizes–a "lodge size" and a "Den size." That could really get me writing, how about you? Sorry, I know, who needs that? The $7.95 will do just as good of a job (and is waterproof), but I just can't help not completely love a leather journal, you know?
Those are just a few I found, but I would imagine there are many more versions out there to fit everyone's needs (and likes).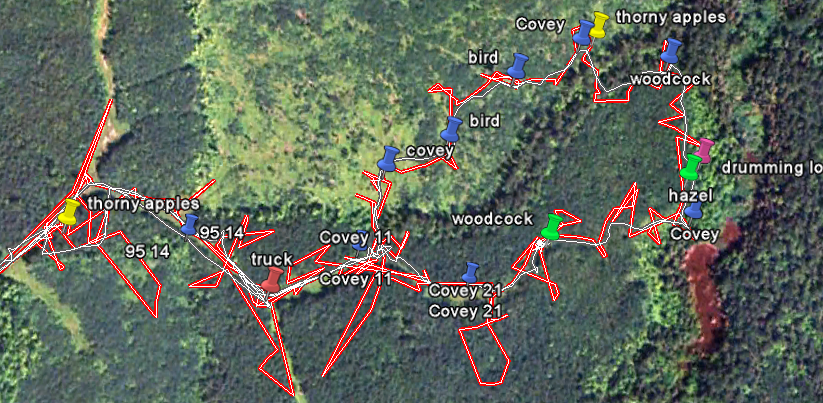 I also love the idea of transferring the notes, locations, etc., to a mapping program. I haven't kept very good notes, but I have an addiction (like the one to leather, grouse hunting, and Llewellin Setters) to maps, mapping software, GPS units, Google Earth, and the like. I do carry a hand-held gps (or two) and mark a ton of waypoints and tracks, and now, with the Garmin Astro, I have very much enjoyed marking as many things as I am able (although I am still figuring that unit out) while hunting. I like to mark where a bird or birds were put up, even plants, shrubs, etc., that are good food sources and I would like to return to check on at another time. I am usually pretty good about importing those points onto the computer and mapping program and have some sort of record of that hunt. You all know you also get to view tons of fun information and the track of you and your dogs if using the Astro.
As Brett pointed out, it is great to look back on that information and look at it in Google Earth or other mapping programs and make plans for next season and a fantastic way to get through the off-season!
Thanks, Brett!
Tell us if you keep a hunting journal, what information you document, where you found yours, how you use the information, and how you might incorporate mapping programs into reviewing and planning for next season in the comments area below the post.
Here are some you might like: