My mission is to help you have a healthier dog and breeders to raise healthier Llewellin Setters puppies through educational content based on over twenty years raising, training, and breeding Llewellin Setters. To help support these efforts, this page may contain affiliate links. I may earn a small commission for qualifying purchases at no cost to you.
It's one of those nights and I just can't seem to concentrate on the never-ending deluge of "work" projects enslaving me to this desk tonight, so while waiting for a page to load or download or refresh or whatever it may be, I click on over to sites like the Whole Dog Journal for the latest news, peruse state DNR sites looking for new places to hunt, or check-in on the progress of the Iditarod to look at photos of the musher's rigs and the dogs. The Copper Dog 150 kept me distracted when I had a chance over the weekend.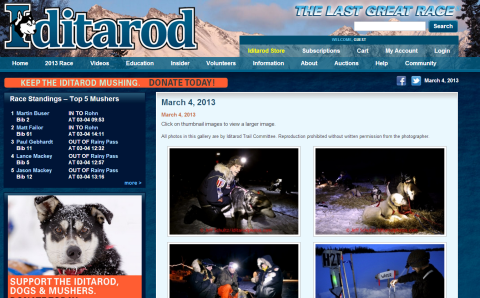 For the first time in many years, I did not renew my "Iditarod Insider" membership and am really trying to resist the temptation, but it's hard. It makes me mad, that I can't watch the teams on the GPS tracker or any of the "Insider" videos without the subscription. I think I'll boycott the Iditarod. Yea, right. I won't. But I want to. Because I don't want to spend money on it. Because come hell or high water, I'll save enough to get my dog trailer this year so the dogs and I can go anywhere to hunt anytime… all over Wisconsin, Minnesota, Kansas, Montana, and back to New England here we come! Utah, Oregan, and Idaho, no problem. From the Dakotas to Texas and Georgia and everywhere in between, I want to go. So, kudos to me, I just added $33.95 or whatever to the trailer-savings bucket. Wooooo. I know, but every little bit helps, right?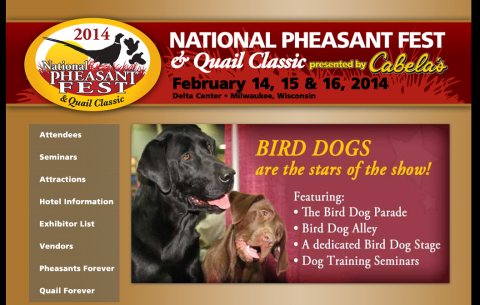 With the trailer, I won't ever miss the Quail Classic (better known as the Pheasant Fest, but I don't like Ditch Chickens, remember?) again, which actually is even closer to me for 2014 in Milwaukee, WI!
Just think about that, wouldn't it be the most fantastic thing ever? A trailer customized for living on the road–anywhere, with all the dogs and puppies! They would be warm and cozy, or cool for that matter. A sweet, luxurious ride for the dogs. I would have some sort of sleeping area, a desk/work area (no, I don't sleep in creepy hotels—I sleep with my much cleaner, healthier, and much friendlier dogs and they would probably just lick an intruder to death, but hey at least the dogs would be witnesses, right?). All our gear and all our dogs on the road to wherever the birds are at anytime of year. Could you see it? Big runs under the Montana sky… long, all-day hikes in the mountains of Utah (Brett and Cheif, I am coming to hunt with you, okay?), Idaho, Montana for wild chukar or the thunder of the mountain grouse… Dodging cacti for quail in Texas (we have puppies there I would love to see), hunting the plantations of Georgia (lots of puppies there to visit) with coveys bursting everywhere… and ahhh…. Alaska (I'll come to see you, Rigby puppy!)… the dogs slamming birds, breath-taking points, puppies exploring and getting their first scent of wild birds from the prairies to the mountains to the tundra and all happy and content at the end of the day… ahhh… Can you imagine the photos I could take? I'll put out a fabulous book of our adventures with gorgeous photography…
Hey, does that make me a gypsy? I had a friend once and she always said she should have been a gypsy. Maybe I do not even know exactly what a gypsy is… they just like to travel, right? I have a hard time sitting still and want to explore and hunt everywhere. Maybe I am a hunting gypsy? The thought of quail on the Kansas prairies or Hungarian partridge, wild chukar, sharpies, prairie chicken, blue, sage, spruce, and mountain grouse, keeps me awake at night, dreaming, scheming, longing to go, go, go. There are places to go, birds to hunt, dogs to work!
I just had a sort-of-creepy thought… you know how they say some people start to look like their dogs? Which is completely creepy, right? GASP! Am I becoming like my Llewellins?! Obsessed with bird hunting… so much so that I can't think of anything else? All I can think about is September, September, September and how freaking far from now that seems. But, there is always August training somewhere… somewhere with cool temperatures and wild birds… where oh where can that be? I am on constant lookout for good bird cover. I take the back roads (which here, all are back roads for the most part) always looking for good cover and places to hunt… I swear I am beginning to be able to scent birds, too… I constantly try to assess what a dog is thinking, what he sees, how he feels. I actually think how smashingly fun it would be to have a tail to wag. Sometimes…
Don't tell anyone I said that.
I'll completely deny it.
But, wouldn't life be grand if we had a tail? You could immediately tell a person's mood just by their "tail language"? Happy tails, sad tails, mad tails. It would come in very handy for balancing and could also be used as a weapon, if needed. Slap that idiot behind you with a good wag of the tail. Oops, I'm sorry–didn't know you were there.
I've really picked up on the growling thing lately, too… but I think that's just either being a cranky hormone-raging female (bitch, if you will, right? Come on, now, you all know we are no matter how much we may try not to be) or age, or maybe both, eh?
Now, where was I?
Oh.
Daydreaming…
Iditarod.
Okay, it doesn't seem so exciting now that I got all worked up about the dog trailer and planning all the training and hunting trips for this summer, fall, winter… but, I seriously think I am going to look for some gear to try some sledding with the Llews next winter. You know, for good exercise in the winter, unless we are in Georgia or Texas or somewhere next winter. But, I really do love winter and snow and so do the dogs, so it would be great fun and exercise for all when we can't be hunting!
Back to work, now. Sorry for the rambling distraction.
-M.