My mission is to help you have a healthier dog and breeders to raise healthier Llewellin Setters puppies through educational content based on over twenty years raising, training, and breeding Llewellin Setters. To help support these efforts, this page may contain affiliate links. I may earn a small commission for qualifying purchases at no cost to you.
Everyone is busy this weekend—the boys with this and that, Scott with some trapping banquet or whatever—so, with a mountain of paperwork, Web site work, the "job-job" work, as well as the at least now sorted receipts for that tax-thing I still have to do… (I kid you not) needing my attention…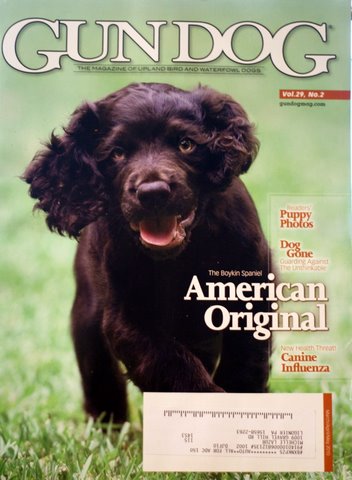 And the new Puppy Edition of Gun Dog magazine that arrived in the mail today (at least it was one item that wasn't a bill, eh?). I am anxious to read it and look at the puppy photos submitted by readers.
I, instead, had to attend to the living things that need taken care of (like Ben, how can you resist this cutie-pie?) because you can't ignore the needs of living things, but you can ignore all of the other projects and not one person ever showed up to take that position I ran an ad for a while ago (I thought there were so many people looking for a job and there were no jobs?) …. That's okay, I don't mind at all. I would much rather take care of our wonderful Llewellin Setters and puppies!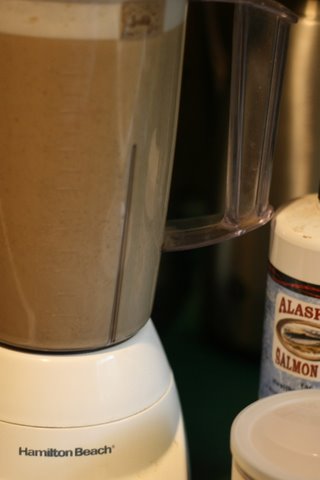 So, I made a batch of mash for the puppies which I whip up in the blender so it is easy for 3-week old puppies to eat. It consists mostly of puppy kibble and water just like Momma is eating with a few additions I throw in for good measure. This batch will last through tomorrow. I give them some and refrigerate the rest. When I need more, I take some out and add warm water to heat it up and thin down to the desired consistency.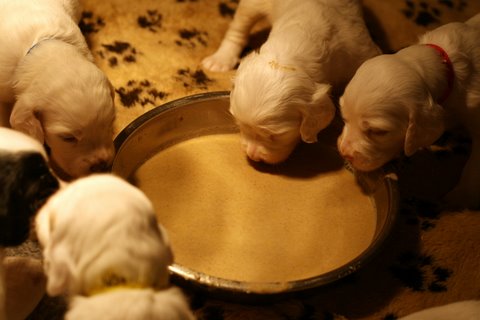 The puppies are hungry and eagerly lap up the brew.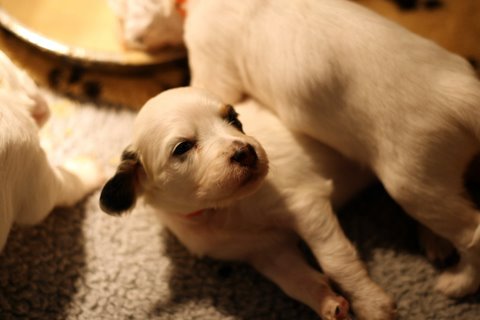 Bee, with an excellent nose, wakes up to the smell of dinner.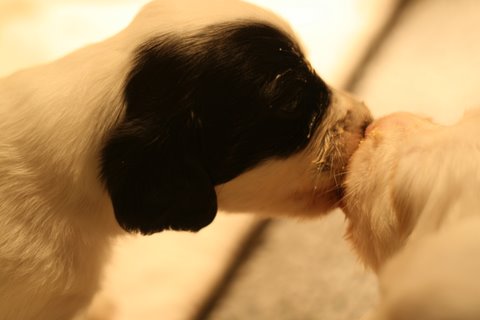 The mash is quite messy and the puppies clean one-another off.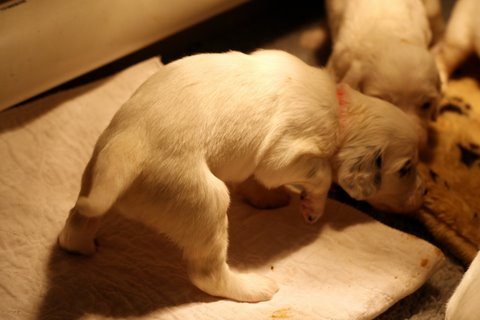 After dinner, they are so smart that they already have figured out to do their business on the pad in their box.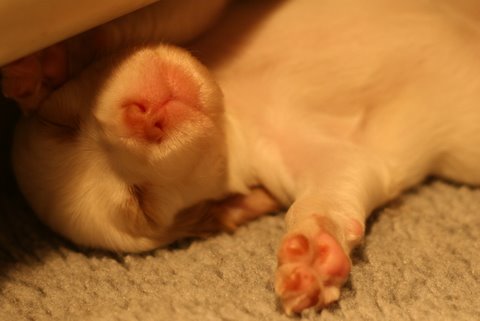 With full-bellies and their business taken care of, they go back to sleep, now.
Then, I brought in some fire wood for the wood stove for tonight, cleaned up the yard a bit, and got the rest of the dogs fed and exercised.
No photos of this as it is raining. See: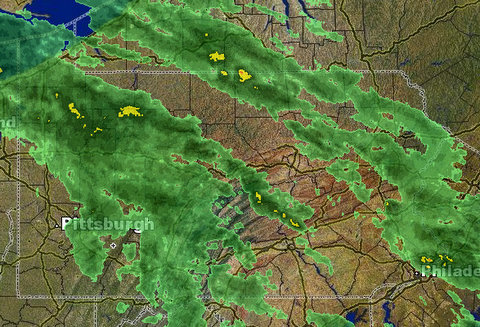 Screen-shot taken from one of my favorite weather Web sites, Intellicast.
With the current needs of living things taken care of, I will now "work" for a while. While I was taking care of the inside dogs, I threw some dinner in the crock pot (nothing fancy at all–just some cabbage and noodles, after-all, it's just me, here). I love cooking in a crock pot, as it doesn't need my constant attention. However, I wish I would have done this a little earlier today so that it was ready by now!
Oh no!!! I just remembered the dog food order needs picked-up!!! Okay, gotta run for now!
All I really wanted to do is to take all the dogs for a day of training. The dogs and I don't mind the rain at all. When it rains, there won't be anyone else on the Game Lands! 🙂
Later tonight, I will get those updated photos of the puppies that I promised you all yesterday. I will weigh them, trim their nails, and give them their 2nd day of wormer medicine.
More to come…