A Fun Winter Weekend—UP Style
My mission is to help you have a healthier dog and breeders to raise healthier Llewellin Setters puppies through educational content based on over twenty years raising, training, and breeding Llewellin Setters. To help support these efforts, this page may contain affiliate links. I may earn a small commission for qualifying purchases at no cost to you.
I have to say this weekend was one of the most enjoyable I've had in a very long time. There's really nothing (except running and hunting our Llewellins) than getting out to play in the snow! 😉
Saturday we needed to stay closer to home, so instead of heading north to the shores of Lake Superior for the UP200 Dog Sled Races, we ventured over to the 49th Annual Ice Fishing Derby sponsored by the Menominee Woods and Stream Sportsman's Club at Shakey Lakes County Park.
Uh… can I just say, what a freaking blast!!! Call me corny, call me a tourist, maybe even a certified redneck, call me whatever you want, but I've never seen folks have so much fun on ice in brutally, bone-hurting cold! We pull into the area having no idea what to expect and oh my gosh… a spectacle like I've never seen! A city on a frozen lake. Ice fishing shacks everywhere. Trucks, cars, mini-vans, snowmobiles, ATV's, side-by-sides, you name it, they were on the ice.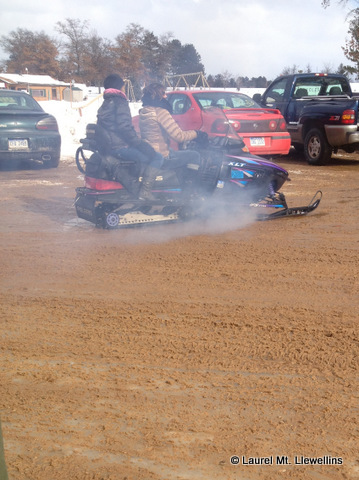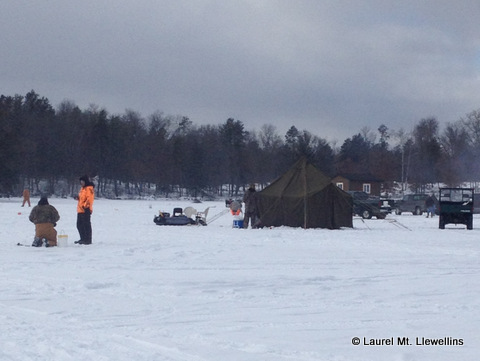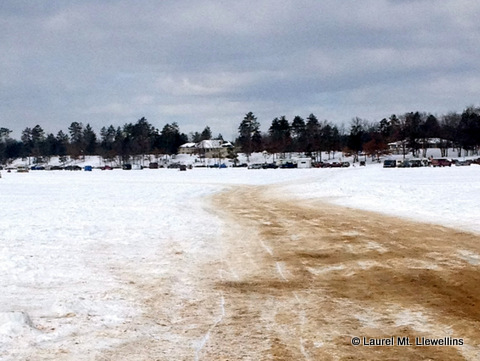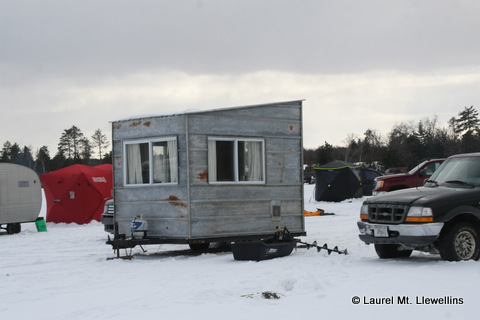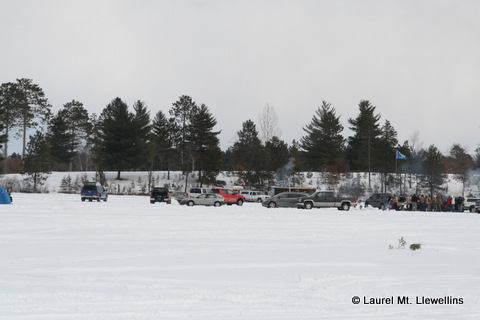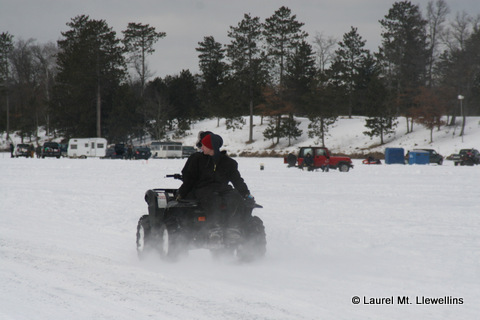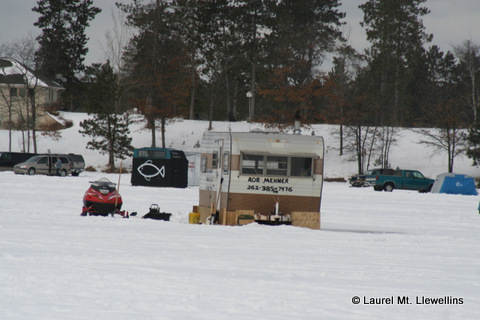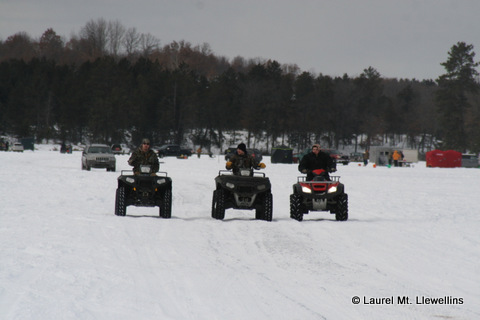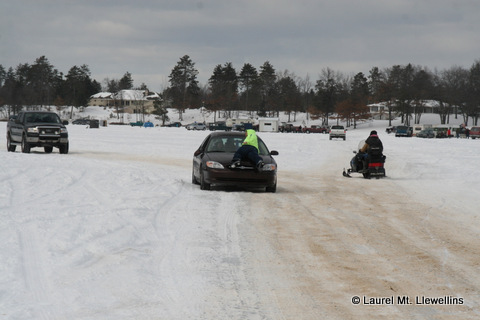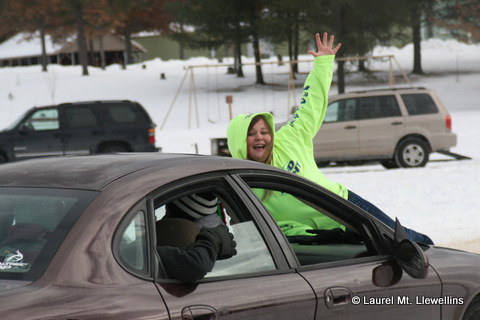 Why doesn't she seem cold?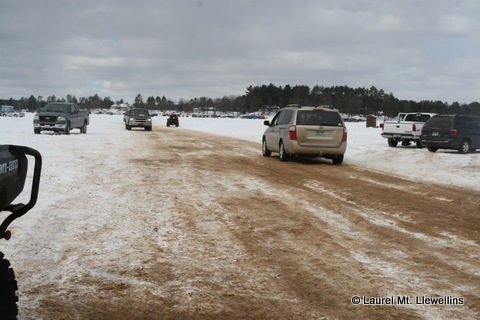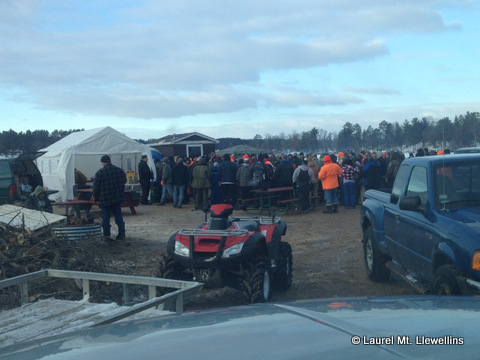 Needless to say, being our first time and all, Scott and I were the only idiots walking around out there. I'm sure we looked rather out of place because everyone else drove out. We didn't have a beverage in our hand, either. 😉 . Everyone was having a grand time on a frozen lake… In the UP…
We walked and walked and walked just checking out all the groups and parties, and chatting it up with the old-timers. Then there was a gathering for the winners of the derby and lots of prizes and food. Then, off to the Shakey Lakes Saloon for continued fun!
The UP200
So, today, we were able to head north to Marquette to cheer for the mushers in the UP200. We were late, of course because there are sooo many chores to do in the morning, but we did make it and got to see a few teams cross the finish line.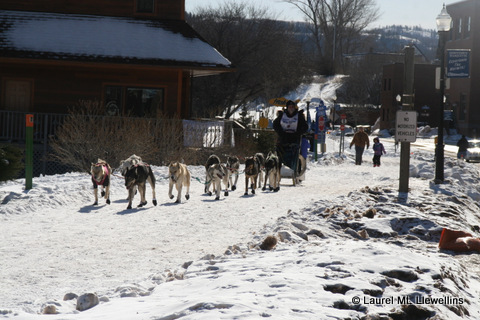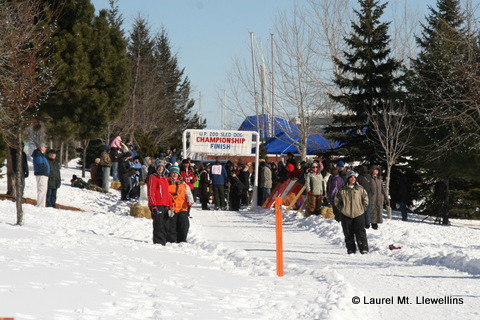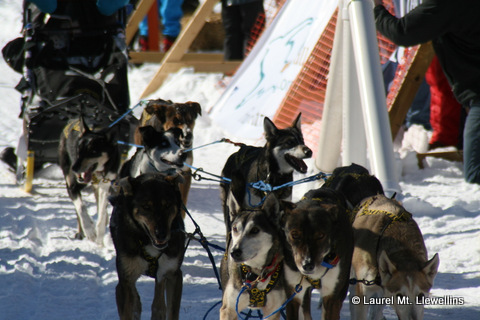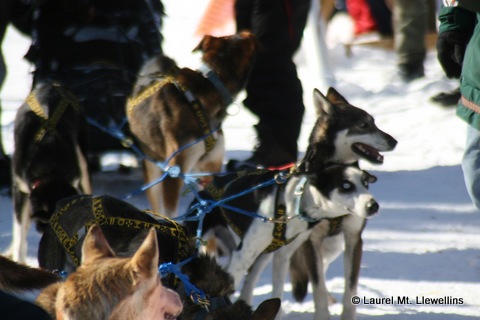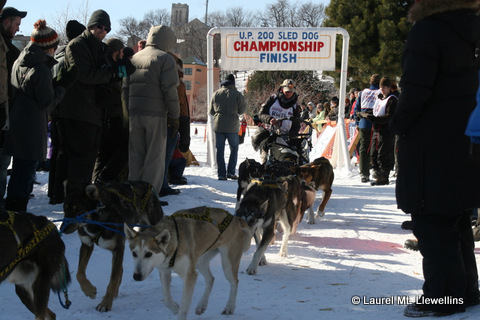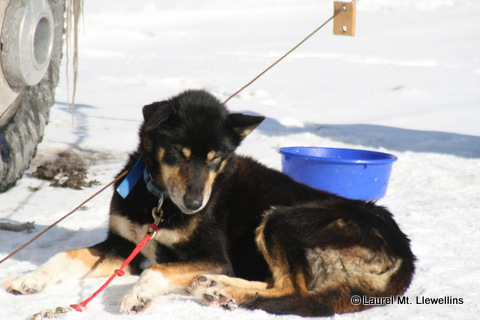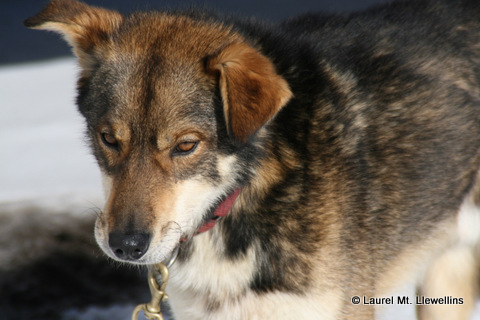 We didn't get to stay long, but I had a great time checking out all the musher's rigs and getting ideas for the rig I want to build for our Llews.
Next year we have to make it for the start!
We are saddened by the news of the tragedy that struck the race and one team that had a collision with a vehicle in white out conditions. Our hearts go out to Frank Moe and the loss of their dog, Pony. We hope the other dogs are doing okay.
Trenary Outhouse Classic
I am looking forward to the the world famous Trenary Outhouse Classic next weekend!
Oh my gosh. Sorry, I have to go check that one out!
And the following weekend:
Copper Dog 150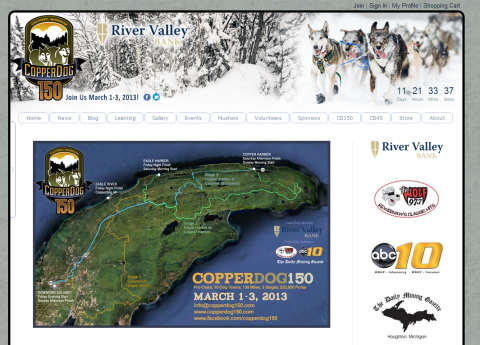 I am really looking forward to the Copper Dog 150 March 1–3 in the Keweenaw Peninsula, an area of the UP that I absolutely love. Oh my gosh, so much fun in the UP in the Winter!
I love it here.
but, I'm weird and love winter and all things dogs
and maybe even all things ice fishing!
Where else do you fit right in with a Stormer Kromer or a real fur trapper's hat? Or real coyote-fur muks? Or with a huge honkin trailer full of howling dogs?
Oh, and Honey, after we build my super-sweet dog trailer so the dogs and I can travel all over the country hunting and training, I want to build a spearing shack, okay? I think just to cause a ruckus I'll paint it pink… or maybe my favorite color burnt orange?
🙂
…
or not
…
but can I?
Please?
Wonder if I can get wifi out there so I can work while waiting for a fish to come along?