At Least It Gets Cold Here
My mission is to help you have a healthier dog and breeders to raise healthier Llewellin Setters puppies through educational content based on over twenty years raising, training, and breeding Llewellin Setters. To help support these efforts, this page may contain affiliate links. I may earn a small commission for qualifying purchases at no cost to you.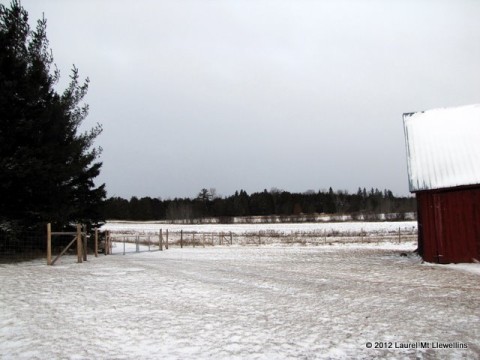 Apparently living in the "Banana Belt" of the Upper Peninsula could truly mean we won't get much snow here. And that really is a blessing when I put aside my childish fantasy of a snow-covered world…and igloos that my brother, sister, and I built… and sled-riding… and angels… and snow shoeing… Less snow means less work. Easier on me. I should just take the gift and say thanks! And so, thanks to Hammill and Gustafson and to God for leading us here!
And then, after reading things like this: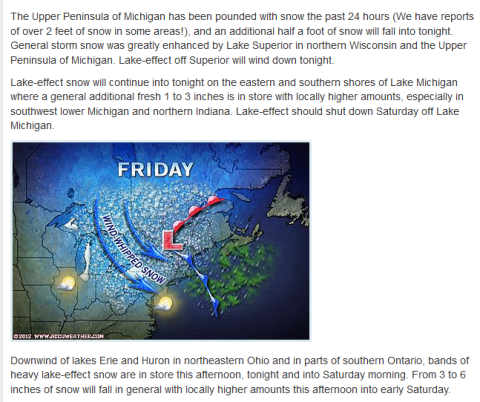 I should be truly grateful–I mean, 2 feet of snow in 24 hours is a lot, eh? And, I am. Grateful. You can see by the photo out my front door, that certainly didn't happen here. But, I did get some snow. And some is better than none. And some is probably better than 2 feet! And, if I really want to play in 2 feet of snow, I only have to drive north about an hour. So, that's great. Convenient, too. I know, right?
At least it does get cold here or I really would have to consider moving. Like back to PA, where Hubby is getting hammered with snow today. He called to brag about it, too. Jerk. Ha Ha Ha. Very funny, darling.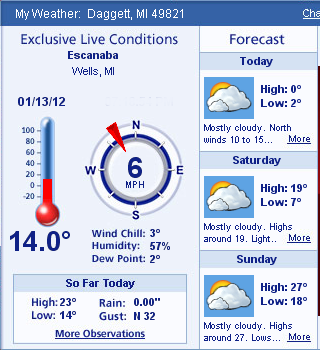 But, at least it does get cold here.
And it is.
A bit cold here.
I like cold much better than warm.
Which is why I've never gone to Georgia or Texas quail hunting. Too warm for me.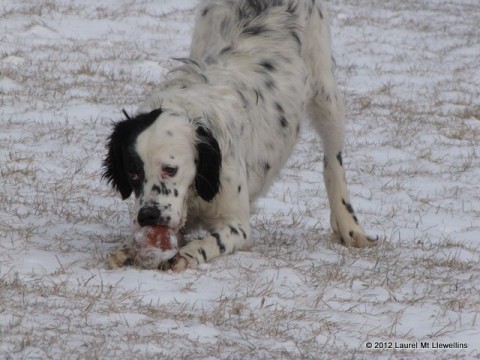 As said, the dogs don't mind the cold.
Gale likes her apples frozen.
Even on a cold day.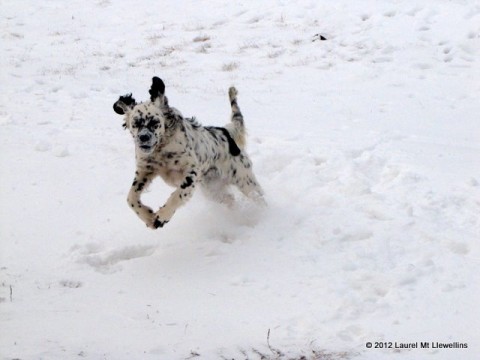 And Luka thinks it's a blast.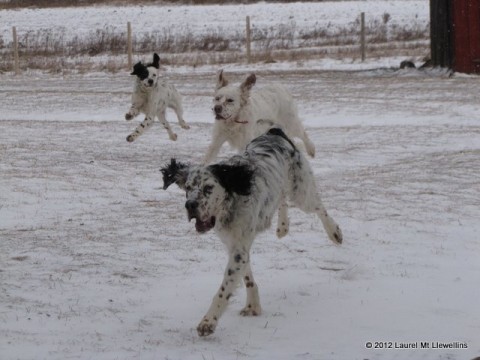 And so do Rocco, Doc, and Gale.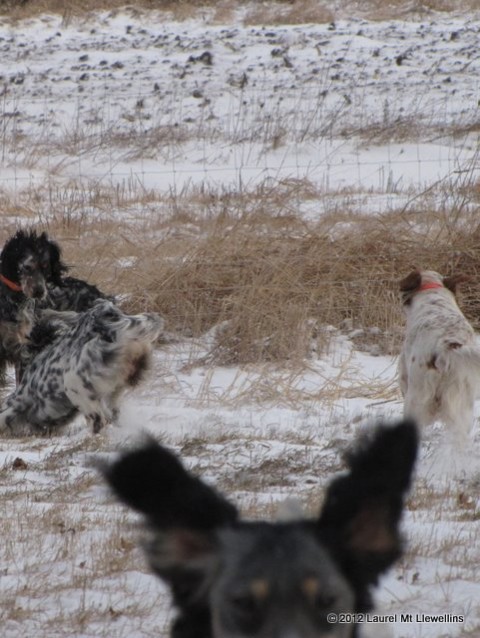 And Addie, Nashua, and Mia had a blast.
Midge is always trying to steal the show.
Today, though, she was just trying to get into the kennel with Steele. Her choice of male companionship today (She is in heat). NO, I say. Not this time. Go cool yourself off in the snow. In the parts where the snow is deep because of the drifts.
🙂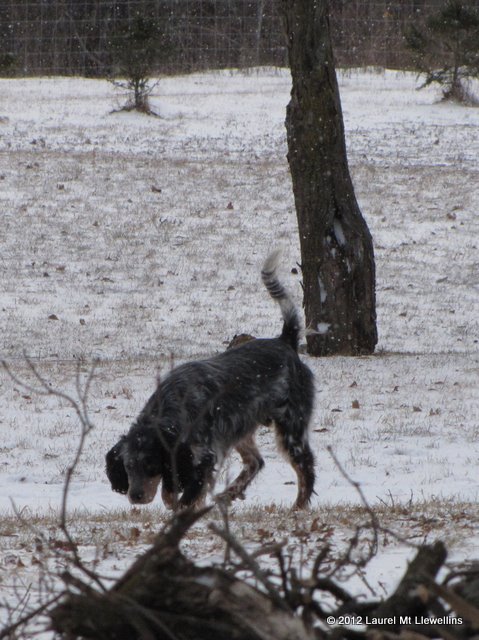 Luke doesn't mind at all, of course.
He really prefers the cold like I do.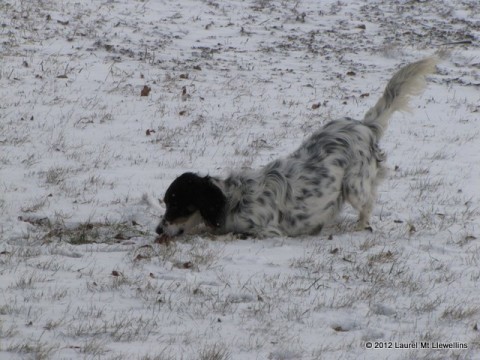 Rue likes frozen apples, too.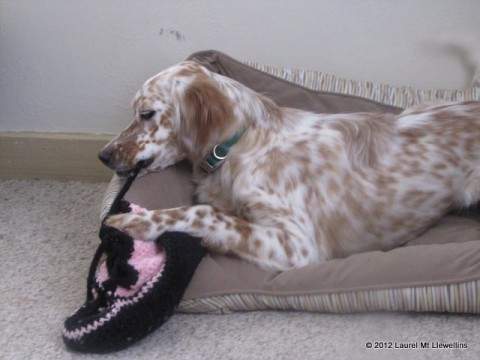 Kea and Rosie don't mind the cold either. After an hour and a half, I had to go outside and make them come in. Kea shows her dislike of my cruel act of bringing her in out of the cold, by snatching a slipper. Off the dresser no less.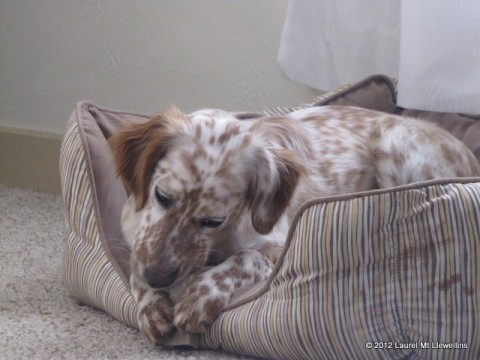 Bribery was in order to win back my slipper and her affection.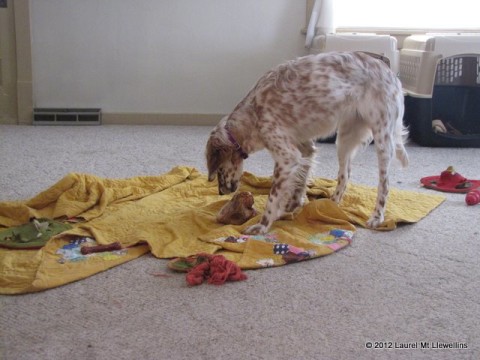 I thought a cold wintery day deserved some new treats.
They have been happy (mostly) for hours.
Except, of course, when they decide that what the other has must taste better than the one they have and play their games of stalking and thievery, then run, chase, and wrestle.
Kids!
🙂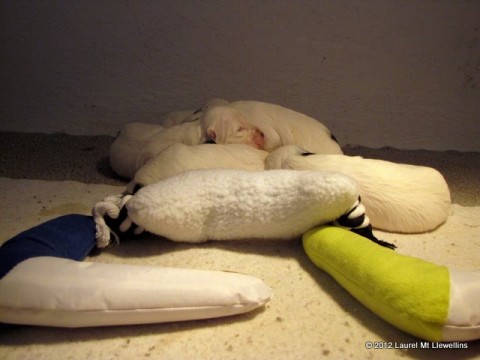 And it was time to introduce some toys to the wee pups.
You can tell how excited they are, eh? Come on, puppies, play with the toys… please… soon enough… soon enough…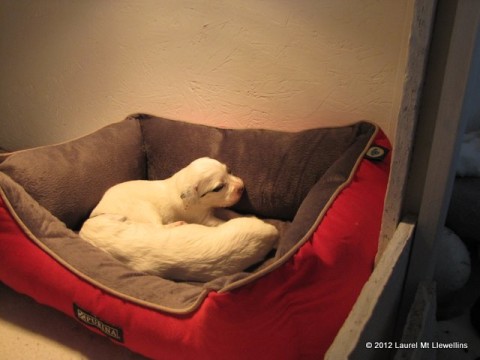 At least some are starting to use the puppy bed.
For sleeping and not peeing. I hope.
🙂
Off to Rosie's appointment at the vet to get a health certificate so she can fly to her new home Sunday!
It will be soooo weird without her here! 🙁
This is really hard.
***********************
Have a great day wherever you are in the world and hug your Llewellin tonight.
-ML