Two Weeks Until Puppies!!!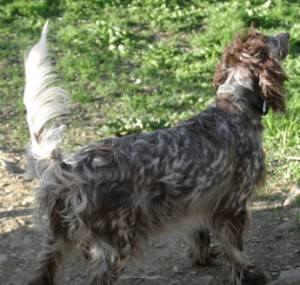 My gosh, time just flies. I know, I say that all the time.  But, suddenly, here we are with just 2 weeks until Maddie has her puppies–give or take a few days, of course.
She is suddenly unmistakably pregnant. She is widening by the minute. Poor girl–just look at how big she is in the photo! She still gets around just fine. She is still just as agile as ever.
We should have everything just about in place for the impending delivery. The last huge task is to transfer my young dogs that have been staying downstairs with me to upstairs with the big dogs. Then, move Maddie downstairs to get used to the whelping box and such.
Something new I may try is a little Web cam set-up. I think I may try to do a little live feed of the puppies at certain times of the day. We'll see if I can get it to actually broadcast properly. Stay tuned for more on that.
In other news, and also concerning puppies, the Witner's at Nimisila Creek Kennels are expecting their next litter in about 1-week. Diamond x Brier puppies should whelp around May 19th. A fantastic repeat breeding. I believe they may have an opening for one more female reservation and a male or two.
Then, we have another fantastic repeat breeding of Shay x Brier, due around the 4th of July. Wouldn't that be fun? Ohhh…. they would have to be named with a patriotic theme! Cool. That just came to me as I typed this! I have been thinking that we better start thinking of a theme for Maddie's puppies. Let's see… born around Memorial day. That is patriotic as well.
Okay, back to work. Just updating you all on things.
🙂
LML.