My mission is to help you have a healthier dog and breeders to raise healthier Llewellin Setters puppies through educational content based on over twenty years raising, training, and breeding Llewellin Setters. To help support these efforts, this page may contain affiliate links. I may earn a small commission for qualifying purchases at no cost to you.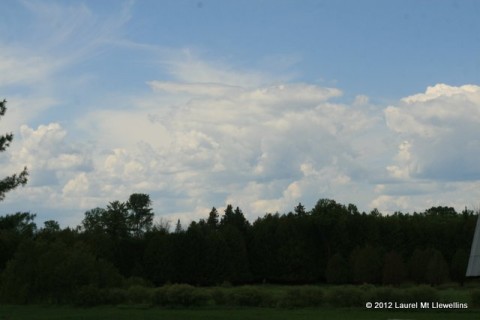 It has been glorious weather in the Northwoods the past few days. It went from the 90s to the 60s and we even had a night of light frost! Fantastic. I took advantage of the lovely temperatures and tried to spend every minute that I was able outside. I ventured out and about and found some areas to start running the puppies and young dogs. I must be mindful of grouse nesting areas and will stay away from those types of areas. What I am focusing on right now is just getting the pups out to learn to navigate the woods, learn scenting conditions, jump over logs, splash in mud puddles, get used to riding in the truck, get used to a collar (I don't like to put collars on the pups when there are multiple pups together as they chew on them, etc.), get used to a small bell on the collar, get used to dragging a short lead, etc. The sooner we can begin these experiences, the better. And, this gang is ready and rearing to go! They are so tired of the mowed yard and as soon as I let them out, they plow right through the fence into the high grass areas following their noses to much more exciting things to explore! I can't say that I blame them one bit–this is exactly what I like to see in a Llewellin Setter puppy–one that wants to explore and is bold enough to follow their nose and instincts. But, I can't have eight Llewellin Setter puppies out exploring at the same time. As much as I wish I could do that–and, oh, what fun!–I can't do that here. 🙁
As much as I wanted to build a new pigeon loft before starting pigeon training–training the squabs to enter the loft through the bobs and letting them fly and circle to learn the area–I think I will just settle on the current set-up and build an aviary and entrance with the bobs on the current loft which is in a very, very large room of the "old" barn. Not that the barn is actually that old, it just looks old because the person that lived here before me had all of the siding stripped off! I hope I get to have it restored someday, but for now half of it houses the training pigeons. And, I am not a huge fan of using any planted birds for training, but if I do, I love using pigeons. I prefer to use them over quail, chuckar, pheasant, etc. Call me crazy, but pigeons are easy, they stink, they return to the loft and can be used over and over and over again. They can't be beat. The loft is so large that the pigeons can fly all around in it. I am anxious to get them trained and start having some fun with them and the pups. It's a blast. It will keep us entertained and working a bit until we can start getting into grouse and woodcock. Three more months folks and we will be hunting–Yahoo! I have plenty of time to get this young bunch ready. I can't wait until opening day! Perhaps I'll even get to head out to Montana for their opener. We'll see what happens and we'll see what the weather is like then.
I'll keep you updated on the progress over the next few weeks. We are going to have great fun exploring the Northwoods!
That's all for tonight.
-LML