My mission is to help you have a healthier dog and breeders to raise healthier Llewellin Setters puppies through educational content based on over twenty years raising, training, and breeding Llewellin Setters. To help support these efforts, this page may contain affiliate links. I may earn a small commission for qualifying purchases at no cost to you.
It was another dreary, although mild, day here in the Northwoods. And, sadly, I did not get out to hunt. The day started with great expectations, but quickly changed.
The pups are doing great and I am in love. The little squibbers (Is that a word? I don't know, but I like it for some reason, so that's what I call them. Or "poopy-heads"—which a small human visitor once called our puppies—and little squibbers sounds so much nicer) are so much fun and very inquisitive at this point—they want to investigate everything. I've had the half-doors (don't laugh—I built them because I needed a gate that the adult dogs couldn't jump, but the air/heat-flow of a gate, thus, the half-door) open on both puppy rooms and the pups can now explore everything in-between (kitchen and powder room). They love hanging out in the kitchen watching everything I do. When I stand still for very long, I end up with 5 or 6 puppies sleeping on my feet! So cute and I always feel bad when I have to move!
Here are my attempts at half-doors using some rough-cut cedar I had: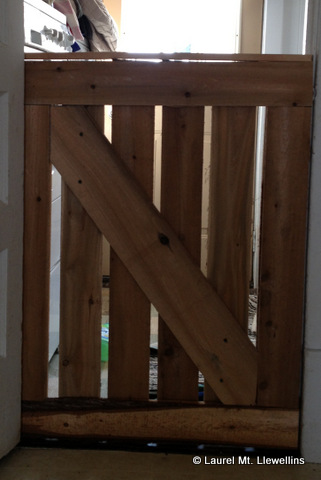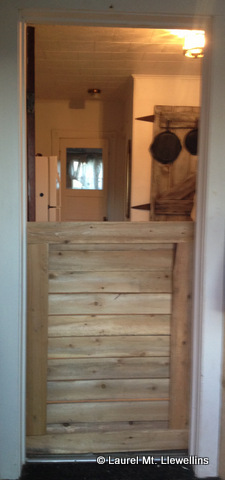 My carpentry skills are lousy, I know, but they serve the purpose and are holding up to the abuse quite well. Can you believe that some of the adult dogs can still jump over them? Nash in particular, lets herself in out out of her puppy room by leaping over the half-door! The only down-side is that I can't step over them like puppy gates, so the puppies can escape when I open the door making it particularly difficult when carrying things. I am not getting my workout of stepping over three gates to get to the bathroom 20 times a day! The solution I have surmised is to have these great half-doors and a puppy gate!
The half-doors are inspired by my fascination for barns (I've always wanted to transform and live in a gigantic, very cool, full of history and character, old barn) and barn doors, which I have used in the house. They were laying in the stripped-down barn when I moved here, so I rescued them!
One of the old doors became a pot rack sort of thing on the kitchen wall (to hide the really bad wall until I decide what to do with it):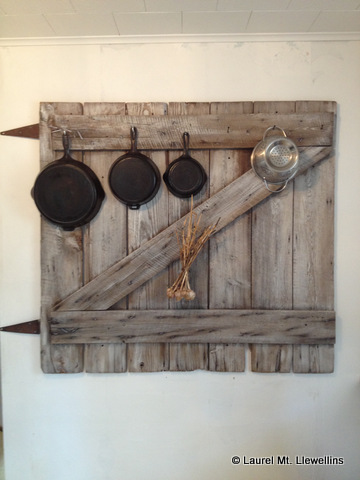 I've used a few of them as head-boards—here is one: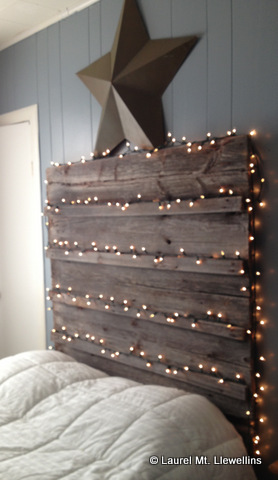 I know, I know, this is a blog about Llews and hunting, not how I used old barn doors. I get side-tracked.
So, anyway, the bath room is between the kitchen and the back "puppy room" (like many old farmhouses, it seems, where there is one bathroom and it's in the kitchen) and it is practically impossible to make it into the bathroom and get the door closed without at least a few of the pups coming along with me. No puppies, I don't need help or company in here! I must get—or maybe make?—some new puppy gates. I have four of them that are non-functional. Not sure why I still have them but I suppose I thought I could somehow fix them!
I have no other photos for today. I didn't have a chance to take any during the daylight hours and when I try to take photos during the evenings, I just get mostly blurry or dark, so I didn't bother. Last evening I took over 250 and only about 8 of them were good enough to use. I need better lighting for good photos.
The pups did venture outside a little longer this afternoon. I left the back puppy-room door open a bit and out they went to explore—and dig holes! Little buggers were having a grand time unearthing who knows what. I have to get a load of soil brought in to fill-in all the holes. It is the strangest thing here–the dogs will dig a hole (and a huge hole in a matter of minutes) and I will immediately try to fill it in except I can't find the dirt! I suppose it is because the soil is sandy. Do you think? It's very frustrating. I am just going to have to buy soil if I want to have a nice yard again, right? Every dog deserves the pleasure of digging and I think they should have at it! If I offer an area for digging, maybe they will leave the rest of the yard alone, right? I will eventually either partly concrete or deck the fenced-in area for puppies. I can't decide which, but I think it will be a partially covered deck because I think wood is much kinder on the bones than concrete and it provides air circulation from the bottom. I really like our kennel decks in PA and look forward to building them here.
The weather will be mild over the weekend and I plan on getting the pups out and getting lots of photos. The picking of the "Thorns" will probably begin late Monday and I'm sure everyone would like many more photos. Don't worry, I'll get as many as I can. Is it really almost 6 weeks? And then the "Spices" turn 6 weeks next weekend, so I will be taking all the photos I can to help folks make their choices. Very exciting times for all!
Stay tuned and I hope everyone is enjoying the puppy cam!
Good night all and hug your Llewellin and your loved ones… because you can.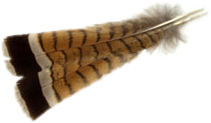 -LML