Laurel Mt. Llewellin Setter Photo Contest
My mission is to help you have a healthier dog and breeders to raise healthier Llewellin Setters puppies through educational content based on over twenty years raising, training, and breeding Llewellin Setters. To help support these efforts, this page may contain affiliate links. I may earn a small commission for qualifying purchases at no cost to you.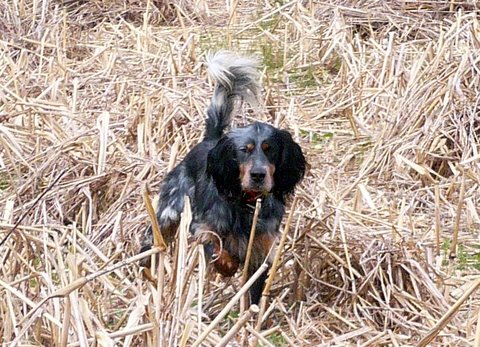 About a year ago I mentioned having a photo contest. I never did get the details worked out, but keep kicking this around and was inspired by a calendar given to us by Grace and Ellie's new parents. So, it is time to get this going. I really would love to have a photo contest for all Llewellin Setters, but this first "contest" will be for Laurel Mt. Llewellin Setters only and for the best submitted photos to be featured in the first annual calendar. The "official rules" will be posted, soon. I am still working out all of those details, so, stay tuned… For now, I wanted to get things rolling and get everyone out with their Laurel Mt. Llewellin taking photos! The mail goal being to encourage all to get outdoors and simply enjoy your LM Llewellin and take photos of him or her doing what they do best. And, I am calling this a "contest" so what will be the prize for the winners? Well, I am still working out all the details. I need to use the Flickr groups area for submissions and in order to do so, I guess I am not permitted to use the area for contests with cash prizes. So, I am trying to come up with other "prizes." The winners will at least have their name and their LM Llewellin in the beautiful calendar! Free copies would be in order for the winners as well. I am still working out the fine points. For now, submit your photos and as many as you would like. We have all the seasons to cover and know many of you have photos from the past hunting season, last spring and summer's training sessions, etc.
Example photo
Details
Photos must be of a Laurel Mt. Llewellin Setter.
The photos should capture the Llewellin Setter at its best, to show-case this magnificent breed of Upland Gun dog.
Puppy photos are welcome of course!
The intended use of the submitted photos is for the 2011-2012 Laurel Mt. Llewellin Setter Calendar. We are hoping to make this a 16-month calendar (Sept. 2011 – December 2012).
Photos to be included in the first annual calendar will be accepted until midnight, June 30th, 2011.
Entries will be featured on the blog and other areas of the site and in other publications by LML.
Photos must be high-resolution digital images (6 million pixels or greater — 6 megapixels) in horizontal format and a minimum of 300 dpi, or 2400 x 3000 pixels (landscape) and cannot contain people or other breeds of dogs or other Llewellin Setters that are not a Laurel Mt. Llewellin Setter. The photo has to be in jpg format.
A description must accompany all submissions, and must include the following:

Name of the photographer/owner of the dog.
Call name (and registered name, if registered) of the dog.
The sire and dam.
Date and location the photo was taken.
Short description about what the dog was doing in the photo.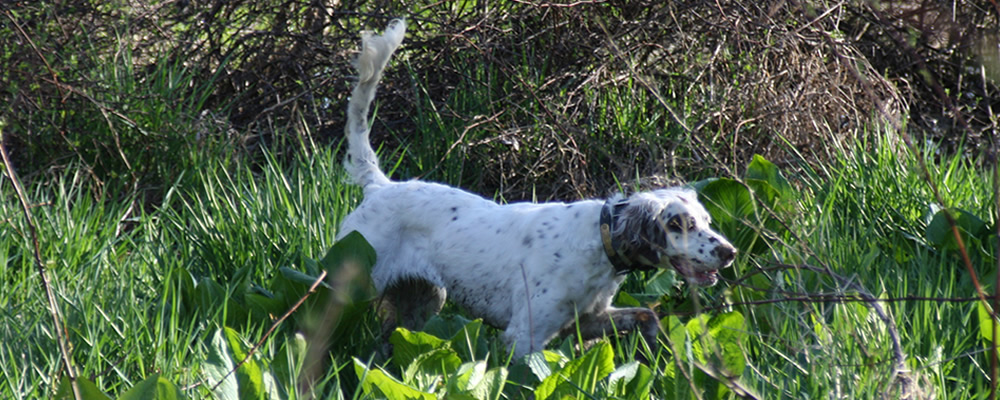 How to Submit Photos
All images are to be submitted to our Flickr photo-sharing group, here.
Here's how:
Log On: To submit your photos via Flickr, use your Yahoo! ID to login to flickr.com. If you do not have an account, you can sign-up for free.
Join the Laurel Mt. Llewellin Setter's Flickr group. Join by clicking "Join this Group?" on the group homepage.
After logging in, upload your image using the form provided in your area of Flickr. You can add the necessary information in the description area of each photo.
Send the image to the group. Browse to the image you wish to submit and the the "Send to Group" function above the image to add your photograph to the Laurel Mt. Llewellin Setter's photo pool.
Tag your photo. Once added to the group, tag each photo with LML 2011-12 Calendar using the "tag" feature in the right-hand column of the individual photo's page.
That's it. You have entered! If you encounter any problems, please let me know. I am not yet the Flickr guru, but will try to figure it out. By using FLickr, everyone in our online community can see your photos be inspired to take their own and submit.
Note: By submitting your photo, you hereby grant Laurel Mt. Llewellins a nonexclusive, worldwide, irrevocable, royalty-free license to reproduce, distribute, publicly display and publicly perform the photographs you submit and the right to use them in promotions and publications.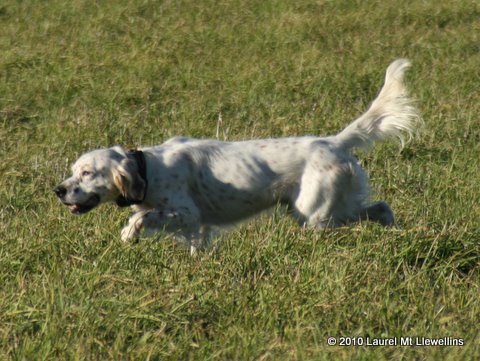 Photography Tips
The best photos are taken outdoors.
Use natural lighting and avoid using the flash whenever possible. If you must use the flash, make sure the dog isn't looking at you (to avoid red or green eyes).
Consider what is in the background of the shot. Try to take your dog to the woods, fields, a park, a nice yard, etc. Try different settings to blur the background. The photo should really include only the dog and not vehicles, houses, furniture, etc.
Use the highest resolution setting for your camera. This is usually called "super-fine" setting on most digital point and shoot cameras.
Get down to the dog's level rather than standing above and shooting down. Try different heights and angles.
Use the sports setting if your camera has one (or continuous shooting mode). Most point and shoot cameras have this setting, now. Instead of waiting for the perfect shot, keep shooting, keep moving, follow the dog and you will get some great shots this way.
Get shots of the dog doing what it does naturally—running, hunting, jumping, playing, etc. These are much better than posed shots.
Get close, if you are able, and fill the frame. The goal really should be to fill the entire picture with the dog. If you have a good zoom feature, use it!
Take photos outside and in the morning or evening for best lighting conditions. Middle of the day can add harsh shadows (depending on the time of year, weather, etc.) or making sure the sun in behind you. An overcast day is perfect.
Take lots of photos! Digital photography doesn't cost a thing rather you take 5 or 5000 shots! Just delete the bad ones and take more. The more photos you take, the better you will get to know your camera, and your photos will get better. Have fun! Just start pointing and shooting.