All the Latest at LML — June 29th, 2014
My mission is to help you have a healthier dog and breeders to raise healthier Llewellin Setters puppies through educational content based on over twenty years raising, training, and breeding Llewellin Setters. To help support these efforts, this page may contain affiliate links. I may earn a small commission for qualifying purchases at no cost to you.
Hello all, I hope this finds you well and enjoying summer wherever you are in the world. Summer has finally arrived here in the Upper Peninsula and it has been fantastic so far. It hasn't been too warm for very long at a time, so I can't complain about too much. The massive onslaught of mosquitos seems to have subsided a bit. The past few days have been warm, humid, but very breezy making it incredibly enjoyable to be outside trying to catch up on a bazillion projects without getting eaten alive by bugs.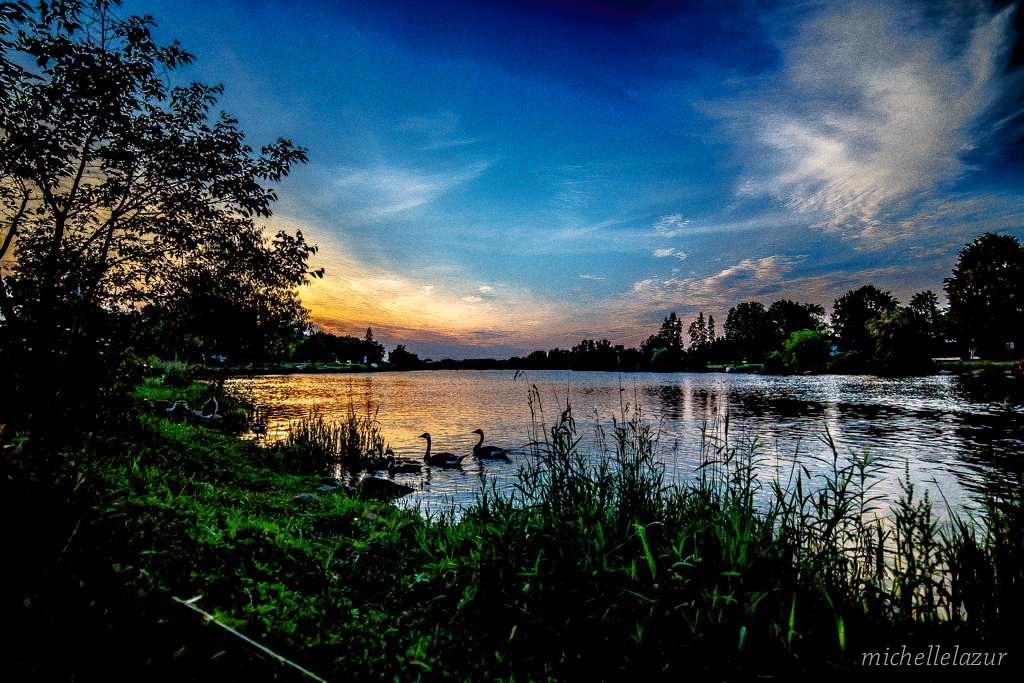 It is gorgeous in the UP and even though I love, love, love winter–because it's not hot and the bugs are frozen–I have to admit I am so enjoying sights like the one above where water is not frozen, everything is lush and green and in bloom, the ducks and birds are about and I get to enjoy breathtaking sunsets reflecting on the water.
My best news ever though… Will you look at what the cat dragged in?!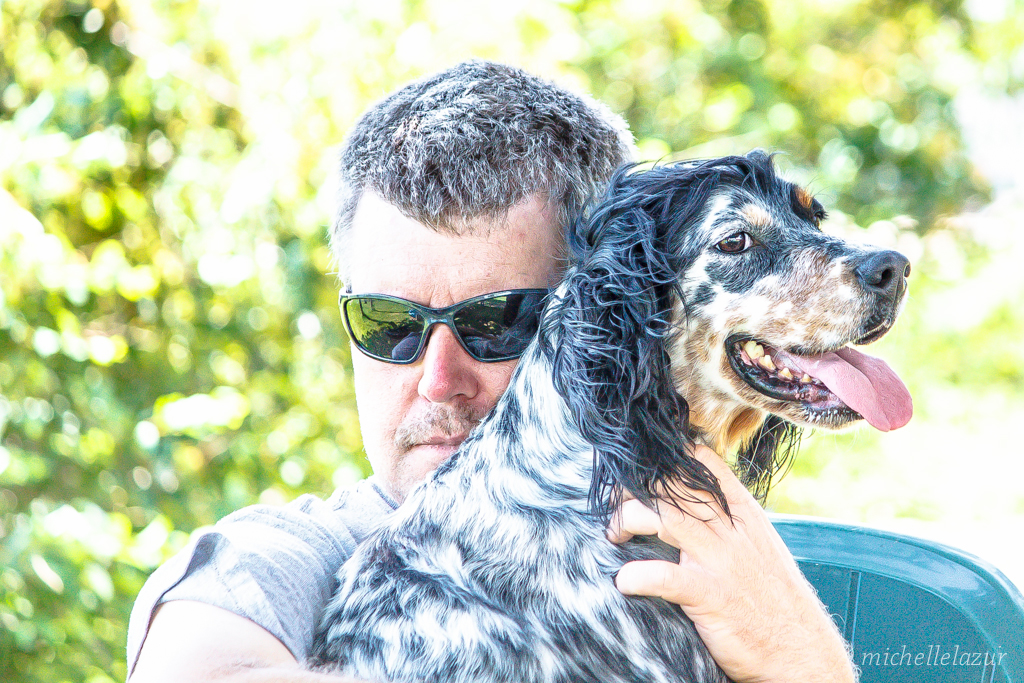 Yippee!!!! Scott arrived a few days ago and I'm thrilled to say that he will be staying for good–finally! Yahoo! We are together at last and our focus is our Llewellins. The dogs are very happy to see him and they are enjoying lots more play time.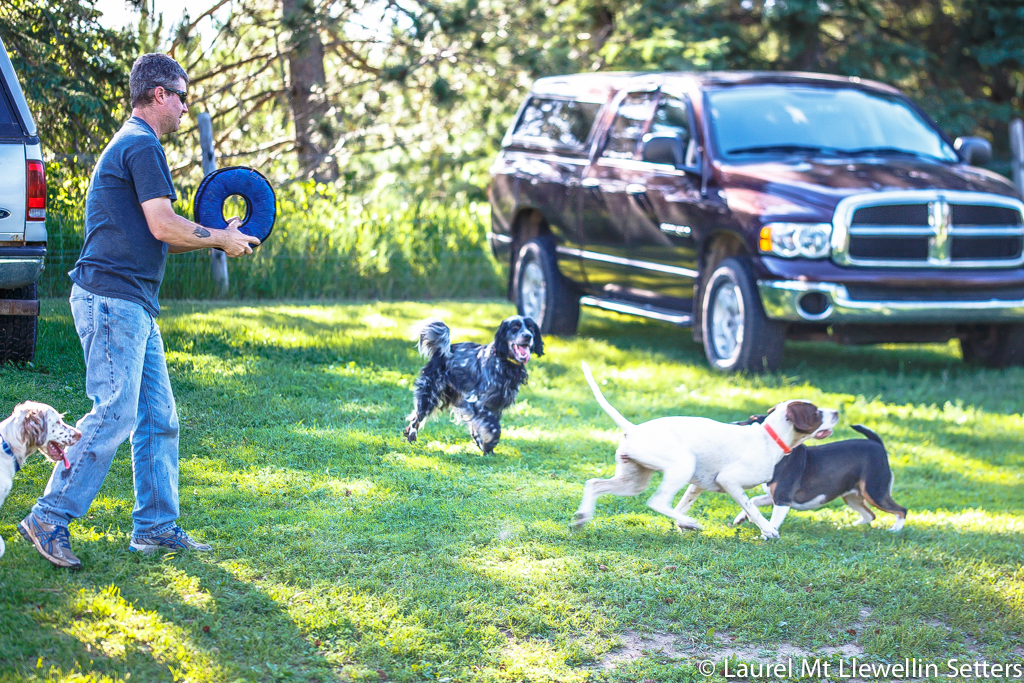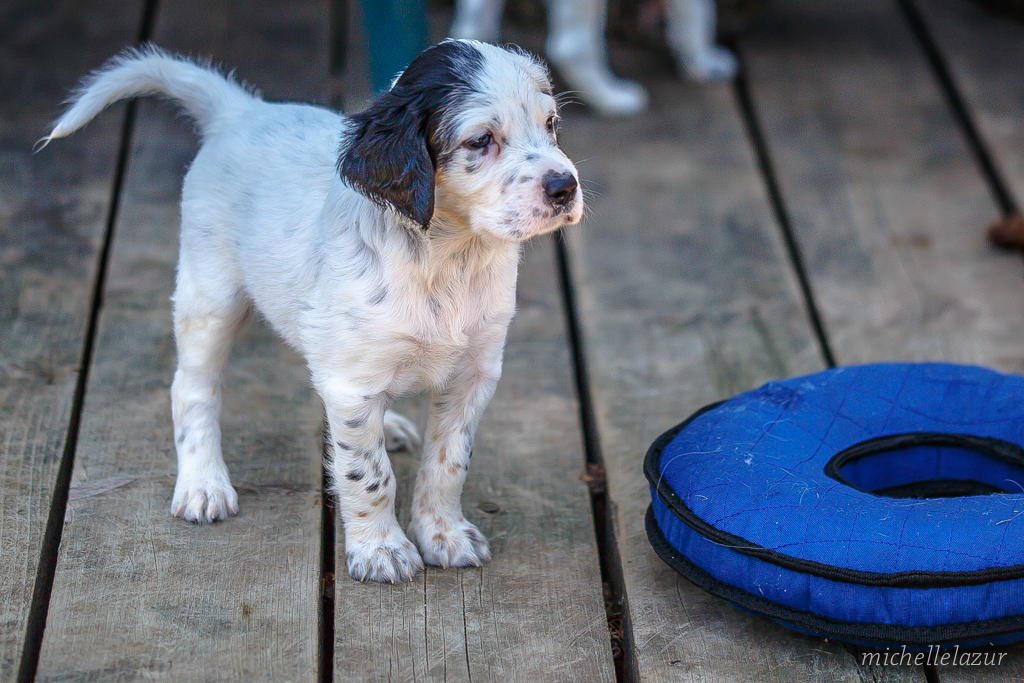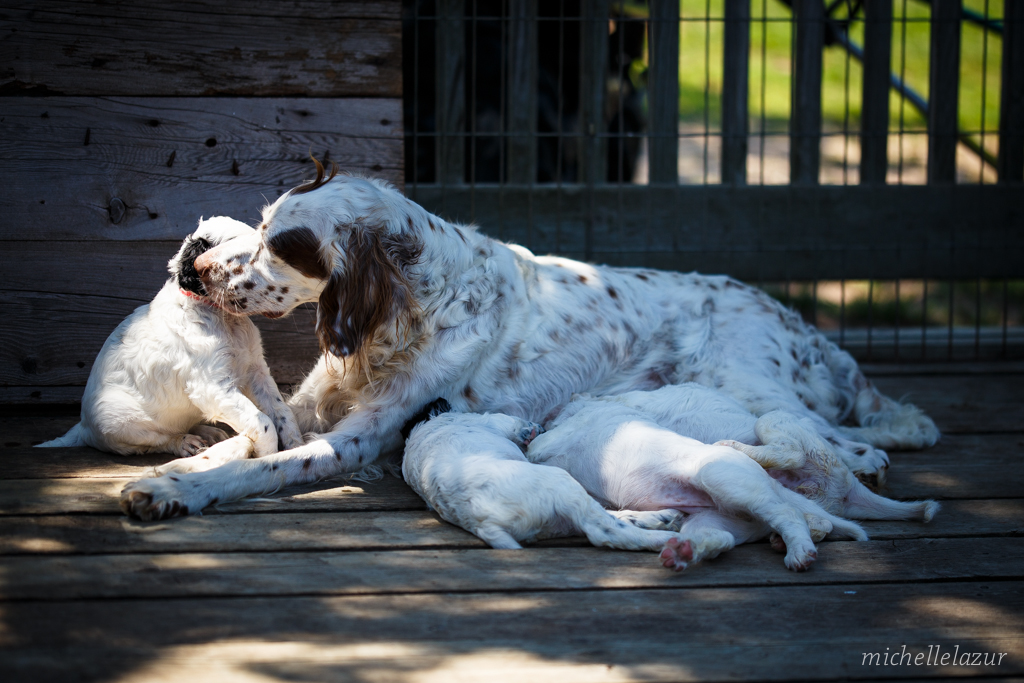 I've also been able to get the puppies out more. I've really enjoyed our time out on the deck the past two days. Santana's pups turned 5-weeks old today. Crazy, eh? They've enjoyed being outside more and more. Some cry to get out to do their business. Excellent. Love that. I so wish I had doggy doors so they could go in/out on their own. But, I don't like the thought of messing up a door by cutting a hole in it incorrectly or crooked. So, I've never taken the plunge. But about 300 times a day, I sure think I need to change my tune about it. In/out, in/out, in/out…and noone goes out and wants back in at the same time, you know? I'm a doorman, pooper-scooper extraordinaire 😉
Nash's pups are coming along great and are almost 3-weeks old. They are darlings with eyes wide open, starting to play with each other, really get around the box well, etc. They will start their puppy mash tomorrow and the fun begins with this crew.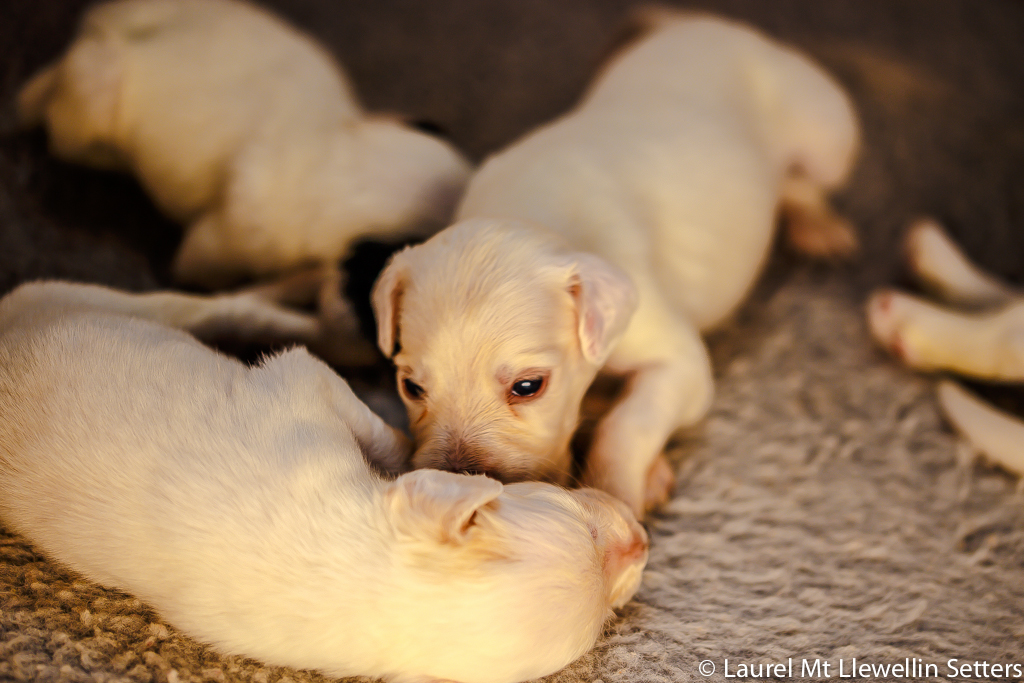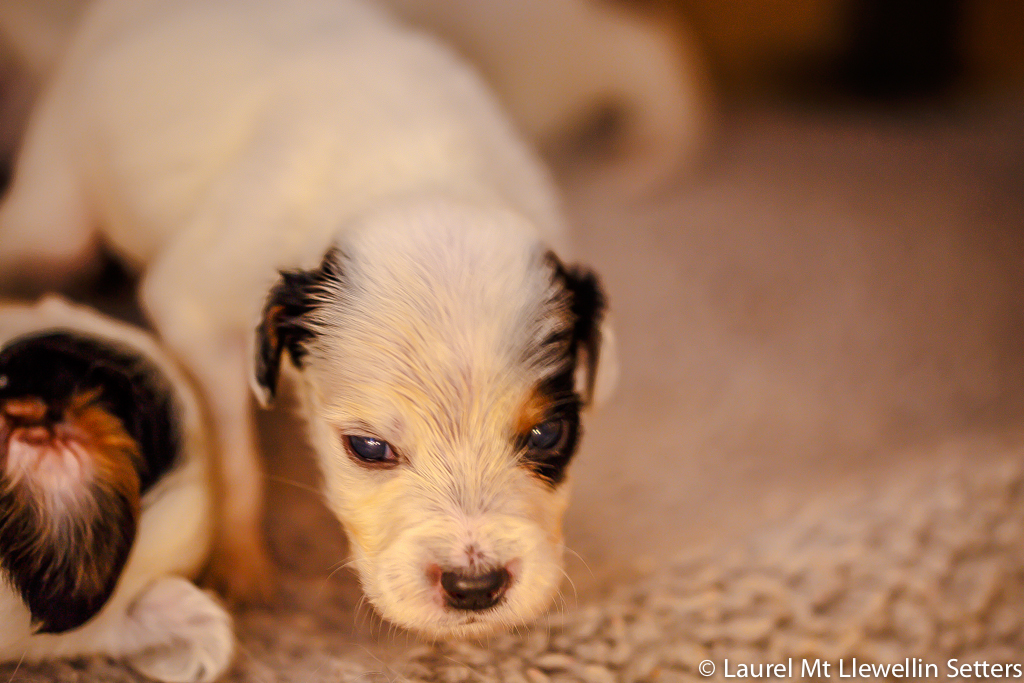 Did I tell you I decided to "help" one of the darlings along by bottle feeding? I don't think I've had a chance to. Anyhow, one just wasn't gaining as much weight as I would have liked to see. She was nursing just fine, nothing wrong, just not gaining as much as her litter mates. So, I decided to help her out a little. It probably helped a little, she did start gaining at a rate I liked better. I've really enjoyed bottle feeding her. And, oh my, is she something else! I've actually tried to stop supplementing her as she's gaining just fine and I really don't like to intervene too much unless absolutely necessary, but she's so smart that even if I am in the room to feed/water Nash and let her in or out or change and clean the whelping box, etc., this little cutie-pie gets so worked up that I just have to give in to her, right? I mean, she is so cute–first she wakes up and starts whimpering, nose in the air because she can smell me. Then, she is running to the side of the box and crying. I just have to pick her up and give her a little bottle, right? And this little one can squirm like you can't believe! I've been telling Scott all about her and now that he is here, he got to see it himself and gave her a bottle. He's in love already. 🙂
Next up is Lady Bird's litter! Okay, I'm officially nuts, I know, I know. She is doing fantastic and you'd really never know she was pregnant unless you saw her looking so miserable. She is as happy and agile as ever though.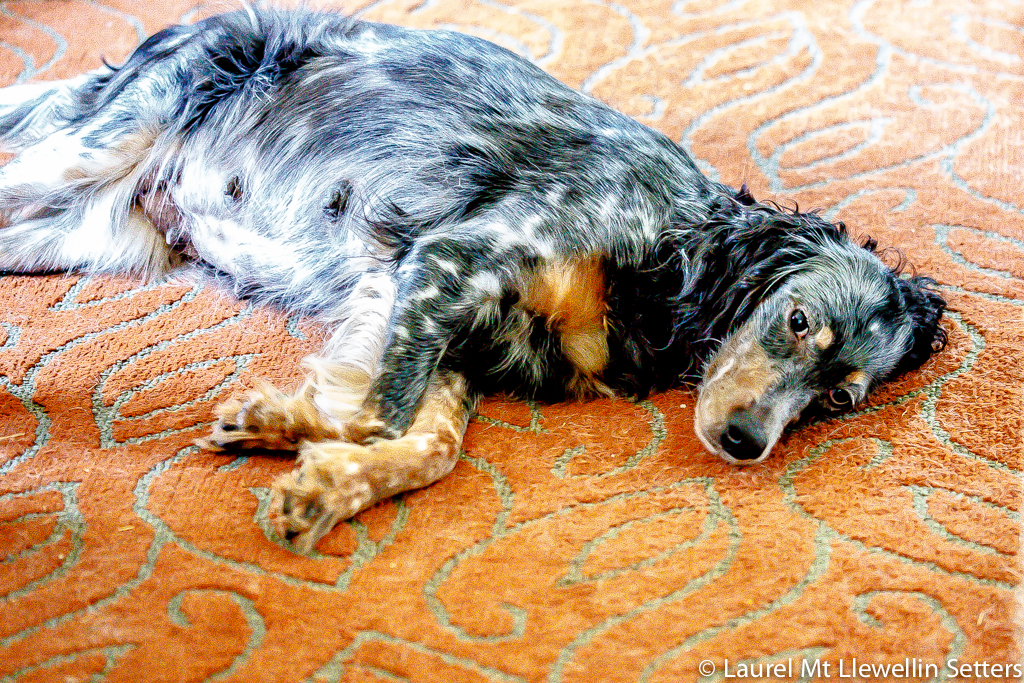 Okay, that's all for today–lots more to come folks!
See all the photos in the Flickr gallery here.
-M.