My mission is to help you have a healthier dog and breeders to raise healthier Llewellin Setters puppies through educational content based on over twenty years raising, training, and breeding Llewellin Setters. To help support these efforts, this page may contain affiliate links. I may earn a small commission for qualifying purchases at no cost to you.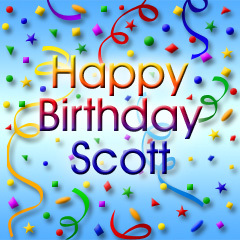 Today is Scott's birthday–Happy Birthday husband.
We are lame (poorish) and did not do much of anything in the way of a celebration or gifts. He went to a Penguins hockey game with his mum. His coworkers got him a cake. I either dragged myself out of bed earlier than usual or was late for work by a few hours several days this week to take care of all the dogs and morning chores and let the old man sleep longer–one day he even almost slept through his usual afternoon nap. So, I didn't "get" him anything, but I did something. I guess these days that doesn't count for all that much but it was what I could do at this time.
Scott wants to have a hat made out of one of his coyote pelts, so maybe I'll help out with that. wee. We are so lame, eh? What's that you say—it's the thought that counts? Oh! Well, then I thought of getting him an iPod (he lost the one I got him last year, though), a new cell phone, a new vehicle, a new hunting coat or vest, and some other things but there is only some lint in my pockets and that won't buy any cool birthday presents.
It's okay, we are past all that trivial sort of thing. We don't need presents. We find more joy in our simple life and our Llewellin Setters. 🙂