Dora x Steele Pups Week 3
My mission is to help you have a healthier dog and breeders to raise healthier Llewellin Setters puppies through educational content based on over twenty years raising, training, and breeding Llewellin Setters. To help support these efforts, this page may contain affiliate links. I may earn a small commission for qualifying purchases at no cost to you.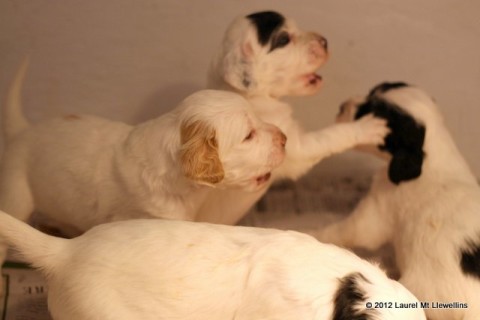 The pups are now three weeks old. Wow. They seem to change and of course, grow everyday. They are quickly out-growing the whelping box. I've had them out a few times and they love to explore the puppy room. I have to get a few things in order and then I will be able to let them come and go from the box and into the rest of the room.
They are playing, barking, running even! So stinking cute! Oh, and speaking of stinking…
Uh…
Yep, they can get a little stinky.
But, they are too cute for it to matter.
Much.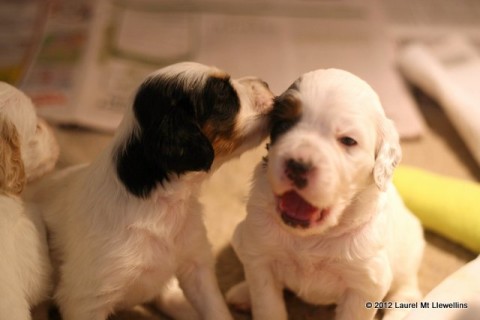 The pups tremendously enjoyed their first meal of puppy mash. This is a mixture of puppy kibble soaked it warm water, then I put it in the blender with goat's milk and whole plain yogurt. Puppies absolutely love this! At first it is quite thin in consistency, then as time goes on, I use less water, less goat's milk and yogurt, and by the time they are 5-6 weeks old, they are eating dry kibble and sometimes some good, raw burger with it.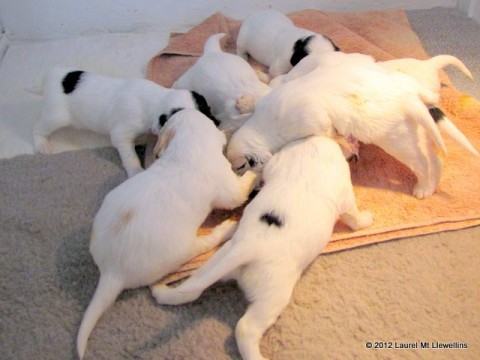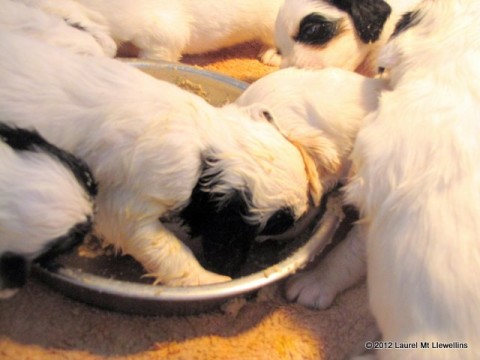 The pups are so funny when they have their first bowl of mash.
They lick and cry.
Stand in it.
Walk in it.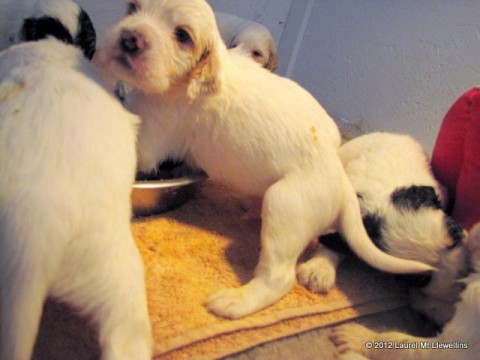 Lay in it.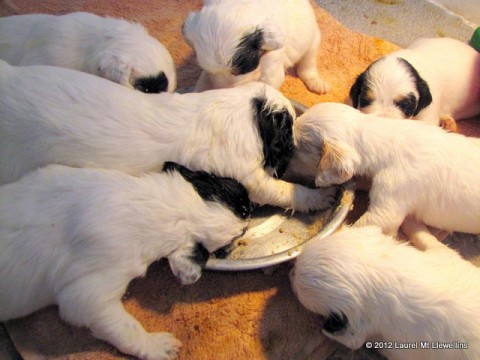 They go crazy over it!
And it isn't like they are starving or anything.
Just look at them—nice, plump healthy puppies.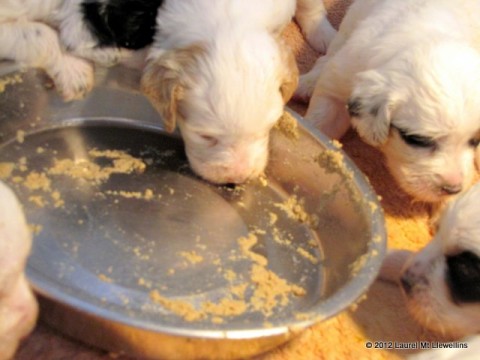 In a few minutes, they had eaten it all.
Cleaned house.
Think they liked it?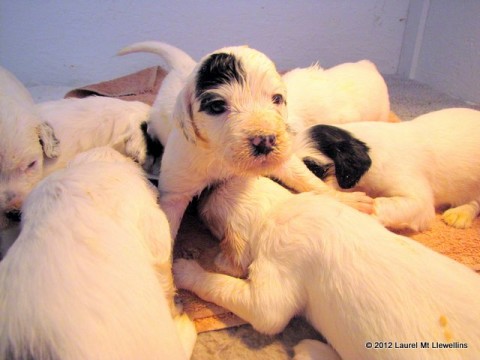 Now they are a mess! Covered in puppy mash.
Like messy, messy Gwinn.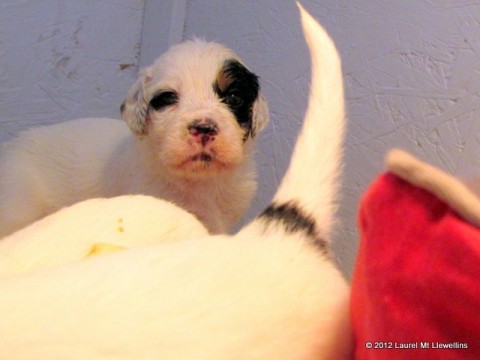 And Mohawk.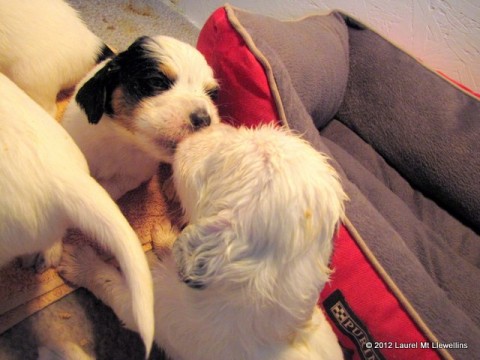 Then they get to the business of cleaning one another up.
So cute.
They clean a little, then doze off with full bellies.
Then wake up and clean up some more.
Momma, Dora, takes care of the rest.
They have received their second deworming already and many, many nail trims! Their nails grow very quickly and are very sharp. I can't imagine what those razor-sharp nails feel like to poor Dora. So, I keep them clipped as much as possible.
The amount of puppy laundry has doubled over the past week. The whelping box gets changed twice a day and today, I introduced newspapers to one side of the box—the side of the box they already have been using to "go." I like to keep making the paper area smaller and smaller. They learn quickly and go on the paper. I'll cover an area of the floor outside the box as soon as I finish the room. I have to find an alternative heat source and then, I'll be all set to let them have run of the room (it is a small room).
They are getting cuter everyday and can climb out of the whelping box with the single slat in, so I had to put the second in (my son Graham's genius idea). But, Dora is not a jumper and she wouldn't jump into the box. So, I made a step for her to get in. She does jump out just fine.
I realized this week this house is very quiet! That is great for me, but not for puppies. I like the puppies to be around noise. They get used to hearing all the different sounds and are not bothered by it. So, I picked up a stupid radio at the local store. There isn't much I am able to get on the radio, though. Only AM stations that fade in and out, but it is something for now. I am going to return it. It really is the worst piece of crap I've ever seen.
Which led me to fall off the deep end and order satellite TV service. Some sort of "super-deal" flyer came in the mail yesterday. I figured it was just a ploy and there would be some "catch." I called. No catch. Well, that's not actually true. I do have to commit for 2 years. UGH. And of course the price increases after the first year. I had a weak moment, but really, really need it for the puppies. Looks like I'll have satellite TV service tomorrow! Geesh. That was fast. Okay. I don't even have a TV! Some time I'll try to get one so I can have it on the Outdoor Channel for the puppies. All our puppies have grown up listening to the Outdoor Channel. Seriously. It introduces them to shooting. Or so I think it does. It certainly can't hurt. 🙂
I am kinda sad and disappointed in myself that I caved and ordered TV service.
It's just for the good of the puppies, though.
Anyway. Here are the latest puppy photos: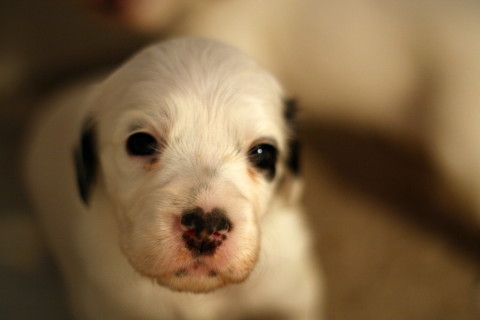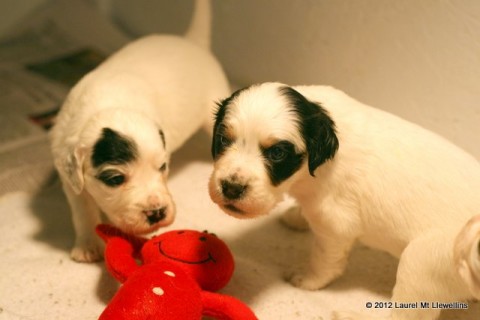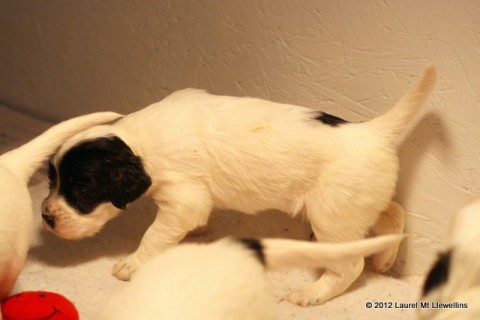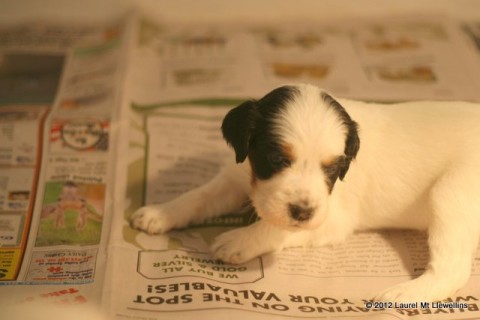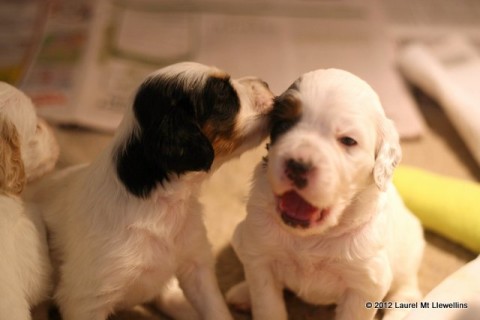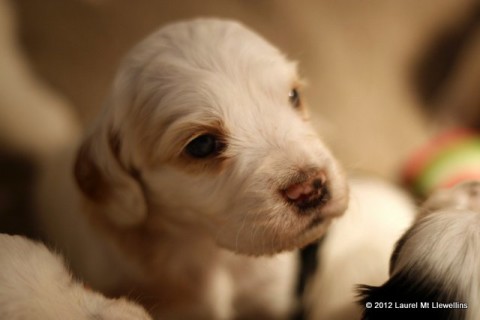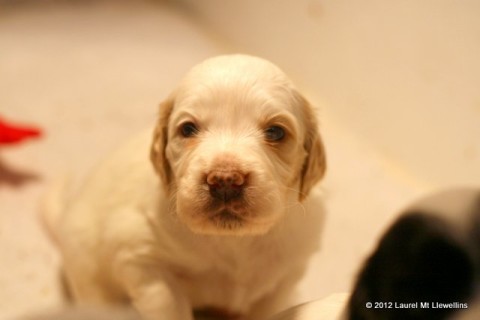 As always, there are many more photos via the Web Albums here.
I promise to get their puppy page done, soon.
As soon as I hire that assistant I desperately need!
🙂
You know the one.
Works day and night without pay.
Just 'cause they love me or love the dogs?
Think that will ever happen?
me neither. but i am an optimist at heart. so i haven't given up yet.
🙂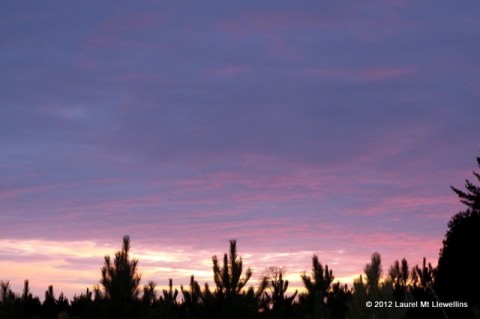 It was a gorgeous sunset.
On a frigid January eve in the UP.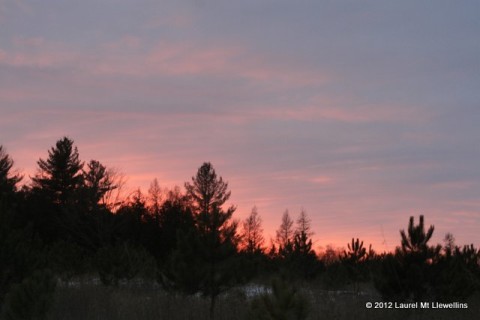 The photos (or the photographer more like it) just doesn't seem to capture the real beauty.
But I tried.
That's all for now.
Hug your Llewellin Setter tonight.
-ML