Blue at the 2008 Spring Chukar Challenge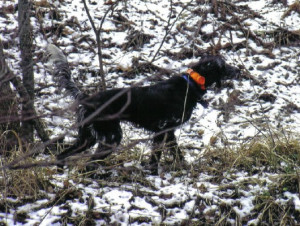 Allegheny Bird Dog Club has posted the results for the 2008 Spring Chukar Challenge that took place April 19th, 2008 in Berlin, PA. We are very proud to announce that Blue (15-months old), owned by Chuck Web placed well in two divisions. Blue placed 3rd in the Puppy Pointing Class handled by Scott and 6th in the same class handled by Chuck. Handled by 12-year old Kane Marker in the Youth Division, Blue also placed 6th. This was the first time for all 3 handlers and Blue in a test such as this. Congratulations to Blue and his handlers!
Blue is out of Shay and sired by Luke..