The Good, the Bad, and the Ugly on Dog Treats and Chews
My mission is to help you have a healthier dog and breeders to raise healthier Llewellin Setters puppies through educational content based on over twenty years raising, training, and breeding Llewellin Setters. To help support these efforts, this page may contain affiliate links. I may earn a small commission for qualifying purchases at no cost to you.
We all know by now to stay away from dog foods containing cheap fillers such as corn, wheat, and soy not only because they are the most common causes of canine allergies but also because they are harder to digest. Most dog owners are finally waking up to this fact, thus forcing many dog food companies to change their recipes.
But what about the treats? My friends, they are even worse. Here are a few examples:
Beggin' Littles Bacon Flavor
Ingredients: Ground Wheat, Corn Gluten Meal, Wheat Flour, Ground Yellow Corn, Water, Sugar, Glycerin, Meat, Hydrogenated Starch Hydrolysate, Soybean Meal, Bacon Fat (Preserved With BHA), Salt, Sorbic Acid (A Preservative), Artificial Smoke Flavor, Calcium Propionate (A Preservative), Glyceryl Monostearate, Phosphoric Acid, Choline Chloride, Added Color (Red 40, Yellow 5, Blue 1, Yellow 6)
Milk Bone Dog Biscuits
Ingredients: Wheat Flour, Wheat Bran, Meat and Bone Meal, Milk, Wheat Germ, Beef Fat (Preserved with BHA), Salt, Natural Flavor, Dicalcium Phosphate, Calcium Carbonate, Brewers Dried Yeast, Malted Barley Flour, Sodium Metabisulfite (Used as a Preservative), Choline Chloride, Minerals (Ferrous Sulfate, Zinc Oxide, Manganous Oxide, Copper Sulfate, Calcium Iodate, Sodium Selenite), Vitamins (Vitamin E Supplement, Vitamin A Supplement, Niacin Supplement, d-Calcium Pantothenate, Riboflavin Supplement, Pyridoxine Hydrochloride, Vitamin D3 Supplement, Folic Acid, Biotin, Vitamin B12 Supplement), BHA (used as a preservative).
Delicious eh?
Most dog biscuits contain wheat as the first ingredient. We know that wheat contains much higher amounts of gluten. The problem is that the digestive systems of dogs have not evolved to digest plant proteins like gluten—they are designed to digest animal protein, and gluten is not the same—and feeding foods that contain gluten can result in many of the same problems that afflict humans who are sensitive to gluten. It is estimated that 99% of the people who have a problem eating gluten, and have problems with things such as IBS, fatigue, rheumatoid arthritis, MS, and almost all other autoimmune diseases as well as anxiety, depression, migraines—55 "diseases" in all—don't even know it can be caused by eating gluten and could be 100% curable! Does you dog seem to suffer from itchy feet, skin, and other allergy symptoms? Are they more prone to ticks and fleas? Smelly ears or ear infections? How about seizures? Gluten (found highest in wheat, soy, and corn) sensitivity could not only be contributing, but most likely the cause of these problems. Read more here.
I am guilty of giving our dogs this crap, too. On of my favorite treats is a 1 x 1″ "cheese" treat by Sportmix. I like them because they are small and I can load my pockets with them. The dogs love them. But, here are the ingredients of Sportmix Gourmet Biscuit with Real Cheddar Cheese:
Wheat Flour, Meat Meal, Ground Wheat, Chicken Meal, Dried Cheddar Cheese, Chicken Fat (preserved with mixed Tocopherols), Natural Flavors, FD & C Yellow # 6, Choline Chloride, Vitamin A Supplement, Vitamin D3 Supplement, Zinc Sulfate, Vitamin E Supplement, Niacin, Ferrous Sulfate, Calcium Pantothenate, Thiamine Mononitrate, Copper Sulfate, Riboflavin Supplement, Pyridoxine Hydrochloride, Manganese Sulfate, Folic Acid, Calcium Iodate, Biotin, Sodium Selenite, Cobalt Carbonate, Vitamin B12 Supplement.
I tell myself they aren't too bad because they are so small and at the most, the dogs only receive a few a day.
:sigh:
And, there's more.
Did you know:
There were over 500 deaths to dogs and cats caused by

Chicken Jerky treats made in China

.

The

dangers of "Greenies"

which have contributed to many dog deaths because dogs do not fully chew them, they are not fully

digestible

and the green mass can cause a blockage in the intestines, killing your dog.

Nylabones can also cause intestinal obstruction.
I loved giving cow hooves and pig ears to my older pups, but they can be fatally dangerous, too. The hooves can break up into small fragments and cause partial intestine obstruction. The pig ears can introduce bad bacteria, but are probably the least of the evils.
So, are there any good treats and chews we can give our dogs? Yes, but first, think of how and why you even use/give treats and cut down. We don't need them as much as we might think. I use treats when training pups in a variety of ways. When I am teaching "kennel," I say "kennel," throw a treat into the kennel/crate, and at the same time sweep pup into kennel with my foot. In no time, pup goes in for his treat. All along, I also praise, praise, praise pup when he goes in. After a few days, I cut back and only give a treat maybe every 3rd time, but I always praise every time.
When I am teaching "come" or "here," I kneel or squat down, call pup, and offer a treat. They usually come running. I also praise, praise, praise and eventually, skip the treat but never skip praise!
I do like to offer growing/teething pups things they are allowed to chew on—and remember that a pup has to chew. I do like pig ears, but I don't like to use them too often. I prefer to offer them real uncooked beef bones (never, never, never give a dog cooked bones. Cooking a bone is what makes them brittle and dangerous). Real raw bones will keep a dog busy for a very long time and are fantastic for their teeth and gums. I've never had a dog that need their teeth cleaned. It's best to get the bones from your butcher and I prefer the beef knuckle and shank bones. Don't leave them lay around to get too dirty or to attract flies. Throw them away within a few days and you should always supervise your dog while he is chewing on anything. Beware that if you have more than one dog, they become very protective and "growly" toward each other when they have a bone.
Another thing I love to give pups to chew on-are leather straps (like from horse harnesses, collars, etc.). I remove any hardware of course and pups will chew on them forever. Note: It was brought to my attention to be very cautious of allowing dogs to chew on leather, "tanned animal hides". The tanning process can involve the use of toxic chemicals, such as Mercury and Arsenic. Much of the leather we purchase is tanned outside of the country (S. Korea) because of EPA and no doubt, OSHA regulations. There are non-toxic tanning methods using a non-toxic form of Chromium instead of Mercury, but like anything else, don't put it in your mouth or your dogs mouth unless you know where it comes from! The leather I use is from Amish-made dog collars and horse harnesses (both in PA and here there are Amish leather makers in nearby Wisconsin). I was told they bring the hides in from Canada and they do the tanning (it is not sent out to a tannery), but I have no idea as to what process (and chemicals) are used. If we are lucky, we can find vegetable-tanned leather scraps. I never used dyed leather but perhaps all of it is dyed or stained. If you can find Needless to say, I will no longer be giving the dogs leather straps to chew on. Thank you Steve for bringing this information to our attention!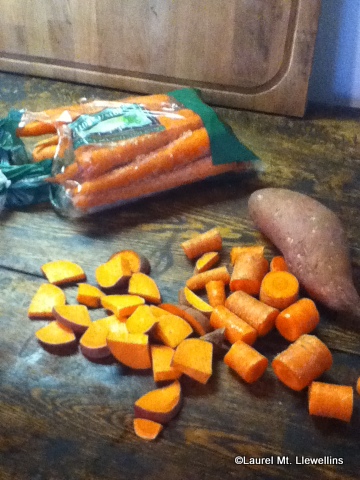 Okay, so back to healthy treats:
Baby carrots (the photo above shows regular carrots, but our dogs definitely prefer

baby carrots

), slices of sweet potato (our dogs love these. ) You can also dehydrate the sweet potatoes and note these are starchy so only in moderation and never regular potatoes (raw potato peelings or potatoes that have green spots can be fatal), green beans, apple slices. Asparagus (our dogs eat our asparagus before we get to pick it most of the time). All are crunchy and most of our dogs love them (L-Bird wouldn't ever be caught eating fruits or vegetables—she's a meat lover and there isn't much else she'll bother with and turns her nose at most artificial crap treats, too!).

On occasion we have popcorn nights and the dogs love when we throw pieces at them to catch. As you know, I'm an anti-GMO and just about anything with "corn" in it, but I've found several brands of Organic popcorn (it cannot be certified organic if it is genetically modified seed) and we always pop it on the stove in a good pot, with Coconut Oil (never, ever eat microwave popcorn). Usually I drizzle with a bit of Olive Oil and cinnamon, but Scott has to have his with real butter, which is way better for you (and your dogs) than any fake plastic, microwave "butter-flavored" GMO corn, right?
Eggs. I can get a dog to do just about anything for a hard-boiled egg! When we had our own pastured hens, the dogs got raw eggs once a week. Of course, I would suggest you only use pastured chicken eggs, which are less likely to contain salmonella and are the only eggs, in my opinion, you should ever consider eating yourself or giving your dog.
Liver, tongue, heart, etc., dehydrated treats. See this post. Meat—raw or dehydrated—will be the healthiest and most-loved treat you can give.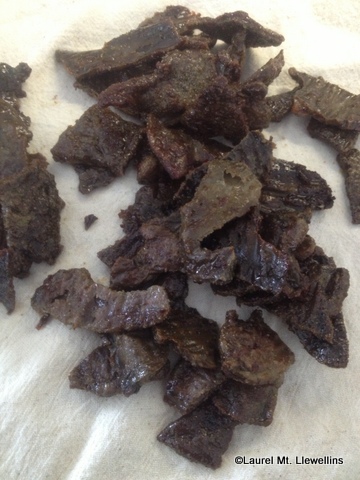 I'll be adding more ideas for healthy treats and chews that are sooo much better than probably any packaged dog treat you could buy. I used to say to never give your dog "people" food, but I'm all for giving nutritious table scraps in the appropriate manner. First, don't give leftovers if they are chemical-laden processed crap, spicy, anything containing bones that were cooked, etc. I never give bread or pasta, anything processed, or anything with sugar (but you wouldn't find anything like that at my house anyway). I don't mind giving them meat or vegie pieces and it is never given from the table–any table scraps are given well after dinner is over and only in their food dish.
The most important thing to remember is everything in moderation and consider if/when a treat is really necessary. Praise and affection go a long way and is sure to be by far the healthiest "treat" for you and your dog!
There are several foods you should never give your dog such as avocado, alcohol, caffeine, chocolate, grapes, macadamia nuts, candy, gum, toothpaste, persimmons, peaches, plums, baked goods… if in doubt, research it before offering it to your dog.
As always, hug your Llewellin tonight.
-LML