Homemade Grain-Free Liver Dog Treats
My mission is to help you have a healthier dog and breeders to raise healthier Llewellin Setters puppies through educational content based on over twenty years raising, training, and breeding Llewellin Setters. To help support these efforts, this page may contain affiliate links. I may earn a small commission for qualifying purchases at no cost to you.
These liver treats are very easy to make, are better for your dog than anything you can buy in a package, and your dog will love them. When I make them, the dogs camp out in front of the oven and go bonkers waiting for a tasty morsel.
Any animal liver will work. If buying, try to get calves liver and, even better, organic, grass-fed beef or calf. Since the liver filters out toxins, organic and calve's liver (because they are younger) will contain fewer toxins. Liver is an excellent source of B vitamins (Thiamin, Riboflavin, Niacin, Pantothenic acid, and Folic acid), Vitamin A, Vitamin K, and a great source of iron. Be sure to see the note below about giving too much liver which can cause Vitamin A toxicity.
I cut the liver into small pieces while it is still partly frozen using kitchen shears. It is easier to handle this way. Otherwise, it tears. You can cut it into 1/4″ strips for a chewy jerky treat. This time, I made small treats. I use a parchment paper-lined baking sheet. Turn the oven to the lowest setting (150-200°F).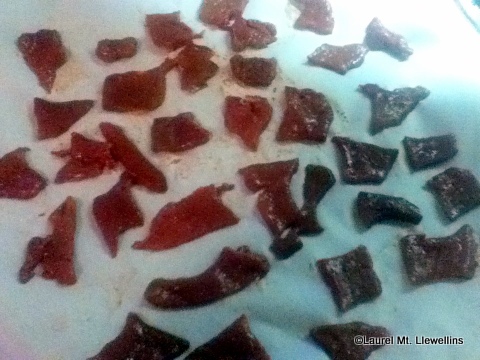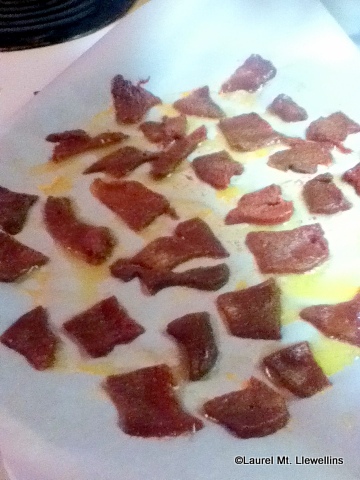 Sometimes I drizzle the liver pieces with a bit of Olive Oil (the picture above shows I probably used a bit too much). During "tick" season, I sprinkle garlic powder on them. The oil isn't necessary and will take the pieces much longer to dry, but for some reason I like to add it… I'm weird, I know. Most of the time I can't explain why I do some things…
Pop them in the oven.
Depending on the thickness of the pieces, the oven temperature, and your dog's likes, this can take anywhere from 2-6 hours. I do mine at 200°F for 2-3 hours, turning the pan and sometimes the pieces every 30-60 minutes.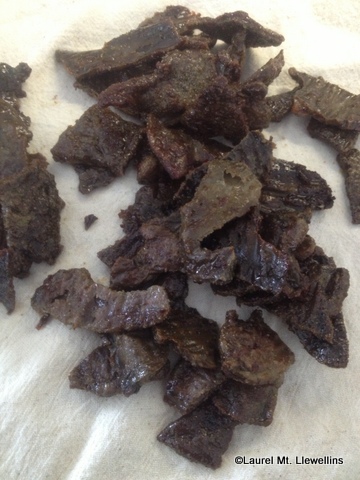 Ta-Da! Your treats are done. The liver treats have to be stored in the refrigerator (2 weeks) or freezer (I'm not sure how long… I always use them so quickly!). I like to keep the small treats frozen and put some in a small canister, mint tin, etc., to put in my pocket before leaving for a training session, etc.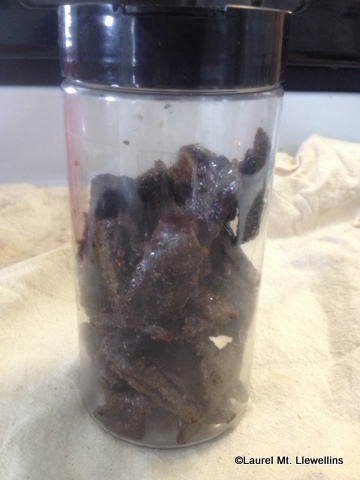 Note: Yes, your house will smell like liver. Some people can't stand that. I say, it could smell of worse things, so get over it—you are making nutritious delights for your dog!
Also, note that giving too much liver can cause a loose stool. I have never had this problem, but I only make these treats perhaps once a month, I make 1 x 1″ – 2 x 2″ pieces, and I only give a few to each dog, and they don't last long, so they aren't getting an overload. But, be careful as liver does contain high amounts of Vitamin A, which is a good thing, but too much can cause Vitamin A toxicity in dogs. I've read 3 servings (I cannot find the size of said serving) per week could cause the toxicity.
You can also do this with just about any cut of meat, heart, tongue, etc. Tongue is the chewiest and dogs love it! I keep a zip-lock bag in the freezer and collect the cut-offs from chicken, roasts, steaks, etc. When I get a large batch, I make dehydrated treats or just give the tasty morsels to the dogs raw.
You can sometimes make a deal with a local butcher or game processor for great deals on tongue and the heart/liver of venison, elk, etc.
Our Llews go crazy for any of these.
Enjoy!
-M.
These are my absolute favorite books on Canine Nutrition & Health: