Rosie (Raini) Leaves For Her New Home
My mission is to help you have a healthier dog and breeders to raise healthier Llewellin Setters puppies through educational content based on over twenty years raising, training, and breeding Llewellin Setters. To help support these efforts, this page may contain affiliate links. I may earn a small commission for qualifying purchases at no cost to you.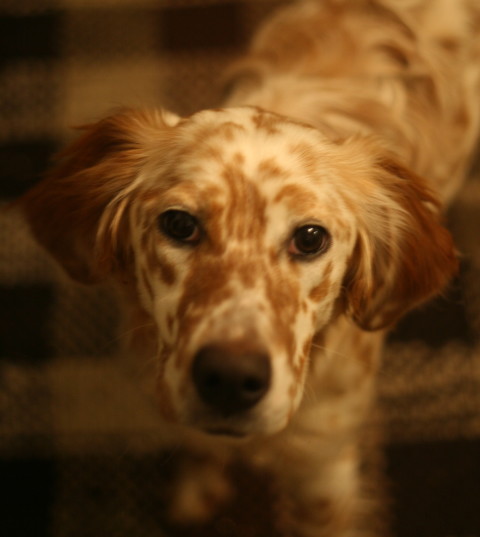 It was a busy few days of preparations getting everything ready for Raini (now Rosie) to make the journey to her new home. Got the crate (which does not always prove to be so easy depending on where in the world you live), decided that crate was too small (her head just touched the top of the inside while sitting and that's great in my opinion, but not in the airline's), so went around the world to find a larger one, found my new veterinarian (I think, but I don't ever think I'll find one I trust as much as Dr. Fulcomer in PA) to get the health certificate, all paperwork ready, crate pad, food, rescheduled the flight because the temperatures were too cold. Finally the big day arrived!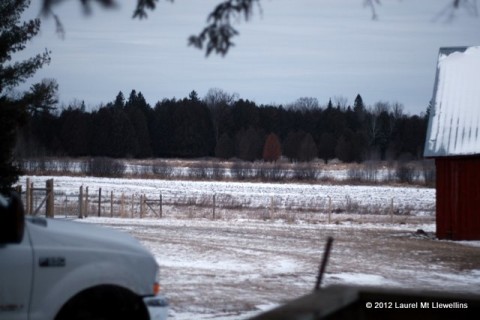 After the chores, and feeding and letting all the other dogs out for their morning run, then a quick change out of the kennel clothes and boots, and change the new puppy's whelping box, let Dora, Kea, and Rosie out after their breakfast, and I check the temperature forecast (it was going to be close, but said it would be above the minimum by her flight time), I load the crate, paperwork, food, etc., and Rosie and I were off to Austin Straubel International Airport in Green Bay, WI.
Are you ready, Rosie?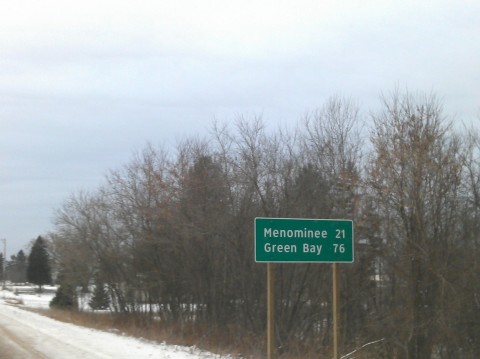 Off we go!
Not that it's that far. It's only about an hour and 45 minutes. I just don't know this area all that well, yet. But, I've already made the trip to Green Bay several times and it is a breeze.
🙂
Rosie is an angel. Completely at ease and a wonderful traveling companion. I had decided she would ride up front with me, instead of in the back in the crate.
🙂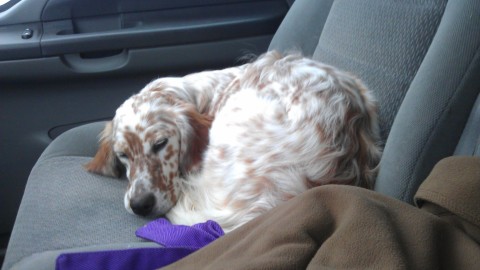 See. Having a mid-morning snooze on the way to the airport.
She was supposed to keep me awake.
I put all of my co-pilots to sleep with my driving.
I hope that's a good thing.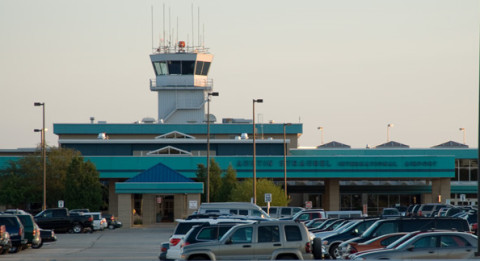 And we arrive at Austin Straubel International Airport without a hitch. There was traffic, but it is nothing in comparison to the drive I am accustomed to when going to Pittsburgh International. This airport is much smaller. Photo above is not from yesterday! I just forgot to take one and nabbed this one off the 'net.
So, I get the crate into the airport first, then go back out and bring Rosie and all of the paperwork in. The very nice folks at American Airlines tell me it is going to be too cold to make the 11:15 flight. Okay. Then, they also tell me the crate I have is too big and I need to go find the next size down. Good thing we have about 3 hours to do that!
So, back into the truck with Rosie and everything to go search for that #400 crate. The GPS's these days have that great feature where you can search for stores (among other things). Off we go exploring Green Bay to find the right crate! Which was no easy task. I found smaller and the size I already had. It took me most of 2 hours to find it. Hooray–found it! At a pet store. And, crates aren't a bargain at a pet store. But, I found it.
Rosie was an angel the entire time, while I went in and out of stores, searching the GPS for another one to try, drive to it, then in and back out. She would be watching for me as I came back out of every store. Awe… What a good girl. She deserved lunch and a run!
So, we had a great lunch and I found a bike path had took her for a run.
Then back to the airport. Put the crate together. Get it and her inside. And we get her booked and checked in.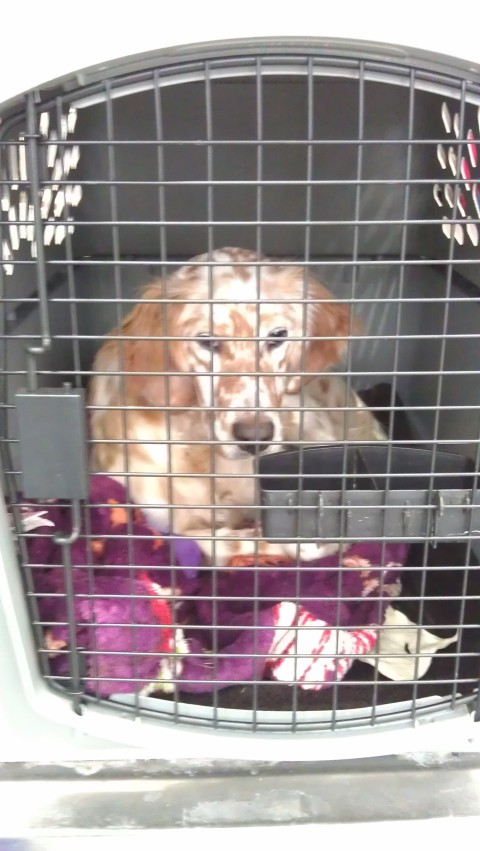 And Rosie was a perfect girl. As a very long line formed behind us and adults and children all cooed and sweet-talked her and commented on how beautiful and good she was…
And then they took her away. And there wasn't a dry eye in the place!
Good bye sweet Rosie, you will have a great life with your new family.
::sniff, sniff::
I am terrible at this stuff.
I always wonder if they think I didn't love them…
Stop it.
Okay, then I made the drive back home and tracked her flights (of course she had to go thru Chicago O'Hare).
Her new family waiting on the other side–and full of anticipation.
We tracked her the entire time and texted back and forth…
The flight arrived.
Then the awful wait until they brought her to them.
And, finally, they got her!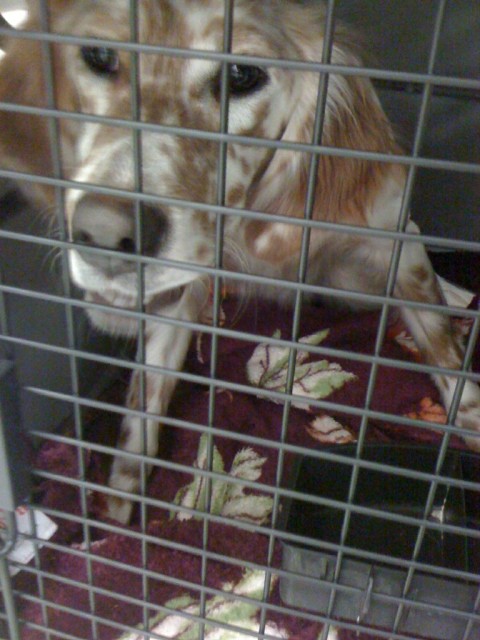 And, Rosie was completely fine and dry and safe–and it looks like she is chewing on her chewy! 🙂
And the new family is thrilled.
And Rosie is doing just fine.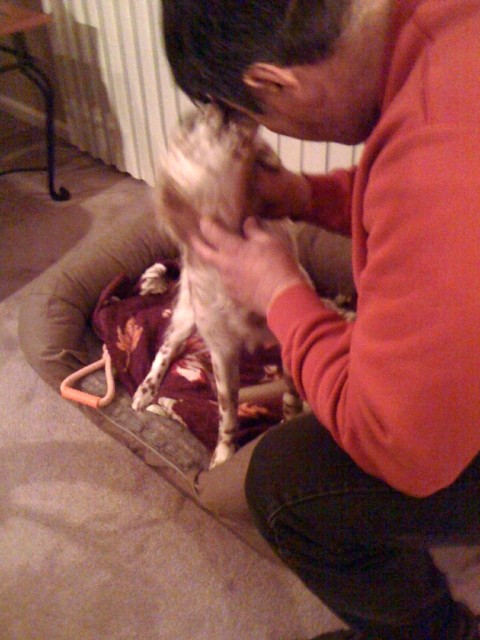 A little uncertain of things.
But, kisses for her new dad!
🙂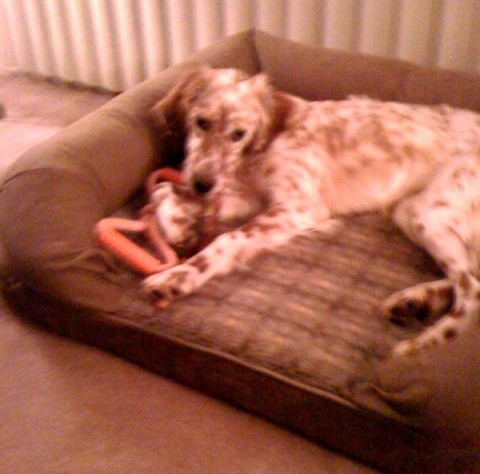 She ate this morning and gets to go for a run at a hunt club today!
And her sister Kea, still here with me, looked for Rosie everywhere last night.
She kept going outside, then would want right back in (Kea never comes right back in).
She kept going in Rosie's crate and laying down.
Kea slept with me last night. 🙂
It was a good excuse, right?
We both miss Rosie.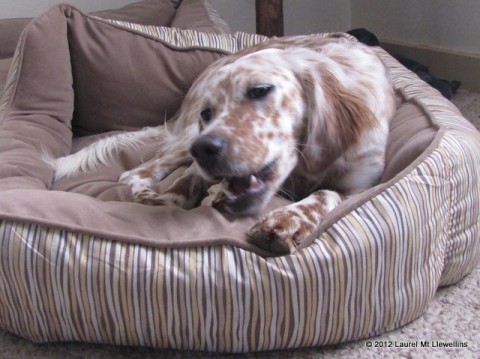 So, see, I know I can't keep them all. And everyone else decided the one I would keep (the last one left)!
And all is well and Rosie is in a fantastic loving, hunting home where she will receive tons of attention and hunting time.
And it doesn't get any better than that, folks!
-ML