Cellular Device Ramblings
My mission is to help you have a healthier dog and breeders to raise healthier Llewellin Setters puppies through educational content based on over twenty years raising, training, and breeding Llewellin Setters. To help support these efforts, this page may contain affiliate links. I may earn a small commission for qualifying purchases at no cost to you.
One day last week just about 15 minutes after leaving home for a 2-day trip, my coveted Blackberry phone decided it wanted to retire. I kept pulling the battery, restarting, etc., and could not use it at all. It seems that the trackpad (that you use to select everything) broke!
Rather inconvenient to say the least. My electronic boarding pass was on it. Okay, so I was able to get a printed version at the airport. Then, my flight was very, very delayed, and there were several people trying to check on me, but I could not let anyone know what was going on. I had planned on making a hundred calls while waiting for the flight, etc. But could not.
Luckily, I had my handy-dandy iPod Touch with me. So, when the plane (that never took off) returned to the gate and let us back off, and I had wi-fi service, I was able to use it to e-mail and SMS some folks. That was great while I had wi-fi at the airport. I still could not, however, figure out what gate I needed to be at for the connecting flight. I really like knowing that ahead of time.
So, finally I arrive at my destination 4 hours later than scheduled (2:30 am, instead of 10:30 pm). The wonderful girl from Hertz was sitting there in the wee hours of the morning all by herself waiting for me. How wonderful! I seriously thought I wouldn't have a vehicle because I was so late arriving. So, I get my automobile and start to head out… problem was that for some dumb reason, I had decided not to book a hotel room ahead of time (had planned on making some calls and finding a room while traveling) and now, I couldn't call. And, there I am in a rental car in an area I am not at all familiar with in the middle of the night (I had been there once before). And, to boot, I had planned on using the handy-dandy Garmin app to help me navigate and to find a room. I can't do that now because my darling Blackberry won't work.
I did happen to know the route I needed to use to head to my final destination (there is only one!), so I just started driving. I eventually found a room and such, but oh my—everyone at home was quite upset and I guess a bit worried because I could not call or text or e-mail to let anyone know where I was. And, of course, it just so happened that the hotel's wi-fi was not working so I could not use the iPod to contact them either.
Let me just say that being without my main form of communication and information for 3 days was not at all fun and caused major inconveniences, to say the least! I thought, no problem, the Internet will be installed at the house and I can work and use the laptop to communicate. Guess what? Yep, the satellite company never showed up to install the Internet and, I couldn't call them to scream! I couldn't work, couldn't call. Grrrr….
In desperation, I drove everywhere trying to find a cellular store that would either fix the phone or have a new phone I could purchase. Nope, my carrier is not in the area at all. And even though the Radio Shack in the area has a huge sign in the window with my carrier's logo they don't carry their products. Come on—seriously? None. Nope.
Also, did you know that there are no longer phone booths? At least I couldn't fine one!
So, I survived without it (what else could I do?) and planned to stop at a store on the drive home after arriving back in Pittsburgh. Except, I arrived in the middle of the night with everything closed. I have had to work insanely to catch up on missing two days of work and yesterday I finally couldn't take it anymore and had to take time off and drive to the dreaded mall. I am just not the mall-type chick anymore. I would rather order online and wait 3 days for it than drive to the mall. But, I really couldn't wait another 3 days for a phone. It's now been a week without being able to make calls.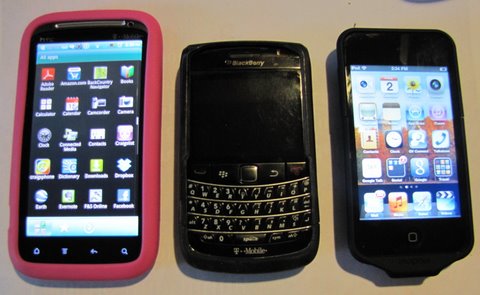 Of course, they couldn't fix the trackpad on my Blackberry. Of course my warranty expired 3 months ago and I just cancelled my accidental insurance on it. Of course. So, I have to get a new phone. Okay. Fine. And I really, really wanted nothing but a Blackberry. Except the company (RIM) that I truly worship, hasn't come out with a new model that I don't need glasses to read and right there in front of me is this very large, very tempting giant touch-screen everything phone that I can read without my glasses (almost and if I change the font size and the contrast). It's an "Android" phone. Dang it. But, what about all of my treasured Blackberry apps? What about this and what about that?
Well, get over it. Either get a new Blackberry that I can't see or get this 'droid thing. Okay, so I got the droid thing—it just sounds weird, don't you think? I mean, I know it's a high-tech electronic device, but droid? I don't it seems so trendy and for the younger crowd–not businessy? But, it's so nice and so big. And fast. And… Yes, I plunged. I went against all I know and am so comfortable with and I got it. I even ended up in a new plan that actually—get this—saves me $30 a month but gives me more. And, not just a little more, it gives me everything and unlimited everything—Talk, Text, and Web. Cool. Like that happens anymore? I totally love my carrier (most of the time). I am not even in a contract anymore (I've had them for 11 years). I have shopped around with other carriers, but just can't leave this one. They just can't be beat for my needs. Who is my carrier? T-Mobile. I've been a fan since they were Voicestream and were the first all digital network and way back when everyone else had to worry about roaming issues, I did not. They never had roaming.
The best thing about the dreaded venture to the mall—the gal working there is the same girl I have every time I go there (which is like once every year and a half)! She remembered my name as soon as she saw me. She remembered my BlackBerry fetish. She remembered all my children's names and the phones they have. Amazing, simply amazing. I mean, like, come on–I don't always remember my 5-kid's names (it's okay, they are used to it and they know who I mean no matter what I accidently call them) and how would I know what phones they have? I just can't get over that. And, rather embarrassingly, but not surprising, I have no idea what her name is! And, no, she didn't have a name tag so I could cheat. Needless to say, the gem took very good care of me. And out of the mall I walked without a Blackberry (RIM, come on, please, please—your target audience are older businessmen and professionals who need a huge screen (trust me, I know this for a fact!) And, my carrier does not carry the Tourch), but with this 'droid thing—HTC Sensation—and without it hurting my bank account all that much, but there goes my hope of getting my Le Chameau boots for the hunting season. 🙁 My Mucks will have to make it another year.
Now, the apps. I spent most of the night setting up the new giant piece of bling (it also came with a hot pink—hot pink? Me?—protective cover. It was the only color in a hard case they had, but I wasn't about to walk away from the counter without a cover). I had to purchase quite a few of my favorite apps like PageOnce, iHunt Journal, Craigslist Pro, etc. I am still working on setting up my favorite mapping apps, weather apps, etc.
I lost about half of my contacts, numbers, addresses, etc., because they couldn't be transferred from the Blackberry because I can't select anything to allow the transfer! UGH. This is frustrating and very time consuming. But, at least I was finally able to make and receive a few phone calls today after an entire week not being able to! Not good for business.
But, this leads me to the point of this post—what are your favorite and/or must-have apps for hunting season?
I love Google Maps (free). It's a must-have for me. I can watch myself work a cut. I can see where I am and where I need to go. I know a gps unit will do much of the same, but Google maps shows me the area from above. I can see the terrain, the trail, the creeks, and exactly how I want to work an area. I absolutely love Google Maps.
I love Vlingo because it can read out-load my incoming emails and messages and can also send emails and messages via my voice, which is not only fantastic while driving , but I also love this while hunting. I can hear the message without pulling out the phone with gloves or in the rain or in the mud! Love this. The Vlingo Web site says it is available for droid, but it doesn't seem to be available at the moment for whatever reason.
I have tree-identification apps, travel apps, find the best gas prices apps, etc. I have my calendar on my phone and all of the dog's information as well as several photos of each dog in case one would get lost and I need to post a flyer or something or prove it's my dog.
You know the saying—there's an app for that! So, what are your favorites?
I did survive without Internet or a cell phone, but I was not happy about it and was rather lost. This made me realize that I should always have a back-up plan and to not depend on it so much. But I want to depend on it! lol.
Side Note:
I was thinking about a very helpful accessory I have for my cell phone and thought I would share. Most cell phones, especially the new Android devices, have terrible battery life. My beloved, now deceased Blackberry Bold 9700 was the exception and I could easily get 2 days of battery life from it. The iPhone, iPod Touch, and this new HTC Sensation do not even make through the day, although I really, really use them and have wi-fi on all the time (which considerably drains the battery life). But, there are now a few companies offering by far the most exciting accessory (if you are a geek like me) that is a protective case AND an extra battery in one!
Check out these for the iPhone or iPod Touch: http://www.mophie.com/
And this company for other cell phones: http://www.power-skin.com/ (which I just ordered for this new 'droid thing and will be happy to have it over the pink one!)
Here is a photo of the mophie juice pak on my iPod Touch. I find this invaluable as they double the battery life (of course) and protect the device!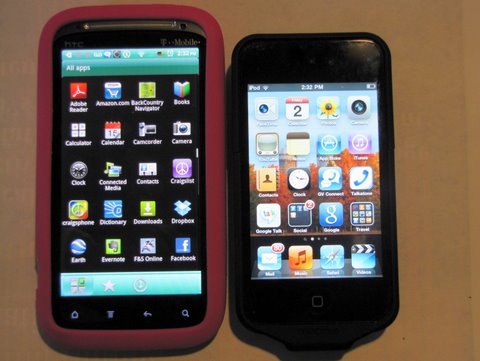 Have a great day, all.