Budget Summer Vacation Ideas with Llewellin Setters: Unleash Adventure on a Shoestring
My mission is to help you have a healthier dog and breeders to raise healthier Llewellin Setters puppies through educational content based on over twenty years raising, training, and breeding Llewellin Setters. To help support these efforts, this page may contain affiliate links. I may earn a small commission for qualifying purchases at no cost to you.
Summer is almost here but it's not too late to plan a memorable vacation that won't break the bank. If you're like me, you don't want to leave your beloved Llewellin Setters behind or you can't. Fear not, for I have compiled a list of budget-friendly summer vacation ideas that will allow you to embark on exciting adventures with your four-legged, bird-hunting companions. So, pack a bag, grab your travel gear, and get ready to make unforgettable memories with your Llewellin Setters.
Camping in National Parks:
What better way to experience the great outdoors than by camping in the pristine beauty of national parks? Many national parks offer affordable campsites that welcome dogs. From hiking scenic trails to swimming in crystal-clear lakes, these parks provide endless opportunities for adventure. Though National Parks require dogs to be on a leash no longer than 6 feet and many do not allow dogs on some hiking trails, there are some that do. It may not seem fun to have to have your Llew on a leash at all times, even on hiking trails, it is the law and I suppose all of us bird dog owners need to teach our dogs these skills. It won't harm them come hunting season either, it can actually help and we can either set at home with dogs, send them off to a boarding kennel <GASP>, or take them with us. I'm almost certain they would prefer to be with us.
Some things to look into if you do plan on enjoying some areas of parks that do not allow dogs are local pet-sitting services and boarding kennels near many of the national parks. I'm planning an extensive article on this but in the meantime, you should be able to search for these services on Google. You may also want to look into boondocking sites near the parks. This is my personal preference. You will have to go with more preparations and supplies, as boon docking sites have no amenities such as power, showers, water, toilets, etc.
Here are ten examples of National Parks that have dog-friendly campsites, including both sites with and without hookups and links to their pages about dog rules:
Yosemite National Park, California, USA:
Grand Canyon National Park, Arizona, USA:
Acadia National Park, Maine, USA:
Rocky Mountain National Park, Colorado, USA:
Shenandoah National Park, Virginia, USA:
Great Smoky Mountains National Park, Tennessee/North Carolina, USA:
Olympic National Park, Washington, USA:
Joshua Tree National Park, California, USA:
Everglades National Park, Florida, USA:
Glacier National Park, Montana, USA:
Please note that availability may vary, and it's recommended to check with the respective National Park's website or contact them directly for the most up-to-date information, reservations, and any specific regulations or restrictions related to dog-friendly campsites.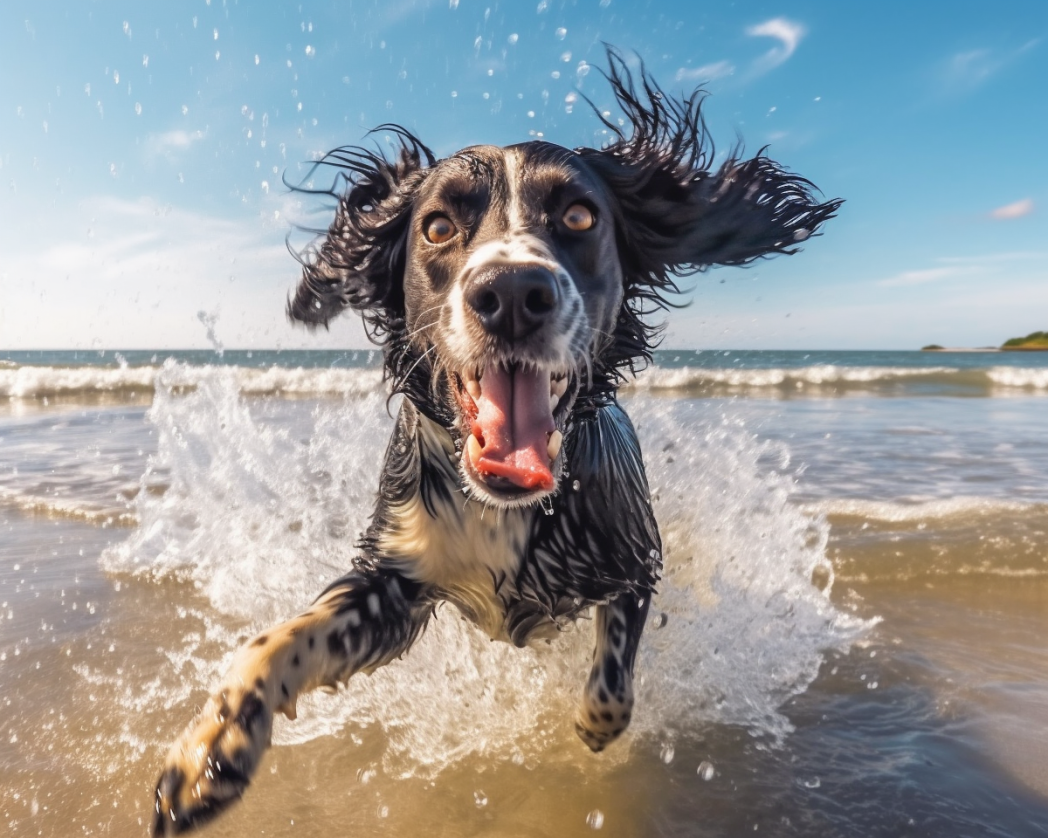 Beach Retreats:
If you and your Llewellin Setters are water lovers, a beach vacation is the perfect choice. Look for pet-friendly beach destinations that offer affordable accommodations or even camp sites. Whether it's frolicking in the waves or playing fetch in the sand, it is great exercise for them and spending quality time at the beach will create cherished memories and great photo opps!
Here are a few examples of dog-friendly beach locations where camping is available:
Assateague Island, Maryland, USA: Assateague Island is a stunning barrier island known for its pristine beaches and wild horses. The Assateague Island National Seashore offers dog-friendly camping options where you can pitch your tent or park your RV. Enjoy long walks on the beach and observe the unique wildlife that inhabits the area.
Padre Island National Seashore, Texas, USA: Padre Island National Seashore is a dog-friendly paradise located along the Gulf of Mexico. With miles of sandy beaches, it offers several camping options, including beach camping with your Llewellin Setters. Relax under the starry sky and enjoy the sound of crashing waves while making lasting memories.
Cape Henlopen State Park, Delaware, USA: Situated along the Delaware Bay, Cape Henlopen State Park welcomes dogs on its designated beaches. The park provides camping facilities, including tent sites and RV hookups. Explore the park's hiking trails, rent bicycles, or simply soak up the sun on the dog-friendly beaches.
Haida Gwaii, British Columbia, Canada: Haida Gwaii, an archipelago off the coast of British Columbia, offers stunning beaches and abundant natural beauty. Camping options are available at several locations, such as Naikoon Provincial Park. Enjoy the serene beaches and explore the lush forests with your Llewellin Setters by your side.
Jekyll Island, Georgia, USA: Jekyll Island, located off the coast of Georgia, is known for its dog-friendly beaches and beautiful scenery. Campground facilities are available on the island, allowing you to stay close to the beach. Take leisurely strolls along the shoreline or participate in various water activities with your Llews.
Fort De Soto Park, Florida, USA: Located near St. Petersburg, Fort De Soto Park offers a dog-friendly beach and camping facilities. The park has a designated Paw Playground where your Llewellin Setters can roam off-leash. Enjoy the white sandy beaches, go for a swim, and set up camp in the pet-friendly camping areas.
Ocean City State Park, Washington, USA: Nestled along the Washington coast, Ocean City State Park welcomes dogs on its beaches and offers camping facilities. Explore the expansive shoreline with your Llewellin Setters, indulge in beachcombing, and spend cozy nights camping under the starry sky.
Pismo State Beach, California, USA: Pismo State Beach, located on the Central Coast of California, is renowned for its dog-friendly areas. Choose from several campgrounds that allow dogs and provide easy access to the beach. Enjoy long walks on the sandy shores and take in breathtaking ocean views with your four-legged companions.
Cape Lookout State Park, Oregon, USA: Situated along the scenic Oregon coast, Cape Lookout State Park offers pet-friendly camping options and miles of dog-friendly beach. Explore the coastal trails, go beachcombing, and enjoy the spectacular sunsets over the Pacific Ocean with your Llewellin Setters.
Long Beach, Vancouver Island, British Columbia, Canada: Long Beach, located in Pacific Rim National Park Reserve on Vancouver Island, is a dog-friendly beach destination. While camping isn't available directly on the beach, there are nearby campgrounds that welcome dogs. Enjoy the vast sandy shores, impressive surf, and the beautiful coastal rainforest in this picturesque Canadian destination.
Remember to adhere to leash regulations and practice good pet etiquette when visiting these dog-friendly beach locations. And always clean up after your dog.
Staycations:
Who says you have to travel far to have an amazing summer vacation? Consider a staycation in your local area or nearby towns. Research dog-friendly attractions such as hiking trails, dog parks, and pet-friendly cafes. Explore new places together and enjoy the comforts of home without the hassle and expense of long-distance travel.
Scouting Road Trips (My personal favorite):
Are there places you'd love to hunt your Llewellin Setter this fall? Hit the open road and embark on a budget-friendly road trip to do some advanced scouting and get to know the areas ahead of time. It'll pay off big time when hunting season comes around and you only have a week to hunt. Check out WIAs, State and National Forests, trails, the cover areas, and talk with the DNR staff and ask about game bird sightings. Stop and eat at the diners, talk to locals, check out places to camp or Airbnbs, lodges, etc., and you'll have a plan in place and a huge advantage come hunting season.
Lake Getaways:
Escape the hustle and bustle of city life by planning a budget-friendly lake getaway. Look for affordable cabin rentals or campgrounds near picturesque lakes that allow dogs. Spend your days swimming, fishing, or boating with your Llewellin Setters. It's the perfect opportunity to relax, unwind, and enjoy the tranquility of nature. Check Airbnb, VRBO, as well as Craigslist and even Facebook Marketplace for dog-friendly cabin rentals on a lake.
Hiking Trails and State Parks:
Explore local hiking trails and state parks. Many state parks offer dog-friendly trails, and some even have designated off-leash areas, just remember game birds can be nesting until mid-July in most areas so be careful your bird dog doesn't disturb a nesting site. Keep them close.
Here are some examples of State Parks with dog-friendly trails, camping, and possible off-leash areas to get you started:
Please note that regulations and specific areas designated for dogs may vary within each state park. It's recommended to check the park's website or contact them directly for the most up-to-date information regarding dog-friendly trails, off-leash areas, and camping rules.
Pet-Friendly Resorts:
While usually a bit on the expensive side for a budget-vacation list, keep an eye out for pet-friendly resorts that offer special deals and discounted rates during the summer season. Some resorts provide exclusive amenities for dogs, such as pet-friendly pools, doggie daycare services, and some, like the examples below, even offer some upland bird dog training. Take advantage of these offerings and pamper yourself and your Llewellin Setters with a well-deserved vacation full of relaxation and fun.
Here are examples of pet-friendly resorts that offer pet-friendly pools, activities for dogs, and gun dog training areas:
Please note that amenities and availability may vary, so it's advisable to contact the resorts directly for the most accurate and up-to-date information.
Off-Grid Boondocking Trip: (my other favorite combined with #4)
Go off-grid and head just about anywhere with your pups for an unplugged, rustic vacation. There are many State and National Forests that allow boondocking in tents and even in your vehicle or RV. Pack the necessities for you and the dog(s), make a cozy bed in the back of a truck, car, or SUV. Camp for free or cheap, hike and explore with your Llews, relax and cook over a campfire and truly have a budget vacation to get away from it all.
If you have an RV or other self-contained vehicle, consider a Harvest Host membership. Harvest Host is an Overnight RV Camping Membership with hosts at 4476+ Farms, Wineries, Breweries, Attractions, and Golf Courses. For $99 a year, enjoy unlimited stays at unique camping locations with no camping fees. Your rig must be fully self-contained, including a grey tank, toilet, power, water, etc. (dry camping). There are no hookups or facilities to use on an Alpaca farm in the middle of Kansas! Most hosts prefer no gas or propane generators, but some do with limited hours of use, just ask the host. These are usually one-night (24-hour) stays only, but then move on to the next Harvest Host. Not all hosts in the program allow dogs, but many do and will require they remain leashed at all times. Check out the Harvest Host location photo gallery submitted by members and the reviews.
Now part of Harvest Hosts, Boondocker's Welcome is a membership giving you unlimited stays to private host's locations. Whereas Harvest Hosts are usually businesses, Boondocker's Welcome are private residents who open their property to overnight guests. A $79 yearly membership fees gives you unlimited overnight stays at over 3390+ host locations. That's about the cost of a single night at a campground. Park your RV, Schoolie, Campervan, etc. for the night as you are passing through an area. Rest easy knowing you have a safe, legal, free space to stop for the night. 75% of Boondocker's Welcome hosts have hookups (some charge a fee for this) and most all allow pets on a leash. Get both memberships for $169! The combined memberships gives you access to almost 8,000 free, legal, and safe places to park for the night. New host locations are being added constantly. Sometimes you are parking in a driveway and sometimes you'll be parking in a field. In fact, you may even consider becoming a host, I am. You can decide how large a rig you can accept and when. A host is completely free to decide who and when they allow someone to park. It isn't "camping" in your yard. No tents are permitted or sleeping in the back of your pickup truck. Your rig must be fully self-contained. Hosts are not paid for the service, they do it for the love of RVing. Hosts do receive a free membership and credits for each stay they permit. Hosts are allowed to ask for a minimal (up to $15) if they offer hookups.
When I stay at a location, I am self-contained, so I use my Bluetti Lithium battery generator if I need a fan or the air-conditioning on. I am able to run the ac for about 5 hours with my Bluetti 5000 Watt setup (Bluetti) or on Amazon. So if it is a blistering hot/humid day, I make sure the living area is cooled down when I arrive in the evening and run the window unit on eco-mode. I try to find a place nearby to let the pups run off-leash before arriving so they will be a little tuckered out, too.
Summer vacations don't have to drain your bank account, especially when you have your Llewellin Setters by your side. With these budget-friendly ideas, you can create incredible memories without compromising on quality time with your bird dogs. From camping in national parks to road tripping through scenic routes, there are plenty of options for you to enjoy. So, pack your bags, grab your Llews, and get ready for a summer filled with adventure.
Do you take your Llewellin Setters on vacation with you? What is your favorite budget-friendly activity?
Happy Travels!
-M.