Seeking A New Location For Laurel Mt Llewellins
Hello all,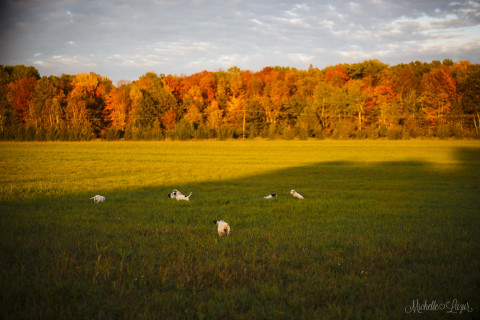 It's been a time of change and sadness over the past few months, but I am still chugging along and never giving up hope. I had hoped to find a way to reacquire the farm in the UP, but that has not happened yet. I, then, had tried to spend time on the road with a trailer full of the dogs, training and sharing all the updates, working on the book, the site, Llewellin Setter Academy, etc., but that has not happened, either. I long to be running the dogs in the Northwoods and providing all of the updates to you. But God has not opened those doors yet.
I am beyond grateful that I finally get to finally see my dogs again and get to take care of them. I am told, however, I am not permitted to have/raise litters of pups here. So, what I must concentrate on is finding a home–even temporary–for myself and at least some of the dogs. I am in need of a healthy climate (cool, northern), and a home where I can have and run/work/train dogs and raise litters of pups that are owed to our customers and the possibility of reviving the business and before their reproductive systems begin to shut down. It would be out of this world to find a place I can work them out the front door and be local to wild birds and public land.
If you have any resources–an old farm, barn, kennels, a camp, anything that you would consider allowing me to lease/rent/use or form a possible partnership with, I'd be forever grateful for your consideration. I am clean, I take meticulous care of my dogs and kennels, I am a very hard worker, I am appreciative and grateful. I love my dogs, I love the Llewellin Setter breed, I love our customers, I love upland hunting, I love life and marriage and family, and above all, our Lord and Savior, Jesus Christ. I want only to serve Him and, you, our customers. I only want to take care of these dogs, begin paying debt, and please God.
If I could join you on any of your hunts and adventures, I'd love to try. I want to be running dogs, hunting, and filming/photographing the beautiful dogs. I'd give anything to see the dogs running and slammed on a breath-taking point in the northwoods… or anywhere. Need a film or intro for your kennel? I'd love a crack at it.
Feel free to contact me here:
Please, also, keep me in mind if you need a website or have any photography/videography needs.
Thank you for your help, patience, and continued prayers and I hope you've had opportunities to hunt your Llew–tell me all about it! I love, love, love hearing from you and treasure your hunting stories and photos. Please continue to share them with me.
Hug your Llewellin Setters for me tonight.
God Bless you all.
Forever grateful,
Michelle Lazur