All Dogs Available For Immediate Adoption (again)
May 18th, 2020
I am in the process of rehoming/surrendering all dogs. I know. I tried to do this a year ago, but held on to hope and false promises. It is time to give up my dream of returning to my beloved Upper Peninsula or being able to keep any of my dogs. God has another plan.
All dogs are available for immediate adoption to the right homes.
Please know the following:
If you know my dogs and are interested in adopting a particular one, contact me. If you know at least roughly what you want and are able to safely travel following all restrictions and precautions due to COVID-19, to pick up (near/a bit north of Charleston, WV), by or on 05/27/20, contact me. I am unable to hold any of the dogs past that date. I will not be able to be here and I will not leave any dogs behind to live like this for even another day. There is a possibility a dog could be boarded at the facility (in SW PA) where the rescue organization will house the dogs, but you must make arrangements with them and speak with them about the daily boarding fee. Keep reading for information on the rescue below.
• Homes with Children: Most of the dogs are nearing senior age and haven't been exposed to children for several years. So, obviously, I would not recommend taking a dog into a houseful of young children. I think older children with dog knowledge and respect would be fine with proper precautions.
• They are healthy. They need properly exercised, hunted, loved, and to sleep on your sofa. There are no health issues beyond normal aging, and the recent lack of proper exercise. None are on any medications. All have been reared as naturally as possible (meaning they have absolutely been vaccinated for core vaccines, but not over-vaccinated as we now follow the minimal vaccination protocol by Dr. Jean Dodds (see below) and have titers done in order to prove/disprove immunity before vaccinating). They have never been (or needed) medicated, etc. I've never used insecticides, pesticides, etc., on, in, or around them. I've controlled ticks, fleas, etc. with natural alternatives. What does this mean? This means these dogs have excellent immune systems. They were fed raw on and off as much as possible most of their lives. They have very low risk of cancer, and all of the other mysterious weirdness most all other dogs have. Our dogs have never had them.
• Most all of the dogs spent at least their first year of life in the house and the girls more so. It wouldn't take but a few days to acclimate one to moving inside. They are still teachable. I'd like these dogs to go inside. Not to another #@!$%& cement kennel. Or at least have the option of being transitioned from a kennel, say in the garage, to inside a home.
• Most haven't been able to be hunted in 3-4 years, but were started or at least introduced almost exclusively on Ruffed Grouse in the Upper Peninsula most of their formative years. I loved every single minute of working and running my dogs every day and raising and starting excellent pups. It was my dream and the life I always wanted from the minute I had a bird dog. And, hey, I was born to live in the U.P.! My birthday is 906 after all! 🙂 Anyway, it just isn't in the cards…. now, what was I talking about…. ?
• There are 8 4, dogs just at or near 3 years old that have had no training and no bird exposure beyond stupid tweety birds that drive them nuts in the yard. But they are pointing fools and the sweetest, lovelies ever. There are 3 males–two orange beltons and one chestnut belton. Three One females—two one tri-chestnut, one tri-belton). They have tons of inherited abilities, point the birds, butterflies, frogs, turtles, lizards, etc., from the kennels all day long. They just need to bond, be loved, and given hunting opportunities. I've taken in much older dogs that were never hunted and frankly, they became almost instant hunters. You can't take it out of them–why would anyone want to? The key is in the bond with you so they will hunt for you.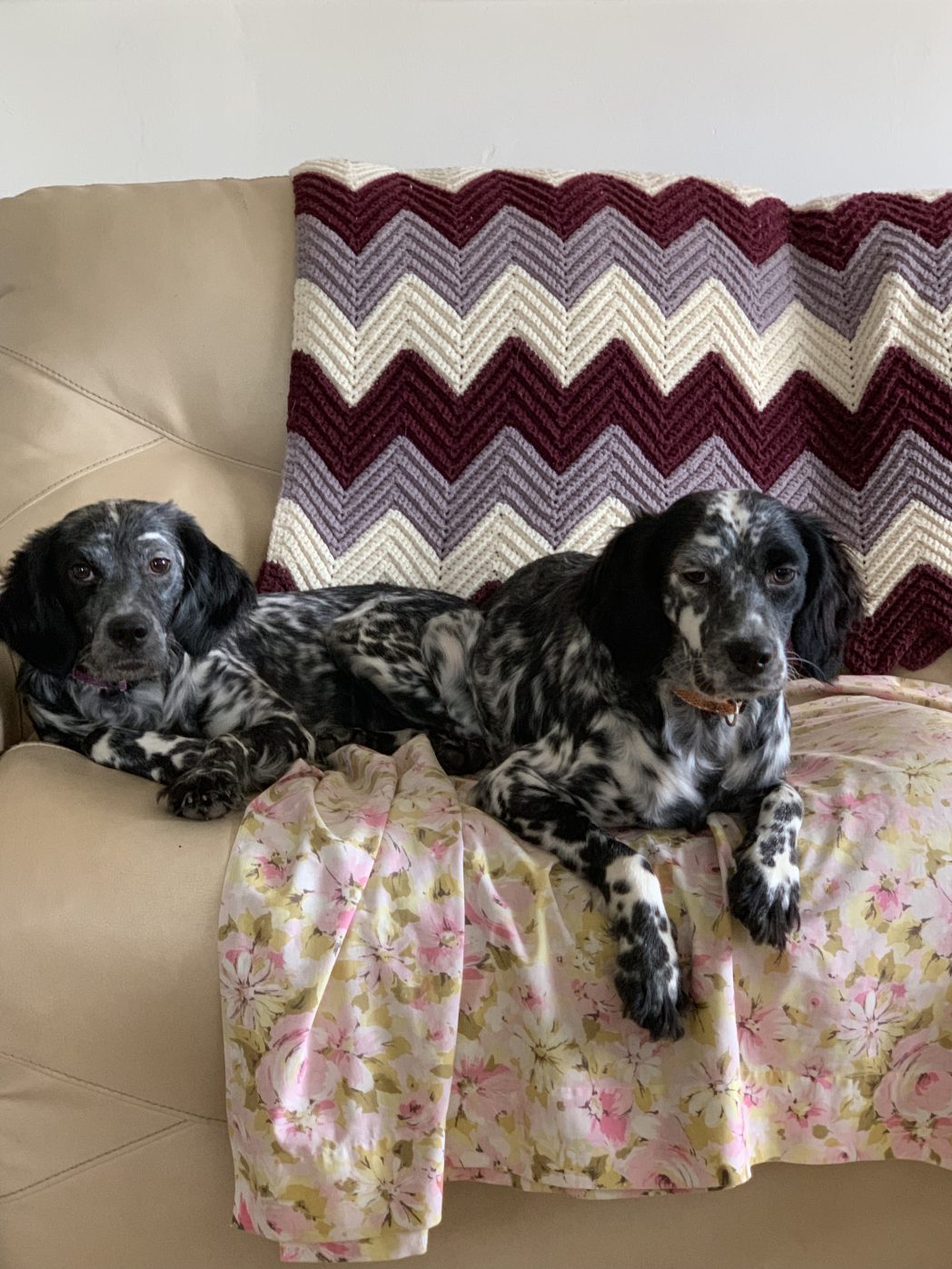 • ADOPTION PENDING FOR LOLA… I'M STILL TRYING TO FIGURE OUT HOW I CAN KEEP ELLIE….There are two little females, Ellie and Lola, are black/white and need a special situation (although they do not have to go together and it might be best they don't). They are quite shy. I took them under my wing as soon as I got here and they were already just over a year old. I hand-fed them. I sat in the kennel with them as much as possible, until I could finally even get them to even come out of the kennel. Then I brought them in the house (against the rules here). They've been in the house for a little over a year. Are crate-trained. Are sweet, sweet, sweet, but Ellie, is very untrusting. If they get out, off-lead, they will not recall. I don't know what ever happened and I've never personally seen anything like it. They want to come back and they always do come back, always Lola first, but on their own terms and it won't be while you are standing there waiting. They need a secure, fenced-in yard (which I do not have here), and simply someone that can spend lots of time bonding, patient, loving, and positive training. I am most worried about what this is going to do to them and Ellie in particular. If I was able to keep just one, I would keep Ellie as my constant companion. Frankly, I think I'll fall apart without her or from worrying about how much stress this is going to cause her. She just wants to run around and explore and hunt and trust somebody. And I'm unable to provide that and it is going to kill me. Letting these dogs go just might put me in the grave. But I can't do it to them or myself or my creditors or my God one more minute. I can't keep them and work full-time. And I have no place for them and this is definitely no place for my bird dogs. Anyway, I always get off track, don't I???? Back to Lola and Ellie….Lola is much less shy and more out-going and will do better. Ellie is just now sometimes trusting me–me! (every dog trusts me)–enough to come to me inside and take a treat out of my hand. She'll sleep with me. She'll snuggle with me. She wags her tail. She's excited and wants to come. Loves me, loves me, loves me… but….On her terms. But she is just now sometimes coming to take a treat. She is not food-driven. Lola will. They get along great with all the other dogs. They've never growled or anything–they aren't fearful like that. Classic example of what can happen when puppies are not given proper attention, socialization and care in their formative weeks and months. It is a travisty!
• This isn't a place you can come visit and pick a dog. I'm sorry. Due to several factors out of my control (noise nuisance violations/liability/restrictions by the owners), visitation here is absolutely forbidden. I can meet you close by with the dog we decide is best for you. Or once the dogs are at the rescue facility in SW PA, I'm sure you can visit there. There is nothing I can do about this.
• I am unable to provide photos. The only photos there are, are already on the site (see the Our Llewellins page-please check back because as soon as I am able, I will try to get a more organized list and at least old photos of the dogs listed somewhere. My MacBook Pro laptop was recently destroyed (another reason why it has taken me so long to get this information released again) and I lost everything and I am trying to search for photos somewhere and get them online). The dogs that are not on the site, I can provide a general description and coloration and I am desperately trying to find help for someone to come groom them and photograph them ASAP. But, if I don't get someone to do that in the next few days, that will at least be done by the rescue. If anyone can please, please come help me by groooming the dogs. I am severely allergic now/here. And I can't do it myself and I can't get help. Please. Can anyone come help groom all of the dogs between now and Wednesday, May 27th? Please?
• I can't meet you anywhere except at the closest exit. My Michigan driver's license expired early March (I've already had a 6-month extension) and I don't have a vehicle anyway, but will arrange the use of something to meet you as close to the interstate (I79) as possible.
• Remaining dogs will be available for adoption (and viewing, visitation, etc.), through an ES rescue in SW Pennsylvania and you will be able to go through their adoption/screening process. In fact, if you know you would like to adopt one through them, you might want to begin the application process as it takes several weeks. After the dogs have been spayed/neutered they will be made available for adoption through them. I would love if you would consider donating to the rescue. They are a wonderful organization and try to help hunting dogs go to hunting homes. Click here for their donation page. Maybe you can't adopt a dog, but you have $10? Donate $10. Have $1,000? Donate it to them. Give till it hurts. You'll live. And you'll help the dogs.
• This website will no longer work in a few days (I believe it expires May 25th) and I am unable to pay the annual renewal hosting fees again.
• I don't have a phone with service anymore, so we have to use e-mail to communicate. (Please don't send an e-mail saying "call me." I can't. I'm sorry.) Please don't send an e-mail saying "tell me what you have available." Please just e-mail using the link below and tell me which dog you are interested in or tell me you are interested in a male or female, age range you are comfortable with, and the situation you are able to offer the dog, if you hunt or not, if you have a fenced-in area or not, where you will run the dog off-leash, other animals in the home, etc., exactly when you are able to pickup, etc. (Please remember all dogs have to be picked up by May 27th or arrangements made to board them with the rescue).
Please understand, I'm devastated. I'm exhausted and very, very, very unwell physically and emotionally. I'm going to have to move since I have no way to commute, get paying work in a small town where I can walk everywhere, try to fulfill the lease on the studio and avoid being sued for not complying with my contract, and all efforts I have made for almost two years to be able to do so, and keep the dogs, provide opportunities to exercise, work, hunt, etc., and be able to generate an income and begin to pay off debt and do it where my dogs and I thrived in the UP hasn't worked out. I can't do it here. I am allergic to everything here and the heat makes me violently ill. This isn't a place for bird dogs. I will not keep them like this anymore.
It just flat-out stinks when you do absolutely everything to prevent becoming all that you despise and you become that anyway. I'm sorry everyone. I'm truly, deeply, desperately sorry. I have tried. I have begged. I've done absolutely everything I could to keep this going.
These magnificent creatures–and, you, the people to carry on in the bird dog world–deserve better than I can provide. It was never me anyway, it was first, God, and then, those that believe in maintaining the most natural lines of the best bird dogs in the world. You believed in them, too. You've seen it. You own one or know someone that does. You helped maintain the dream and the lines. There is really not much more enjoyable than a beautiful, natural bird dog in the grouse woods slamming point after point–and they can't even help it because it is just "in there" and then having them snuggle up to you every night.
It is because of the responsible breeders that have worked tirelessly to maintain the natural hunting instinct and not ruin this breed like every other hunting breed. They work day and night taking care of their dogs and puppies, scooping poop, grooming, training, running, working, and hunting their dogs. There are no "vacations" because their is no one to take care of the dogs. They only go where they can take their dogs and it is always a hunting trip. They do all they can to make the most ethical choices, spend countless hours to review applications, talk to, and find the right homes for puppies to hunting families. Every free minute is spent with the puppies so they are socialized, happy, and healthy. They crate train, they house-train, load them up for rides in the truck, they acclimate them for flying, sit at vet's offices, spend countless hours on the phone. Drive miles upon miles to help get them to you. Do endless research for the most natural, chemical-free, health options available. Spend everything they have for the best nutrition, the best facilities and conditions to keep the dogs, to hunt the dogs, to love the dogs. It is a sacrificial labor of love for the breed. Until you've done it, you have no idea.
And it is only because of those that continue to work and campaign for public hunting land opportunities, conservation, and habitat that the upland bird hunting tradition will continue.
Get involved, fight with all of your might, do something–anything–to help wherever and however you can. God gave us this land to steward and He gave us these magnificent animals and the birds to hunt. And we are to do our absolute best at whatever He gives us to do. Work tirelessly. Help others. Give all you can. Love one another. Get off your keester, shut off the ridiculous television, put down the devices, and do something that matters. Make a difference. Humbly, firmly, kindly with an informed and educated stand, fight for what you believe in. Our treasures are not the things you collect here on earth, but the sacrifices made to help others and no-one needs to know what you've done. God sees all. No-one else needs to.
Sincerely, Michelle
P.S. Three dogs have been adopted and need transportation from WV to Montana. The new parents are unable to quarantine for 14 days (as their state currently mandates) if they leave and reenter the state. Every state has their own restrictions. But if you would be able to transport the dogs by Wednesday, May 27th, please, please get in touch. Maybe you could foster them until the new parents can legally, safely travel to pick them up?
P.S.S. Someone asked what it would take to be able for me to keep just one of the dogs… I don't know that I really could pick one. I'd keep Ellie just so she won't have to go thru this stress. But I can't see keeping her in a studio, walking her on-lead everywhere and have nowhere to work her and no vehicle to get her anywhere. I dream of a pickup truck and a travel trailer so I could keep one or two or… all my senior dogs. I'd definitely keep my Sweet Rue, Rocco and Doc and Gale…I'd keep my Cowboy-baby, Crockett, Penny… Kitter-Bug… Hazel… Jazzy… Chiago… Finn and Ferg… Hannah-banana… Jax… see? Why can't I just simply keep my babies? Why can't I get them back to the U.P.? I don't know why. I have no freaking clue. I've tried. I've begged. I've borrowed and pleaded and I pray every day. I cannot provide the life these dogs deserve and my health continues to decline here. So, obviously, God has something else he wants me to do. And I will obey Him, and let others that can take care of the dogs do so, and get to a place I can work within walking distance and start paying debt and be able to help others.
Recommended Vaccination Protocols:
We follow and recommend the vaccination protocol by Dr. Jean Dodds. See details here.
The Core Vaccination Protocol we follow (and why our puppies stay with us a lot longer–because we want to ensure they receive this protocol. Puppies are with us until at least 11 weeks of age and then only if there is an agreement to follow the following protocol):
9 – 10 weeks of age
• Distemper • Parvovirus
14 – 15 weeks of age
• Distemper • Parvovirus
18 weeks of age
• Parvovirus only
Note: New research states that last puppy Parvovirus vaccine should be at 18 weeks old.
1 year after last vaccination (optional booster)
• Distemper • Parvovirus
Please read more about recommended vaccination protocols here.
Our Perfect Puppy/Dog Parents
Our puppy customers are upland hunters that love their Llewellins. They will keep a pup in the home–not outside–and it be a member of the family. They will give a pup every opportunity to nurture their inherited natural abilities on upland game birds. Our puppy customers are not control freaks. They appreciate the relationship with their dog. They will provide the absolute best in food and nutrition (preferably raw-fed) and natural, holistic health practices and keep in contact with us.
We highly recommend all dog owners to find a Holistic Veterinarian and educate yourself on holistic health practices for your dog. The health of your dog is in YOUR hands, not your veterinarian's. Our puppy owners are required to have a holistic veterinarian before we will allow the pup to leave us.
We make Jean Dodds, DMV's website and educational articles a must read for anyone purchasing a dog from us. It is that important.
And, please read about recommended foods here.
Newsletter Signup
Subscribe to get our latest content by email before anyone else!